There wasn't a dry eye in the house at the E! People's Choice Awards in Santa Monica on Tuesday night as triple winner Dwayne Johnson gave his People's Champion Award to a Make-A-Wish recipient.
Receiving his People's Champion Award, Johnson first paid tribute to his late friend and inspiration Muhammad Ali.
He then surprised a Make-A-Wish guest named Shushana by inviting her onstage and giving her his People's Champion Award.
"This is a total surprise," he said. "I met her earlier. I told her how inspired I was by her story. She is a survivor. She has fought, literally, for her life. She has inspired her family, her friends. Now, you guys here. Now, the world that is watching.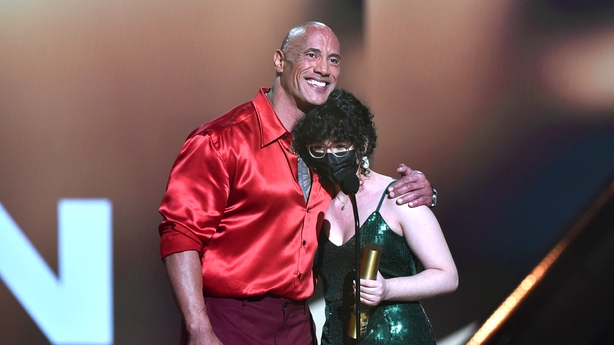 "Muhammad Ali, one of my favourite quotes that he says is, 'The service to others is the rent you pay for the room you have here on Earth'. I want to tell you just how much you've inspired me and everyone around you - and certainly everyone here.
"But, I want to give you this... because you represent everything that it means to be a People's Champion. So this is for you."
"Thank you for this," laughed Shushana. "I didn't expect this at all. Thank you to Make-A-Wish. I just never expected that something this big could happen... This is crazy! I never thought that just from being sick that it could end up in this."
Johnson was also named Male Movie Star of 2021 and Comedy Movie Star of 2021 on a night when BTS, Tom Hiddleston, Scarlett Johansson, Simu Liu and Olivia Rodrigo all enjoyed multiple wins at the awards, which are voted for by the public.
The winners in full:
The Movie of 2021
Black Widow
The Comedy Movie of 2021
Free Guy
The Action Movie of 2021
Shang-Chi and the Legend of the Ten Rings
The Drama Movie of 2021
Cruella
The Family Movie of 2021
Luca
The Male Movie Star of 2021
Dwayne Johnson
The Female Movie Star of 2021
Scarlett Johansson
Raise your hand in the comments below if you're obsessed with Scarlett Johansson's acceptance speech 🙋‍♀️ #PCAs pic.twitter.com/KkMk1j6Yu6

— People's Choice (@peopleschoice) December 8, 2021
The Drama Movie Star of 2021
Kevin Hart
The Comedy Movie Star of 2021
Dwayne Johnson
The Action Movie Star of 2021
Simu Liu
Have you heard the Legend of the Inspiring #PCAs Acceptance Speech?

Watch, learn, and have your mind blown! 🤯 pic.twitter.com/YZ37AHczTl

— People's Choice (@peopleschoice) December 8, 2021
The Show of 2021
Loki
The Drama Show of 2021
Grey's Anatomy
The Comedy Show of 2021
Never Have I Ever
The Reality Show of 2021
Keeping up with the Kardashians
We can't get over the Kardashians' acceptance speech for their final season of @KUWTK! You did AMAZING, sweeties! @kuwtk #PCAs pic.twitter.com/ydyZk9iLUx

— People's Choice (@peopleschoice) December 8, 2021
The Competition Show of 2021
The Voice
The Male TV Star of 2021
Tom Hiddleston
This is the official shoutout to everyone who helps @twhiddleston wake up in the mornings! #PCAs pic.twitter.com/lNcqwc19RE

— People's Choice (@peopleschoice) December 8, 2021
The Female TV Star of 2021
Ellen Pompeo
The Drama TV Star of 2021
Chase Stokes
The Comedy TV Star of 2021
Selena Gomez
.@SelenaGomez, we think filming season 2 of @OnlyMurdersHulu is a perfectly acceptable reason to not be able to accept your People's Choice Award for #TheComedyTVStar of 2021! pic.twitter.com/ZZfCUtpO0F

— People's Choice (@peopleschoice) December 8, 2021
The Daytime Talk Show of 2021
The Ellen DeGeneres Show
The Nighttime Talk Show of 2021
The Tonight Show Starring Jimmy Fallon
The Competition Contestant of 2021
JoJo Siwa
The Reality TV Star of 2021
Khloé Kardashian
The Bingeworthy Show of 2021
Squid Game
The Sci-Fi/Fantasy Show of 2021
Lucifer
The Male Artist of 2021
Lil Nas X
The Female Artist of 2021
Adele
The Group of 2021
BTS
The Song of 2021
Butter, BTS
The Album of 2021
Sour, Olivia Rodrigo
.@oliviarodrigo: "I had no idea that anyone would listen to what I had to say."
Us: *plays Sour for the 17th time today*

Congrats to Livie on her 2 #PCAs! pic.twitter.com/PMqqbuvEtX

— People's Choice (@peopleschoice) December 8, 2021
The Latin Artist of 2021
Bad Bunny
The New Artist of 2021
Olivia Rodrigo
The Music Video of 2021
Butter, BTS
The Country Artist of 2021
Blake Shelton
Us 🤝 @gwenstefani

Fangirling over @blakeshelton's #PCAs performance. pic.twitter.com/hktIsuGjQG

— People's Choice (@peopleschoice) December 8, 2021
The Collaboration Song of 2021
Stay, The Kid LAROI & Justin Bieber
The Social Star of 2021
Britney Spears
The Pop Special of 2021
Friends: The Reunion
The Comedy Act of 2021
Chelsea Handler: Vaccinated and Horny Tour
If her acceptance speech is half as funny as her comedy act, our tickets are already purchased.

Cracking up at @chelseahandler's acceptance speech for #TheComedyAct of 2021! 🤣 #PCAs pic.twitter.com/D5iQlbA6WT

— People's Choice (@peopleschoice) December 8, 2021
The Game Changer of 2021
Simone Biles
The Pop Podcast of 2021
Anything Goes with Emma Chamberlain
The People's Icon of 2021
Halle Berry
Catwoman taught us to live fast, love hard, and be an icon! Congrats to @halleberry, #ThePeoplesIcon of 2021! #PCAs pic.twitter.com/IXjgKSn8g8

— People's Choice (@peopleschoice) December 8, 2021
The People's Champion of 2021
Dwayne Johnson
The Music Icon of 2021
Christina Aguilera
The Fashion Icon of 2021
Kim Kardashian West