A Christmas Number One is a brand new festive romantic comedy from Sky. John Byrne chinwags with its stars, Freida Pinto and Iwan Rheon.
You don't need Andy Williams to tell you that it's the most wonderful time of the year. And Christmas just wouldn't be Christmas without that cinema staple, the romantic comedy.
This year's most enticing option in that much-loved (and maligned) genre comes from Sky, so you can watch it from the comfort of your personal cinwma from Friday December 10. It's called A Christmas Number One.
From director Chris Cottam and the musical genius of Guy Chambers, it's based in the often chaotic and emotionally brittle world of pop music. Here's the set-up . . .
Fresh from a breakup with the world's hottest popstar, music manager Meg Rai (Freida Pinto) leaves New York for London to manage a boyband, Five Together, who are desperate for a Christmas hit after their latest self-written album flopped.
We need your consent to load this YouTube contentWe use YouTube to manage extra content that can set cookies on your device and collect data about your activity. Please review their details and accept them to load the content.Manage Preferences
Meanwhile, Blake Cutter (Iwan Rheon), persuaded by his Christmas obsessive and terminally ill niece, Nina Cutter (Helena Zengel), puts his thrash metal band, Scurve, to one side to write Nina the ultimate Christmas song.
When Meg discovers the hit in the making, will this be the Christmas number one the boy band desperately needs or will Blake, the song, and Nina show Meg what truly matters?
You can find out from Friday, but in the meantime, here's the contents of a recent chat I had with the film's leading actors, Freida Pinto and Iwan Rheon.
John Byrne: Right folks. Might as well get the ball rolling by telling us a bit about your characters. Freida?
Freida: Meg is one of those music agents that you don't hear very nice things about. She kind of ticks some of those 'not so nice' boxes.But at the end of the day, I guess my character is really and truly trying to find herself, in a world and an industry that is not exactly what I would call for her fulfilling.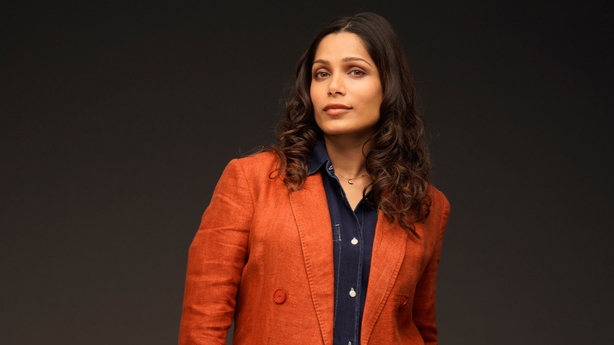 She's definitely fulfilling her job and bringing in the money, but not entirely soul-satisfying. So, I guess she's kind of on this journey. This film is about her character being on this journey, trying to find herself and she meets Blake in London. He's someone she actually doesn't want to meet, or doesn't even have any idea that she's going to meet, it's like this accidental meet. And it changes her life for good."
Meg is trying to get a potential number one song for a boyband. But Blake's in a different kind of band . . .
Iwan: Blake is in what you would call an extreme metal band. He's getting on a bit, he feels like it's too late for him as a musician, so he's kind of a bit jaded and disillusioned by the whole industry. And he's not really feeling the music in the band.
He likes the music but he just doesn't feel that the band are going in the direction that he wants them to go. So, yeah, he's in a very similar way [to Meg], and as Frida said, they have a chance meeting.
But Blake has a very ill niece, and she wants him write a Christmas song for her. And so he does - and that's where the film really takes off.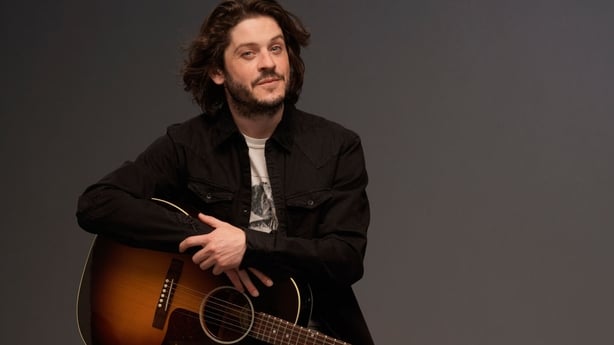 That's the 13-year-old girl Nina, who might't even see Christmas?
Iwan: Exactly, so it's really sad. Nina's his niece, but their relationship is probably more like broiler and sister, like very close friends. Sometimes she's more like the older sister, to be honest, and maybe somewhat of a therapist for him, while he sits there and moans about his life.
So it's a real blow for him, the thought of a 13-year-old girl not making it to Christmas - and especially one that he loves so dearly. So it's really horrible for him but he has to try and keep that sort of brave face on for her.
Like so many great Christmas films, there's the joy of Christmas but also a sadness here.
Iwan: I think you need that balance, really.
Freida: But would you call it sad? Yes there's this sadness, but there's also that it's very heartfelt, and there's a meaning to it. So it's not depressing.
Iwan: But essentially there's a lot of fun it. There's a silly boy band, who are absolutely fantastic. And Blake's band absolutely ridiculous as well. And all the music's been written by Guy Chambers, so they're all fantastic songs. There's a real balance to it, and I think that overall it doesn't fall into sentimentality, or anywhere too dark.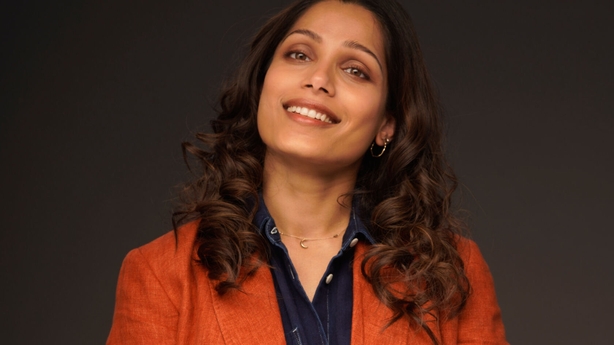 Freida: You know what? It's exactly what Iwan just said. Even though we have certain themes in Meg's character, that can be a bit nasty, in terms of taking advantage of people, [director] Chris [Cottam] made sure that even those moments were filled with the right kind of comedy.
So it kind of makes fun of itself, in a way. As opposed to . . . it's not a documentary on the music industry, and the darkness and the nastiness of people within it. But because it makes fun of itself, it gives people a glimpse into what the music industry is like, but at the same time also offers laughs and a little bit of silliness as well.
The essence of a good romantic comedy that there are two people who need someone new in their lives - that's what it's all about, really?
Freida: Yes. I guess it is that, right?
Iwan: They're both searching for something, and they sort of find each other. Yeah. Even though they're complete polar opposites on paper. You'd imagine that they'd never have met if it wasn't for this chance meeting that happened.
Iwan, you have a background in music - it must have appealed to you to get involved inn something like this?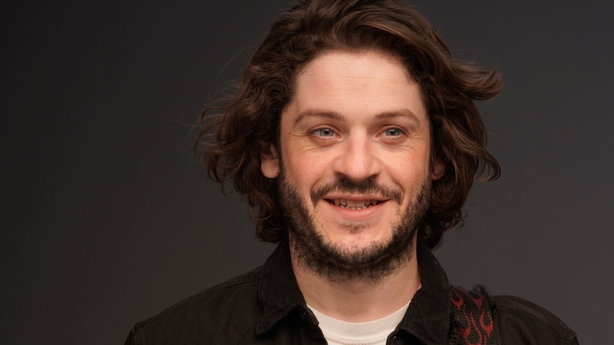 Iwan: Yeah, definitely man. I'd been looking for a rom-com for years anyway. It's just something very different to anything I've done before. It's always been on the back of my mind to try and get involved with one, and I've just been waiting for the right one. And this one is absolutely it.
And I get to play and sing and stuff, and doing a bit of songwriting with Guy [Chambers]. The Christmas song that's in the film, which Blake writes, but I end up writing it. It has this really nice feel and it's lovely to get to play that.
Does Meg get involved, like maybe providing some backing vocals?
Freida: Meg just bosses people around. She basically orders the songs and makes them happen. I was very smart in choosing the role John, I did not want to be singing and writing music. Or extending myself to a talent that I don't have. (Laughs) So, I let the experts do their bit.
A Christmas Number One is available on Sky Cinema and streaming service NOW from Friday December 10