It's hard to believe it's been seven years since Peter Coonan hung up his boots as the menacing psychopath Fran in Love/Hate, a role that cemented his status as an actor of exceptional quality and intensity.
The legacy of the show lives on. Most recently it was back in the public consciousness with comparisons to the new RTÉ crime drama Kin, while the phrase "coola boola" will forever be associated with Fran.
The actor is proud of being a part of such a seminal piece of television.
"As I said to someone recently, if you did nothing else in your career, you'd be able to stand tall and be proud of that show that epitomises the quality of Irish television for so long," Coonan told RTÉ Entertainment.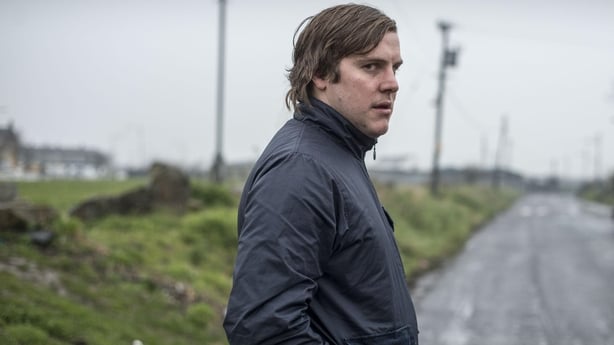 "It's such a compliment that it's still being referred to and still in the ether of Irish TV drama. I spoke to someone recently, a 21-year-old, who said he started watching it with his parents, so a new generation is watching it.
"It still stands up and it's still relevant and the characters are still embedded in people's minds. I feel utter pride every time that I think of it. It was just a brilliant show, the perfect mix of energies and talent and people just working towards the same goal. That's why it ultimately had such a big affect. Stuart [Carolan] struck the zeitgeist of the Irish people for quite some time."
In the new high-octane thriller Hidden Assets, the 37-year-old actor has now stepped into the shoes, and sharply tailored suits, of Fionn Brannigan, a member of a wealthy Irish dynasty who have a history of dodgy business dealings.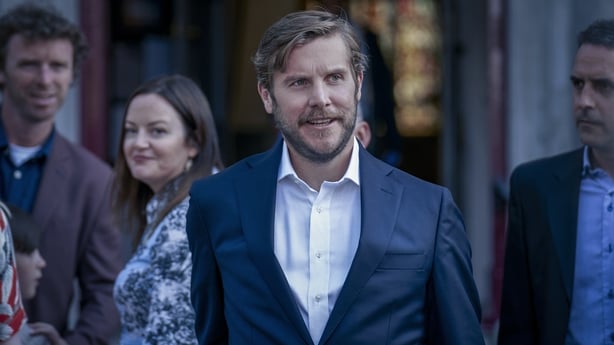 The show follows Criminal Assets Bureau detective Emer Berry (Angeline Ball) as she tries to unravel a political conspiracy which seems to tie the Brannigans to a series of bombings in Belgium.
Coonan said the role was "something completely new for me as an actor" which brought with it "an element of nerves" along with excitement.
"I'm kind of conscious to do different parts as I get older and try to vary the parts that I play. It's a great character and there was a lot to investigate and to research," he said.
"I was very excited about doing it. You have a mixture of, I wouldn't say doubt.. but you hope that that you can encompass a character, to bring the character to life, to make it believable. But I enjoyed the challenge and hopefully it's coming across well."
The preparation to inhabit the roles of Fran and Fionn couldn't be further apart.
"They were totally two different approaches, completely separate characters, completely different worlds, completely different physicality, different backgrounds," he said.
"I was younger then, I think as you get older you put more pressure on yourself when you're doing your work because you hope that you have learnt and improved, you're maturing as an actor."
The six-part drama, which is the brainchild of Kin creator and writer Peter McKenna, was filmed between Co Clare and Antwerp in Belgium. The production was up against it trying to shoot while abiding by ever-changing coronavirus restrictions, but Coonan said there were upsides to the unique challenges that were thrown up.
The actor, who has three young daughters with his partner Kim O'Driscoll, shot his first scenes in Belgium after a 10-day quarantine period. The enforced isolation helped him prepare for filming the emotionally heightened scene.
"It was quite intense, the preparation and living by yourself," he said. "From an acting standpoint – you're sitting there on your own and trying to get ready and bring yourself to that point, and stay in this emotional state, this fractured state. I remember thinking it was quite daunting.
"Having a family and trying to juggle everyday life and trying to prepare for shooting... I think it honestly helped that I had that base and freedom for those couple of days to prepare for the scene.
"So some of the challenges that were put your way kind of helped in preparing, especially something that intense, because I was able to sit on my own in a room and create the scenario that I was stepping into."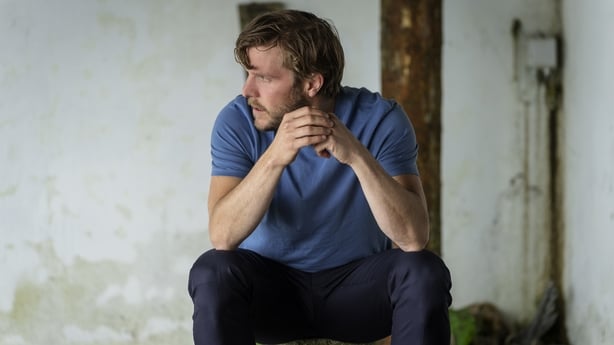 Luckily for Coonan, he also had a lot of support from his co-stars, including Jimmy's Hall actor Simone Kirby who plays Fionn's sister Bibi Melnick. They spoke to one another throughout the production.
"She was very helpful, we tried to get our accents to a certain equilibrium together, so she was helping with that. We talked a lot on the phone about the background of the family and where we were coming from and the pressures that had come about over the years," he explained.
It was the first time he had the chance to work with Kirby and he relished the opportunity.
"She's a fantastic actor, but she's also incredibly generous and funny," Coonan said. "We had great craic even though we only had that one scene together, we got on very well.
"With Angeline [Ball], she's brilliant, and Sophie Jo [Wasson], I think she's astonishing as well. But they're also just very kind.
"I had such a great time working with these fantastic women."
In episode three, Coonan went toe-to-toe with Ball during a brilliantly-written interrogation scene.
"That was a really enjoyable scene, we had a lot of fun. It was very intense for Angeline, she had a lot of dialogue throughout and makes it all seem to natural, but that was a great scene to shoot," he said.
"Those kind of scenes are the scenes that you love as an actor. The whole arc of the character is a gift for an actor to navigate and having other great actors in front of you makes it all the more enjoyable, thrilling, exciting, everything you want from going to work every day."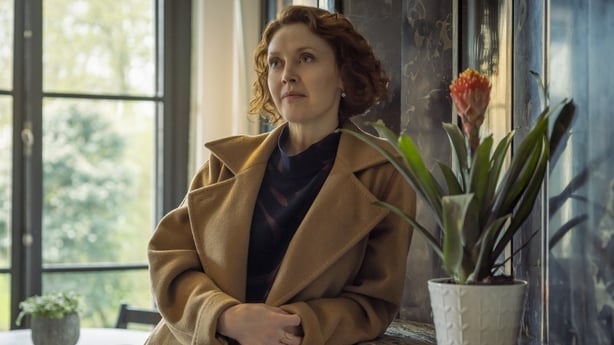 Episode three ended with Fionn's disappearance in Antwerp before he had the opportunity to turn himself into the police with the help of his sister Bibi. It's safe so say it's not looking good for Fionn, but Coonan is keeping his cards close to his chest about what's in store ("I'm a vault"). However, he did say that he's enjoying watching it at home just as much as everyone else.
"Watching it the other night I kind of forgot I was watching something I was in," he enthused. "It moves along with great pace and momentum, and it's gaining momentum in each scene, the stakes are getting higher and everyone's feeling the pressure.
"I think it's very well written, Peter has done a wonderful job and Thaddeus [O'Sullivan, director] and the camera team and the production values, I think it's really wonderful what they've done."
Coonan is filming something at the moment, which will be finished sometime in early 2022, and says he "hopes the work keeps coming in". In the meantime, he is grateful for the experience of working on Hidden Assets.
"I'm really proud and happy I got the chance to do it, grateful to have worked with Thaddeus. I think every time you go into a job you get a chance to work with different directors, I learned a lot from working with Thaddeus, who has years and years of experience.
"I feel blessed to have worked with the people that I've worked with in the last number of years," he added.