Ed Sheeran made his Late Late Toy Show return on Friday night's show to sing with the 'Toy Show Choir'.
Ed first appeared on the Toy Show back in 2014 when he surprised super-fan Aimee in a truly heartwarming moment that has gone down in Toy Show history.
This year, he joined the Toy Show Choir, which was made up of children who have been touched by the incredible fundraising efforts of last year's Toy Show Appeal. The Toy Show Appeal is back this year and by the end of the show there was over €3.3million raised - and donations are still open.
The kids started off singing, with Ed then joining in for a live version of his song Leave Your Life.
One of the choir, Hayley, then stepped forward for a beautiful duet with Ed - and we all got goosebumps!
Its not everyday you get to sing with Ed Sheeran 🤩#LateLateToyShow pic.twitter.com/Aqa7NyS6dH

— The Late Late Show (@RTELateLateShow) November 27, 2021
After his performance he spoke to Ryan about his "fantastic" backing singers, before revealing that one of the younger members of the choir had told him backstage that he isn't a fan of his hit single Bad Habits, which earned a huge laugh.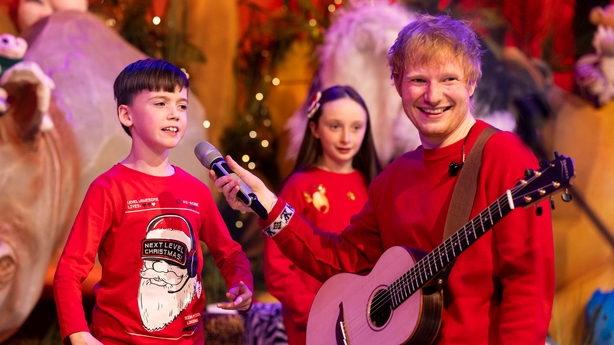 Ed will be touring in Ireland next year and told the children he sung with that they can have free tickets to a show of their choice.
"I haven't actually said this to the kids yet, but you all and your families can come to any of my shows next year that you want to," he said.
Ed then stuck around for a drawing game - pencil nose - with Ryan and two boys, Jamie and Coben showing just how much of a good sport he is.
Re-live all the action as it happened in our live tracker.