The Late Late Toy Show party took a high octane turn with a superb performance by the Kieran brothers - DJ Calum and his 'Hype Man' Jackson. Glow sticks at the ready!
The Toy Show pumped up the volume with DJ Calum, his younger brother and hype-man Jackson and some seriously impressive dancers mixing modern dancing with traditional Irish.
Jackson, decked out in some sunglasses, pulled out some brilliant moves and held up a 'Clap' sign to get the crowd going.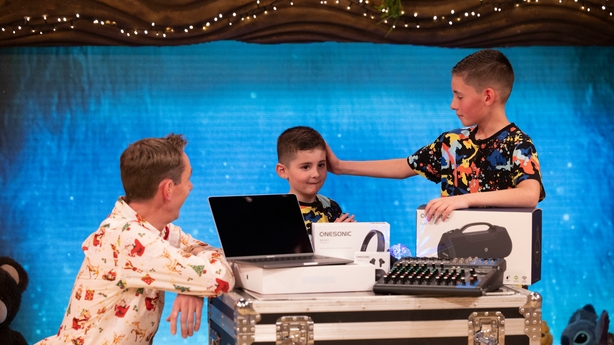 When DJ Calum told Ryan about his ambitions to make a career out of playing music ("I want to DJ the main stage at a music festival in front of thousands of people"), Ryan bestowed him with a full suite of top-notch equipment.

A clearly emotional Calum was taken aback by the gesture, but just when we thought our hearts couldn't get any fuller, he told everyone how much his little bro' means to him.
"He just the best he's really funny, I just love him. He helps me out a lot!"
Viewers were thoroughly entertained by the brothers, including well-known Irish DJ and music producer, Marty Guilfoyle, who is looking to collaborate with the duo!
I currently have my people contacting DJ Calum's people to discuss a collab. #watchthisspace #LateLateToyShow

— Martin Guilfoyle (@MartyGuilfoyle) November 26, 2021