Broadway songwriting legend Stephen Sondheim has died at the age of 91, his lawyer told The New York Times.
F. Richard Pappas said Mr Sondheim - known for musicals including Into The Woods and West Side Story - died suddenly at his home in Roxbury, Connecticut, the day after celebrating Thanksgiving with friends.
Les Misérables and Phantom of the Opera producer Cameron Mackintosh paid tribute saying: "The theatre has lost one of its greatest geniuses and the world has lost one of its greatest and most original writers.
"Sadly, there is now a giant in the sky. The brilliance of Stephen Sondheim will still be here as his legendary songs and shows will be performed for evermore."
Composer Andrew Lloyd Webber described Stephen Sondheim as a "musical theatre giant".
In a post on Twitter, he wrote: "Farewell Steve, the musical theatre giant of our times, an inspiration not just to two but to three generations. Your contribution to theatre will never be equalled."
Actor Hugh Jackman tweeted: "Every so often someone comes along that fundamentally shifts an entire art form. Stephen Sondheim was one of those.
"As millions mourn his passing I also want to express my gratitude for all he has given to me and so many more. Sending my love to his nearest and dearest."
Barbra Streisand, whose album The Broadway Album featured lyrics written by Stephen Sondheim, tweeted: "Thank the Lord that Sondheim lived to be 91 years old so he had the time to write such wonderful music and GREAT lyrics! May he Rest In Peace."
In 2015, then-US president Barack Obama presented the composer with the Presidential Medal of Freedom for his work.
Hamilton creator Lin-Manuel Miranda, who was mentored by Sondheim, has called him musical theatre's greatest lyricist.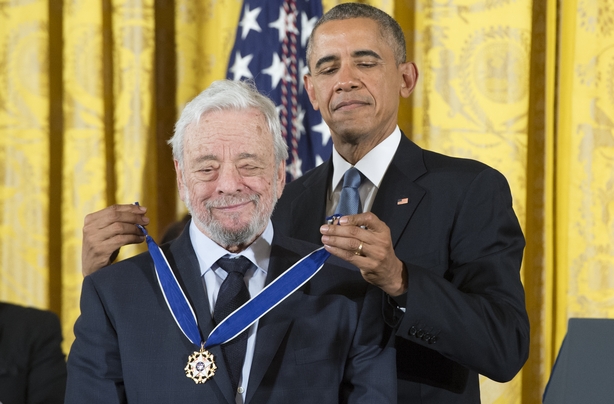 Born on 22 March, 1930 in New York City, Stephen Sondheim was involved in musical theatre from an early age.
He started playing piano at seven-years-old and was family friends with Oscar Hammerstein II, half of the famed musical theatre writing duo Rodgers and Hammerstein who wrote shows including Oklahoma! and The Sound of Music.
Over the course of his decades-long career, Mr Sondheim won eight Grammy awards, eight Tony awards - including the special Lifetime Achievement in the Theatre.
He also won an Oscar at the 1991 Academy Awards for Best Original Song for Sooner Or Later from the film Dick Tracy.
He was nominated for many more Grammys and Tonys, as well as two Golden Globes.
His songs were celebrated for their sharp wit and insight into modern life and for giving voice to complex characters, but few of them made the pop charts.
He had a hit, however, with the Grammy-winning Send In The Clowns from his 1973 musical A Little Night Music. It was recorded by Frank Sinatra, Sarah Vaughan and Judy Collins, among others.