Irish singer and guitarist Síomha has released her new single, Spéir Rua. We asked her the BIG questions . . .
The track was produced by Grammy-nominated Tyler Duncan (Carly Rae Jepsen,Theo Katzman, the olllam) and features a line-up of musicians including Joe Dart (Vulfpeck), Martin Atkinson, Michael Shimmin (the ollam), Louis Cato (Bobby McFerrin/ Snarky Puppy) and violinist Jeremy Kittel (Bela Fleck/ Chris Thile).
We need your consent to load this YouTube contentWe use YouTube to manage extra content that can set cookies on your device and collect data about your activity. Please review their details and accept them to load the content.Manage Preferences
Speaking about the track, Síomha says, "Spéir Rua is a love song for the landscape of the West of Ireland. It was inspired by many late-night drives after gigs when I lived right on the West Coast at the edge of The Burren.
"As I got closer to home, I was lucky to witness the beautiful red blaze of the morning sky. Nature was giving her best performance, and, in those moments, it felt as though I was the only spectator. I would stop and sit alone and watch the night sky light up and become a new day."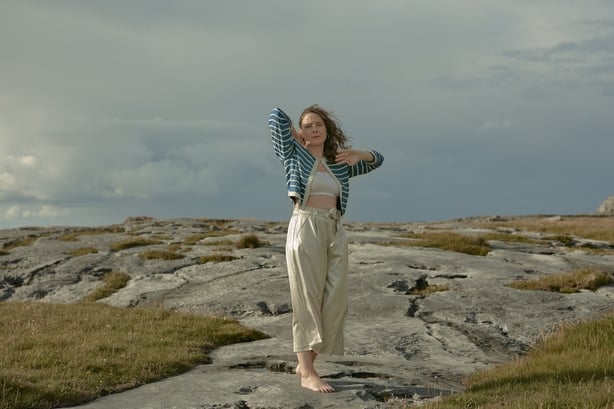 "Spéir Rua is one of my favourite tracks from my upcoming album. It's exciting, mellow, and sexy all at once. The sound is smooth, warm, energetic and life giving, just like a sunrise".
Síomha plays Thursday, November 25th - Dolan's, Limerick and Sunday, November 28th - Whelan's, Dublin. Tickets here.
Tell us three things about yourself?
I'm from Co. Clare. I've travelled and lived abroad quite a bit, but I moved back to Co. Clare a few years ago.
In primary school I was mad into hurling. As usual the camogie team was neglected compared to the effort put into the boys hurling team. When I was in 1st class I lashed out and called my teacher a misogynist.
I also love champagne.
How would you describe your music?
It's a kind of cosmic, jazz-tinged, folk-rooted, post pop.
Who are your musical inspirations?
Wallis Bird is a huge inspiration - what a treasure for Ireland. I also love New Zealander Kimbra and Australian future soul band Hiatus Kaiyote. Of course, there's Joni Mitchell's contribution to the world - her influence on me has been immense.
What was the first gig you ever went to and the first record you ever bought/downloaded?
My first concert was The Corrs in The West County Hotel in Ennis in '95. I was eight years old and Forgiven, Not Forgotten had come out that year. It was a BIG hit in our house. We loved them. They played their own instruments and made banger pop songs. My Dad is also a musician and so growing up I was lucky to have had access to his collection of CDs and vinyl. I rarely needed to buy anything myself because his collection is so extensive. I took all of his Beatles albums for myself and played them non-stop in my disc man.
What's your favourite song right now?
Roots by Snowpoet. I came across their latest album Wait for Me earlier this year and the whole record stopped me in my tracks. They are London-based but the singer, Lauren Kinsella is from Dublin. Her voice is stunning.
Favourite lyric of all time?
Tough one! Here's one from Nick Mulvey's song Mountain To Move. "'Cause Marianne is a healer, She had pain on the mind, She said, Your money is your medicine, But she's sick all the time".
If you could only listen to one song for the rest of your life what would it be?
I couldn't do that - one song only?! It's torture even having to pick one! Songs give us what we need in a particular moment and as time goes on those needs evolve. I can't say what I need right now is what I'll need in 20 years. But the best songs evolve with us and so if I absolutely had to pick it'd be A Case of You by Joni.
Where can people find your music/more information?
Find me where you find everything else! I'm on all the socials. The album is out next year, and we've been posting a lot of behind-the-scenes clips of the record-making process. You can also come to one of my shows for the live experience where you'll get to hear the album in full before its release next year. And you can check out my website.