The X Collective have announced their debut album and released their second single, Ascension. We asked collective member Jess Kav the BIG questions . . .
With music, collaboration, and artistic expression at its core, The X Collective launched in May 2020 and hosts many Irish artists both at home and abroad, and has grown from hosting 70 artists and creatives, to over 100 in the last year.
We need your consent to load this SoundCloud contentWe use SoundCloud to manage extra content that can set cookies on your device and collect data about your activity. Please review their details and accept them to load the content.Manage Preferences
They now have recorded a mass-collaborative album including over 35 contributors due for release in 2022 and Ascension is the second taste of the new project.
The single is the collaborative brainchild of three of the Collective's members, vocalists Jess Kav (previously of BARQ), Senita (God Knows, and previously Shookrah) and Toshín.
Tell us three things about yourself . . .
I make excellent vegan tacos, I find it extremely difficult to read fiction and tend to read mainly books on psychology and culture. Poetry is my jam. I love jam.
How would you describe your music?
Dramatic, spicy soul with a meaty low end, but vegan meat.
Who are your musical inspirations?
I grew up in a stage school so as a teenager I was learning West Side Story while also blaring Soundgarden and The Prodigy when I got home, so I think that has given me a great love of narrative and lyrics while also loving a big, heavy sound. In my 20s, it was all about Motown and funk and then jazz and neo soul. Erykah Badu is one of my big inspirations as is Vulfpeck, writers like Emma Dabiri have expanded my critical capacity and given me confidence as a mixed woman in Ireland. More recently the X Collective song writing camp was hugely inspirational for me, seeing the new talents emerging from Ireland made me so excited about the future.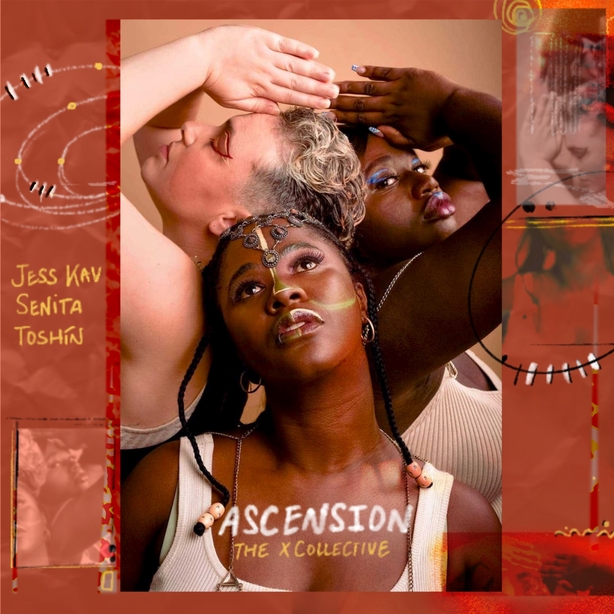 What was the first gig you ever went to and the first record you ever bought/downloaded?
My first concert was The Smash Hits roadshow 1995 in The Point! The Outhere Brothers finished the night with Boom Boom Boom, The Backstreet Boys did I'll Never Break Your Heart and thrusted heavily at the crowd. I remember feeling slightly affronted by that as a nine-year-old.
What's your favourite song right now?
Donny Hathaway, Jealous Guy. That piano groove is magical
Favourite lyric of all time?
"And if I die today, I'll be the happy phantom, And I'll go chasin' the nuns out in the yard, And I'll run naked through the streets without my mask on"
If you could only listen to one song for the rest of your life what would it be?
Zombie by Fela Kuti.
Where can people find your music/more information?
Our new song Ascension is out now on Spotify. @JessKavMusic on Instagram and my website.