Breaking Out is a new documentary telling the story of the late Fergus O'Farrell, a man who battled a terrible physical burden to bring his music and spirit to life as the charismatic front man of great lost Irish band Interference. Alan Corr spoke to the film's director, Michael McCormack
It is as simple as this - No Interference, no Frames. Interference, who formed in 1984 and continue as a going concern in various manifestations, are among the pantheon of great lost Irish bands and their influence can still be heard long after their first dawning in the pre-raggle taggle days of Celtic soul brothers.
We need your consent to load this YouTube contentWe use YouTube to manage extra content that can set cookies on your device and collect data about your activity. Please review their details and accept them to load the content.Manage Preferences
They were an act who were ahead of the curve as Mike Scott decided to bring the Big Music to the west of Ireland and who pulled some of the country's greatest players into their orbit. They played a sky-bound and combustive mix of trad, folk and rock `n' roll and at the centre of the musical hurricane was the wheelchair-bound Fergus O'Farrell, who was struggling with a progressive disease as he battled to get his music out into the wild.
Now filmmaker Michael McCormack, an RTÉ producer/director and former member of the band The Mitcheners has made a movie about Interference. Breaking Out charts O'Farrell's life from his childhood in Cork where he was diagnosed with muscular dystrophy at the age of eight, his earliest musical stirrings at exclusive Clongowes college in Kildare, and his almost epic battle against his physical limitations.
Winner of the George Morrison Feature Documentary Award at the 2021 Irish Film & Television Academy Awards and Best Irish Documentary at the Galway Film Fleadh 2019, Breaking Out is funny sad, moving but most of all it is a proud testament to the redemptive power of music.
He was best known for his timeless song Gold, which featured in the soundtrack to Once, the Oscar winning film and multi-Tony-award-winning musical. Interference have also had songs included in the soundtracks for Alan Gilsenan's All Souls Day and Damien O'Donnell's Inside I'm Dancing, while a collaboration with Glen Hansard on Don't Go Down features in another John Carney film, Sing Street.
Winner of the George Morrison Feature Documentary Award at the 2021 Irish Film & Television Academy Awards and Best Irish Documentary at the Galway Film Fleadh 2019, McCormack filmed Breaking Out over ten years and it is funny, sad, and moving but most of all it is a proud testament to the redemptive power of music.
When did you first hear Interference and what was your initial reaction?
"I was one of those typical Irish teenagers back in the eighties. Mad about music, used to slip out from school to go and see gigs. From the age of 13 I was slipping into McGonagles to see Hot House Flowers playing. My first meeting with Fergus was during Self Aid in 1986 and I was doing backline at one of the charity gigs in Dublin and on stage there walked this raggle taggle group who looked more confident than Irish bands usually looked, and they had this lead singer who stood at the mic like a rock star and then he opened his mouth and I nearly fell over because he just had something very special, and it hit me straight me away. When he walked off stage he sat into a wheelchair and I was able to go over as a fifteen-year-old and chew the ear off him and I continued to do that for years to come."
Did you witness Fergus fighting against his increasing physical limitations to get his music out?
"At that stage I was a fan. It was about the music and I don't think I ever asked Fergus what was wrong with him. When they broke up and got back together and I approached them about doing a documentary, I suppose then I started to realise how much this disease was getting in the way of him being a rock star. He didn't make it something that defined him, but he was like a bloody spider. He had a web, and he knew that he needed people around him in order to perform and record. He needed to be carried onto the stage and needed to be carried off at the end of the gig.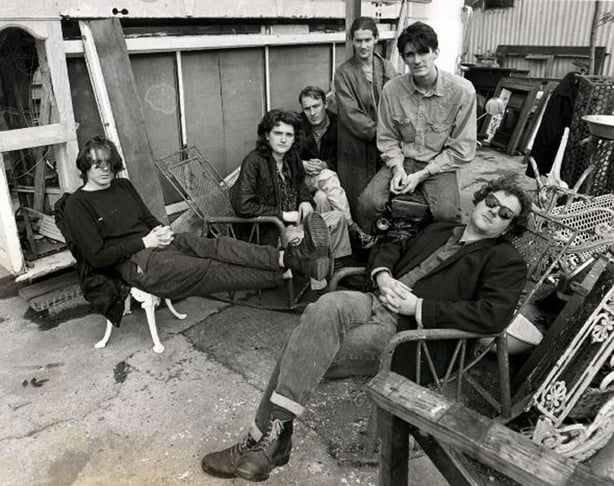 "He couldn't play the guitar and piano anymore he needed someone to do that. He always found a way to pull people in and he did that through force of personality. He didn't do it through the disease. He always said to me that he called himself a cripple because he loved that the world ripple was in it. He always took the piss out of everything and you can see that in the film. It wasn't until towards the end that it really began to get to him. He always found a way around muscular dystrophy but like all horrible diseases it eventually begins to defeat you."
Did you form your own band The Mitcheners because of Interference and Fergus O'Farrell?
"Haahahaha. Well, like all musicians who want to be stars and have star quality, he didn't give a shite about anyone's music except his own but you're dead right. I was one of those people in the audience who started a band because of them. I even tried to sing like him. There was a period in music when people mumbled in their songs. Fergus didn't. He enunciated and I think people realised he had a lot to say because of that."
You started making Breaking Out when Interference got back together in 2004 and they had done their first comeback gigs . . .
One of the band members suggested I make film, but it wasn't until I went down to Schull to spend a weekend with Fergal that I realised that I was much bigger than a music documentary, there was a life story to be to be told. It became almost an obsession. I did the thing no filmmaker should do. I started filming before I had a budget or before I got backing. I knew how good this story was. When moments were happening like going to the Czech Republic or Radio City Music Hall in New York, I knew I had to be there. I was telling potential backers the story of this unknown artist who was a superstar and who hadn't made it for whatever reason, and I was going to tell his story using reconstructions and animation, I sounded like a lunatic. I was telling people very early on that Jeremy irons was going to be in, and I didn't have him on board yet. I just knew I had to have a way of telling the story that reflected Fergus's personality. He was very funny and yes, he had this disease, but he found a way to move beyond it."
We need your consent to load this YouTube contentWe use YouTube to manage extra content that can set cookies on your device and collect data about your activity. Please review their details and accept them to load the content.Manage Preferences
The film starts with an extraordinary scene which appears to be a dream sequence featuring Jeremy Irons finding Fergus upside down in a ditch in the middle of the night in the depths of November. This actually happened, right?
"All along the way with this film I wanted to finish it when Fergus was still alive, but I found out after he passed away from his sister that he was never going to let me finish it, he wanted it to go all the way to the end. I always thought that this was a story of someone who saw music as his saviour and when he told me that story about ending up in a ditch, the reality of that story that he was in that ditch all night in the middle of November just outside Schull and he really did think about letting go, this wouldn't be a bad way to go because deep down inside even though he never talked about it, it was obviously tough and he was always fighting. He never wanted to be seen as someone who was going to give up, but this story is pivotal because he soon found a way of getting out and it's almost fairy tale like that he convinced himself that he was going to get out of that ditch and there was still stuff to do so.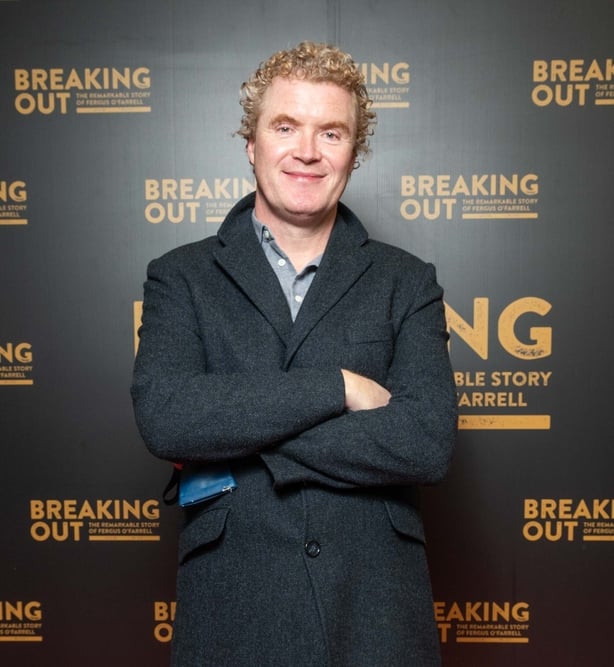 "Fergus told me that Jeremy had come to one of his gigs and had come up to him afterwards and told him how much he enjoyed the music, so I spent five years chasing Jeremy and, in the end,, I wrote him a letter and dropped it into his castle in Cork and a month later this lady rang me and said Jeremy wants you to come for tea, so I went for tea in the castle, and he was such a gentleman. He asked me where I lived in Schull, I said I didn't and he said, `Jesus Christ! Did you just drive all the way down from Dublin to meet me?' I said, `of course I did you're Jeremy Irons!' He said, `just because I think Fergus is an absolute gentleman it sounds like a great story and this is why you become an actor, I'd love to do it'."
Breaking Out is a love story as well as a music documentary and a life story and we get to meet not just Fergus and Interference but his wife Meng Li, who is also a force of nature. What was it like when they were together?
"Ahh, it was phenomenal. She was a very shy person at first, but she came out of herself during the course of the film and I knew she was going to be just as powerful as him on camera. She could stand up to him because he was a very big personality. He recorded all night and hardly ever went to bed and her job the whole time was not just as his nurse and wife but also to keep him going and she didn't try and stop him being who he was a pushing things to the limit, she just enabled him to do it but she would give him hell too. It was unusual for me not just to be able to tell this story but also witness such a great love story."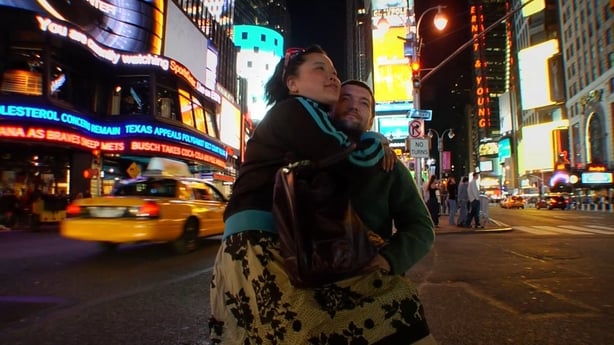 It's a very funny movie but it's also heart breaking. Was it emotional for you to make it?
"Yeah, yeah, totally. Over the years it was emotional because I was trying to raise the budget, I was terrified I wouldn't get it finished. I used to wake up with sweats in the middle of the night thinking how am I going to get this done and then there were times over the years when Fergus would have moments and if I was there and filming I had to find ways of not getting involved and let things happen and you see in the film there was a moment when we thought it was genuinely the end and I had to put the camera down and he told me to pick it up. At that stage he wanted people to know how bad it had become, and he wanted warts and all. It was an emotional rollercoaster."
Finally, how do you think Fergus would like to be remembered?
"Well, I think that this film is his legacy and I think he wanted it to be. And for Li because a lot of people who knew Fergus wouldn't have known Li that well. She was the hero in the background, and he wanted people to know that there was this person who he loved and liked all great artists, he had a muse in the background. The most important thing for Fergus if he was here today to see the film he would be so delighted that she's up there on the screen on the absolute star."
Alan Corr @CorrAlan2
Breaking Out is in Irish cinemas now.