Drogheda indie-rock trio modernlove. have released their new single, Us. We asked them the BIG questions . . .
Us follows the success of their recently released EP Monochrome Blue, which featured the singles Liquorice, 2 Missed Calls and lmk (if you wanna see me).
Speaking about the new track, the band said, "Us is actually the first tune we ever wrote together. It's such a raw song in every sense of the word: the energy, the lyrics, the production.
We need your consent to load this YouTube contentWe use YouTube to manage extra content that can set cookies on your device and collect data about your activity. Please review their details and accept them to load the content.Manage Preferences
"It's the blueprint for how we write music as a band. Once we wrote that song something clicked with us. There's something weirdly romantic about it even though it's a break-up tune, it's hopeful and uplifting.
"That push and pull is something that has come to define our teens and early twenties, and we just love the idea of a raucous crowd singing along even though it's a sad song."
modernlove. play TLT, Drogheda, November 20 and Button Factory, Dublin (supporting Somebody's Child) on November 26.
Tell us three things about yourself . . .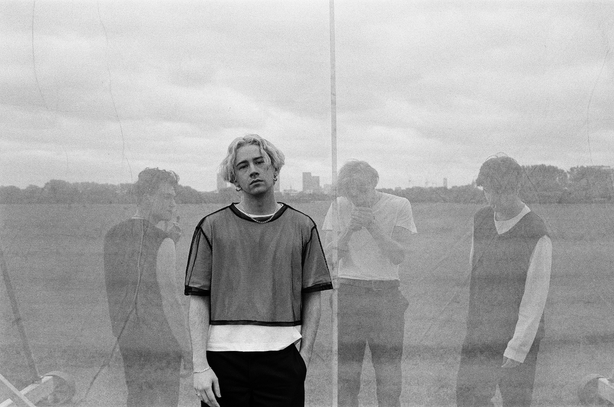 We once got kicked out of our gig for throwing salami at each other. Safe to say we learnt a valuable lesson.
Our guitarist, Graham, used to compete in karate tournaments, so don't mess with us.
Our rehearsal room used to be an old strip club and is now believed to be haunted.
How would you describe your music?
We'd describe our music as songs about love with a musical backdrop that makes you want to dance. We wouldn't want to be too defined by genres as we have a nice bit of diversity in our songs, particularly in our unreleased material!
Who are your musical inspirations?
We have quite a wealth of different musical inspirations across the different members of the band. We all love Prince and Michael Jackson along with more indie bands like Bombay Bicycle Club. Production wise we're into what James Blake and Jon Hopkins have been releasing.
What was the first gig you ever went to and the first record you ever bought/downloaded?
My first gig was Blink 182 around 2005 and I think my first album was also Blink 182's self-titled album - Cian.
Similarly, with Cian my first was green day and they're album American Idiot was probably the first album I ever bought as a kid - Danny.
What's your favourite song right now?
Looking for You - Ev Carm.
Kissy, Face Emoji! – jpegmafia.
Favourite lyric of all time?
'Woah, woah Livin on a prayer' by Bon Jovi. Rings true every time...
If you could only listen to one song for the rest of your life what would it be?
Gimme Shelter by The Rolling Stones - Cian
Probably a really long song that wouldn't bore me too quickly, maybe Come Down to Us by Burial – Danny.
Where can people find your music/more information?
You can find our music on all streaming platforms (Spotify, Apple Music, deezer etc). You can find out more of us on Instagram and TikTok @modernlove_band.