Co. Kerry troubadour Junior Brother aka Ronan Kealy plays the Right Here Right Now festival, which takes place in the Cork Opera House, Coughlan's and Cyprus Avenue from tonight until Sunday. We asked him the BIG questions . . .
Junior Brother, who plays a beguiling mix of weird trad and avant garde folk, released his Choice Music Prize nominated debut album Pull The Right Rope in 2019 and it was also nominated at the RTÉ Radio 1 Folk Awards, for Best Folk Album and Best Emerging Folk Act.
We need your consent to load this YouTube contentWe use YouTube to manage extra content that can set cookies on your device and collect data about your activity. Please review their details and accept them to load the content.Manage Preferences
He counts Rubberbandits and Cillian Murphy (who has played Junior Brother several times on his BBC6 Music Radio Show) a fans and he has appeared on the Tommy Tiernan Show, RTÉ music show Other Voices and the Choice Music Prize Awards night in Vicar Street.
Interference with Glen Hansard, Lorraine Nash, Caoilian Sherlock and Mide Houlihan are among the acts also playing Right Here Right Now along with Mary Coughlan, Wallis Bird, Loah and Niamh Regan.
Tickets priced €25 and €15 can be booked here.
Tell us three things about yourself?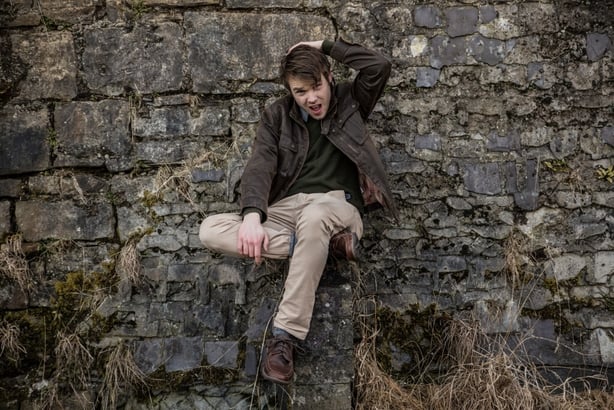 I am not too tall, not too small, a friend and foe to one and all.
How would you describe your music?
My hope is that the music dives into the past holding hands with the future, but the listener knows best.
Who are your musical inspirations?
Joanna Newsom, Dessie O'Halloran, The Residents, Planxty, Death Grips, Girl Band, Richie Kavanagh, Danny Brown, Genesis, Fiona Apple, Black Midi, David Munrow, Yoshi Wada, Ghédalia Tazartès, The Pecker Dunne, Turlough O'Carolan, King Crimson, Gamelan, Damien Dempsey, Margaret Barry, Dead Kennedys, Tyler, the Creator, Gram Parsons, Minutemen, Aldous Harding, Soft Machine, Robbie Basho, Gang of Four, Crass, Sleaford Mods, Nick Drake, Public Image Ltd., Michael Hurley.
What was the first gig you ever attended and the first album you bought/downloaded?
The first gig I ever attended was Barney the Dinosaur who performed in the Mangerton Suite in the Gleneagle Hotel, Killarney, when I must have been three or four years old (I was a huge Barney stan during this time). However, an even earlier experience of live music might have been seeing legendary travelling musician The Pecker Dunne. One of my earliest, haziest memories is of seeing what I'm sure was him performing in a parking space at the Market Cross in Killarney. I subsequently saw a video someone posted on YouTube of him performing in this exact spot around this time, which immediately caused my brain to validate the memory. That answer actually sounds much cooler than the first one, so let's go with that as my first live gig. The first album I downloaded off the Internet was Selling England By The Pound by Genesis, which I bought off iTunes as soon as we first acquired faster internet at home.
What's your favourite song right now?
Walkin' My Cat Named Dog by Norma Tanega.
Favourite lyric of all time?
There's many. One comes to mind: "Our nature does not change by will, In the winter 'round the ruined mill, The creek is lying flat and still, It is water, though it's frozen." - On A Good Day by Joanna Newsom.
If you could only listen to one song for the rest of your life what would it be?
A toss-up between Moon In June by Soft Machine and Supper's Ready by Genesis.
Where can people find your music/more information?
All can be revealed via my website.