Fresh from her cinematic success with Deadly Cuts, Angeline Ball's back on the box with the lead role in new RTÉ One Drama Hidden Assets. She tells John Byrne about the show - and some other strings in her bow.
The only thing I have in common with Angeline Ball is that we were both in The Commitments. But while I was a face in the crowd at a gig in the film, she was one of the stars, playing Commitment-ette Imelda Quirke.
But, like her, I've had enough of The Commitments. As I pick up my phone to chat with her in London about her latest role, the last thing I want to mention is the 'C' word.
Before Deadly Cuts, I'd last seen her as a baddie in Keeping Faith, the - eh - quirky Welsh drama starring Eve Myles. This time around, the cuffs are off, so to speak, as she plays Emer Berry, a detective in the Irish Criminal Assets Bureau, who's about to experience a life and career-changing moment.
More of that in a mo, I've got to say hello first . . .
John Byrne: We've just seen you in Deadly Cuts in the cinema and now you're on the TV in Hidden Assets. Busy, busy, busy! A good complaint, eh?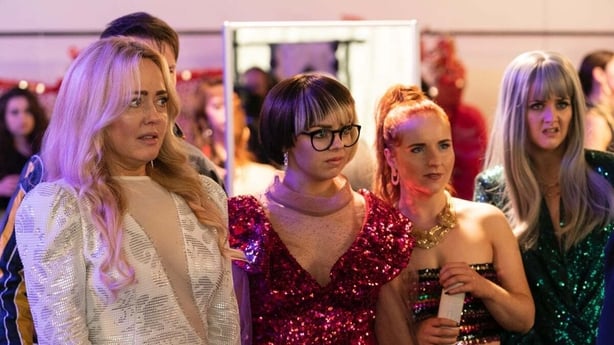 Angeline Ball: Isn't it just? Oh my god! And it's just the way the chips landed, with covid and stuff.
Deadly Cuts was supposed to come out in 2020, but because of covid they postponed it. And then we were supposed to film Hidden Assets in 2020, that got postponed, and I filmed it early April, finishing at the beginning of July. And it's going straight out, so it seems like I haven't stopped.
But I did have that break, like everybody else, as unfortunately we had to lockdown with covid.
What I'm most happy about my parts in Deadly Cuts and Hidden Assets is that they're two very different characters. Michelle is more the glamour world, hairdressing - but she's still quite a feisty, strong lady.
And then you've got Emer, who has left the police, and now works for CAB. That's what makes it so interesting as well. It's not just playing a cop. God knows what she can find while working for the Criminal Assets Bureau. You'd maybe get a call to fly to London or America.
I did speak to a retired CAB officer. What you're seeing on the screen is - with the slightest poetic licence - absolutely authentic. And when I spoke to her, it was eye-opening. The fact that they carry guns all the time! You could be shadowing someone in a supermarket in Ireland, and there's a gun under your armpit! That's the really scary bit.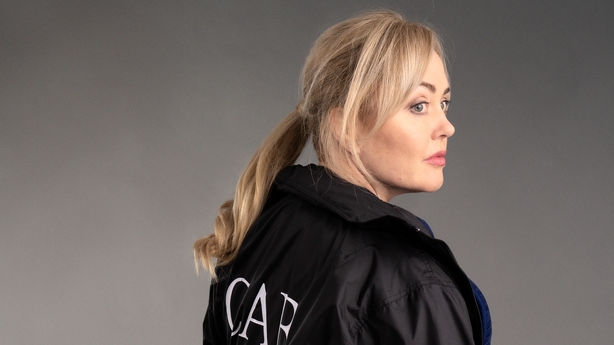 As the story begins, your character Emer's on what seems to be a routine drugs bust - but it opens a can of worms. Or a bag of diamonds even?
Actually, they were rough cut diamonds, so you don't know what they are - they could be a bag of stones. But yeah, it does open a whole can of worms. And it takes her down this road where it's becoming something really, really big.
You're talking about the possibility of a terrorist attack, from something that involves a local drug dealer, then heads over to Belgium and Antwerp. But there's no flicker - she never lets on that's she's out of her depth. She must feel very out of her depth, coming from where they'd set this office up in the west of Ireland.
She was given this office, with her team of four people. And they're kind of unwelcome there because it's only temporary, and the fact that she's going from this little office over in the west of Ireland to this state of the art, Mission Impossible-type incident room in Belgium. It's like, wow!
So how was it filming in Antwerp - especially in these pandemic times?
I went there at the end of March. At that stage a lot of places were still in lockdown. So it was pretty difficult to get in, and you had to do all those pre-tests, and then we had to do tests every week, not an awful lot of places were open, so it was pretty empty.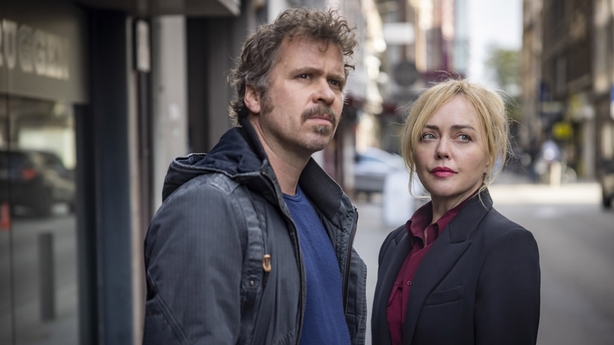 But it's a beautiful city. And again, also working with a mainly Belgian crew. So that was quite intense. And I think that towards the end of Hidden Assets - the Belgian end that is - myself and the script supervisor were the only two English-speaking people from the Irish end.
And then the both of us flew over to Ireland, straight across to Ennis, and started shooting the Irish parts there.
So tell me about Emer working with the Belgian cop Christian DeJong, played by Wouter Hendrickx . . .
She stumbles upon this by being slightly nosey. Her senses take her to this apartment. I don't want to give away too much of the plot but she meets up with this Belgian policeman. He's kind of trying to diss her job a little bit, and she tells him 'No, I'm a Detective Sergeant and this is what I do for a living'.
He's kind of trying to make it like, 'Oh it's woman's work' and that slightly gets her goat. So they have this tete-a-tete. But then they genuinely like each other, and they really get on. They like each other's sense of humour. They just kind of bounce off each other.
And they're similar characters in terms of wanting to get to the truth . . . and they're not afraid to get their hands dirty.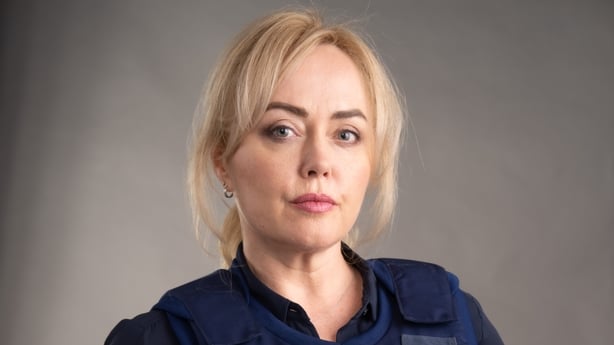 He's got a kind of Seventies' cop feel. He grew that moustache for the show. And every single thing is well thought out. All the outfits. You work with the designers and the producers, of course, and you style yourself on the ground look in the character.
And I think what was great is that we really compliment each other. It's quite Scandi-noir.
So, with Hidden Assets in the can, is there anything in the pipeline for you?
To be honest with you, I really don't know. I'm a jobbing actress like any other, so something could come in tomorrow, I'll audition for it and I might get it. Or I might not get it. So all you can do is keep yourself busy in your own life.
I'm writing a little bit myself, and I've got other stuff. I'm a plates and yoga teacher, and I like to do that. It's something that completely takes me away from the other job. I'm like one of those vinyl records - I've got an A and a B side. And sure that's my initials as well, so that's kind of weird.
I like challenging myself, and I like moving . . . and a lot of the time you're just waiting on jobs to come in. In the meantime I keep myself busy, I've got a family - my life's all of those things.
But I really enjoyed working on Hidden Assets. I kind of think of my character - it's a bit silly - but I think of her as kind of Irish female Columbo [the legendary US TV cop]. She's very understated. I like that.
Hidden Assets is on Sundays at 9.35pm on RTÉ One