Fans have reacted angrily after The Waterboys called off a gig just as they were due on stage at a festival in Donegal on Sunday night.
An estimated 1,400 fans, who had paid €44 for a ticket, had travelled to see the band play the Fomhair Festival in Gaoth Dobhair.
However, after they experienced technical difficulties, The Waterboys, who are fronted by Mike Scott, announced at 9.15pm they were pulling their show due to strong winds.
Tonight's show st Fomhair Festival in Geeedore has had to be cancelled for health and safety reasons and power supply problems. It was not safe. We apologise to all who came to the show and are disappointed.

— Mike Scott (@MickPuck) October 31, 2021
According to one gig-goer, Scott came on stage and played the opening bars of Don't Bang The Drum before announcing "This piano is out of tune" and adding that the electricity supply was affecting the turning on the band's instruments.
Fans were then left in the dark in the venue for 45 minutes before the promotor came on stage to apoligise.
Scott later tweeted that they did not think it was safe to play the gig, saying, "Tonight's show at Fomhair Festival in Geeedore (sic) has had to be cancelled for health and safety reasons and power supply problems. It was not safe.
"We apologise to all who came to the show and are disappointed."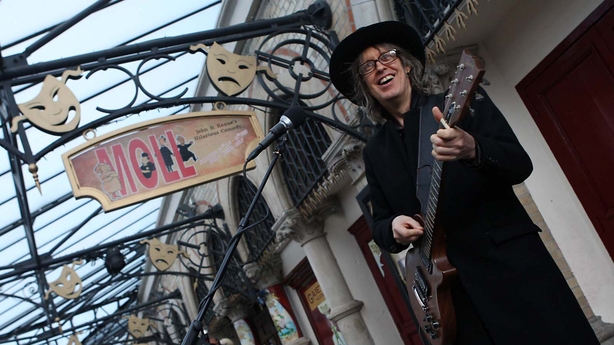 Angry and disappointed concert goers have reacted strongly to the cancellation and pointed out that local act Clann Mhic Ruaraidh had gone ahead with their gig before The Waterboys were due on stage.
Speaking on Liveline on RTÉ Radio 1 on Monday, one fan said, "It was very disappointing. Having looked forward to it for weeks now. I had a lot of friends who were there last night, friends from across the north. People travelled from all around, I've heard stories of people coming from the States and London as well."
"It was a wet and windy night, as you get in the west of Ireland as Mike Scott and The Waterboys would know having spent time in Spiddal for many years and coming from Scotland.
"They know what the weather is like, but the weather wasn't an issue at all, nobody felt scared by the weather. The sides of the pavilion were open in places and the wind was blowing but there was absolutely no way anyone was feeling unsafe. That was not an issue."
Speaking on Liveline, Shane Barr, organiser of the festival in Gweedore, said that "from our end, everybody was ready to go… I felt I was left to deal with a situation the band created"
"We had the go ahead from our health and safety officers and the tent company and unfortunately the band refused to go back on."
The Waterboys' keyboard player Brother Paul said on Twitter that the band had very serious concerns about safety at the venue.
Many fans on social media also asked Scott for a full explanation on why the band didn't play the gig.
"How the Waterboys treated their audience tonight was appalling. No one from the band addressed the crowd to explain anything," one concert goer said.
"Clann Mhic Ruaraidh played beforehand and there were no safety issues. A lot of disappointed people who'd traveled long distances to see them."
"Gutted tonight. Travelled for four hours to get there." tweeted another.
Scottish writer Irvine Welsh was among those defending the band's decision to pull the show, tweeting "no way would any artist cancel a gig unless things were totally f***ed. This is what people live to do."
Mike Scott has said he had been subject to "online abuse" directed against him by people who "don't have the facts" following the cancellation.
To be honest I think some of the online abusers and complainers are only too ready to blame bands/artists and project onto us their fantasies of "arrogant pop stars" without considering that we are human beings who in this case took responsibility for public safety. https://t.co/Y7eMzJpXqp

— Mike Scott (@MickPuck) November 1, 2021
"Band and tour management believed gig was dangerous and would not put band/crew/audience at risk," he said.