Cork native and Spider-Man illustrator (how cool!) Will Sliney has a brand-new show coming to RTÉ2 that will teach budding young artists how to use the most powerful weapon in the world - a pencil.
Storytellers is part drawing show and part animated adventure. It tells the epic tale of a fearless young Viking mapmaker Freya (Laura Whitmore) and the wise-cracking floating sentient stone Ogham (Aisling Bea).
This dynamic duo are on a mission to recruit a team of young artists to embark on a time-travelling quest to stop the world's most famous artworks from falling into the hands of the Chronicle (Dermot Whelan) and his evil henchmen.
Sliney also works with Marvel - yes the Marvel - home to Spider-Man, Hulk and Iron Man and has spent the last ten years drawing the masked web-slinger from his home in Ballycotton, Co Cork.
We caught up with this very talented artist to find out more about Storytellers and how he ended up drawing for one of the biggest comic book franchises in the world.
We are really looking forward to Storytellers - what can you tell us about it?
Storytellers for me is about the joy of creating stories, and that anyone can do it. It's a show that is only limited by our imagination and as we create new characters the story expands and grows. I'm hoping that it inspires and encourages more kids to create and draw their own adventures.
There are some really exciting and well-known faces voicing the characters. Which comes first, the voice or how the character will look?
The character will always come first. But what has been amazing about this show is that we always had a dream cast in our heads when making it. Thankfully, they all agreed to be a part of it, and I think that's because they all love the idea of encouraging Irish kids to be creative.
We need your consent to load this YouTube contentWe use YouTube to manage extra content that can set cookies on your device and collect data about your activity. Please review their details and accept them to load the content.Manage Preferences
Where did the idea for the show come from?
I wanted to come up with a new type of how-to-draw show. One that's driven by both the educational aspect, and the story aspect. It took quite a while to form the idea, as it had never been done before, but thankfully storytelling and creativity go hand in hand together.
What is your favourite thing about the show?
I don't know where to start. Getting to experience the cast recordings, listening to the gorgeous music for each episode as it came in, or seeing the characters start to move and come to life. Ultimately, though, I've already started to have some art sent my way with Storytellers characters and that will always be the best thing about it.
Are you the coolest person in Cork working with Marvel - how did that come about?
What's amazing is that I'm not the only person in Cork now working for them. The Irish art scene gets stronger and stronger as more people realise that you can do these kinds of jobs from here. I used to go to any comic book convention I could, whether it was in San Diego, New York or here and each time I would bring a new portfolio of pages. Thankfully, a comic book art portfolio is just five pages - that's all you need to prove you are good enough. I really do mean it when I say anyone can work for them as long as you put in the effort and practice to get to a professional level.

What was it like drawing Spider-Man for the first time?
Dream. Come. True. A total pinch-me moment. I'll never forget getting the call and the offer of the job. I've been drawing him all my life, so getting to be a part of his story was thrilling for me.
We need your consent to load this Instagram contentWe use Instagram to manage extra content that can set cookies on your device and collect data about your activity. Please review their details and accept them to load the content.Manage Preferences
What is it like working for Marvel?
I love it. They have always been great to work with and I've been lucky that I've been able to work on the characters and stories that I love the most. I've had some amazing experiences there. Whether it's creating characters and having fans come up to me dressed like them, or working on legends and contributing to their universes, it has been an amazing ten or so years with them.
We hear you have something exciting coming up with Star Wars. What can you tell us?
I do. I am the artist for the upcoming Star Wars Halycon Legacy, which is the first Star Wars story that will go across all the generations of stories. I get to draw some dream Star Wars characters in this.
Was drawing comic books and working with animation studios always something you wanted to do?
I didn't know you could do this kind of a job as a kid, so it's always been a main goal of mine to let any young artist in Ireland know about these kinds of jobs and that anyone can do it.
And advice for budding artists out there?
There is nothing better than drawing and telling stories. It can bring so much joy to people. Every video game you play, every animated movie you watch, every toy you see all starts with someone at a desk drawing with a pencil and paper. Most importantly, the more you draw, the better you get. It really is a skill and not a talent. So, anyone can be brilliant at it if they practise hard enough.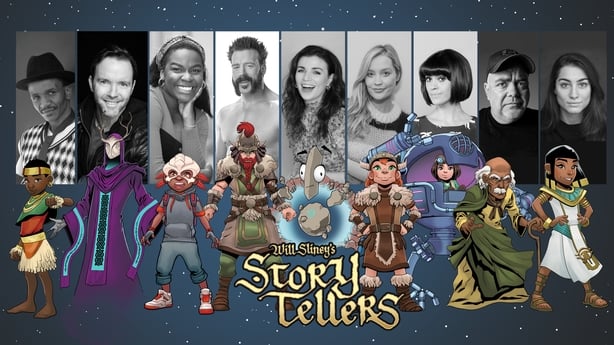 What is your favourite piece that you have ever drawn?
It keeps changing, but the group shot of the Storytellers is now my favourite, as it's only now dawning on me that I'm lucky enough to have been able to create a whole new cast of characters to share with people in a TV show.
Who is your favourite superhero and why?
Blue, red, with webs all over him! Spidey. Of all the heroes, he is the one [that] no matter how hard life treats him, he always does the right thing.
Watch Storytellers from Monday, October 25 at 12.05pm on RTÉ2 and RTÉ Player