Dublin punk trailblazers Paranoid Visions will support The Skids on their Irish dates next year at The Button Factory, Dublin, May 27 Limelight 2, Belfast, May 28. We asked Deko and P.A. of Paranoid Visions the BIG questions . . .
We need your consent to load this YouTube contentWe use YouTube to manage extra content that can set cookies on your device and collect data about your activity. Please review their details and accept them to load the content.Manage Preferences
Formed in 1981, Paranoid Visions have been at the forefront of independent and DIY music culture in Ireland and have released 23 albums, three mini albums and 18 singles. Included in these are three top ten physical chart singles and a top ten national chart album over the past 10 years.
With a revolving cast of members, under the guidance of Deko and P.A. since day one, Paranoid Visons have had a settled line up since 2014. In 2013 they teamed up with former Crass vocalist Steve Ignorant for three collaborative records and several shows worldwide as a sideline band called Steve Ignorant with Paranoid Visions.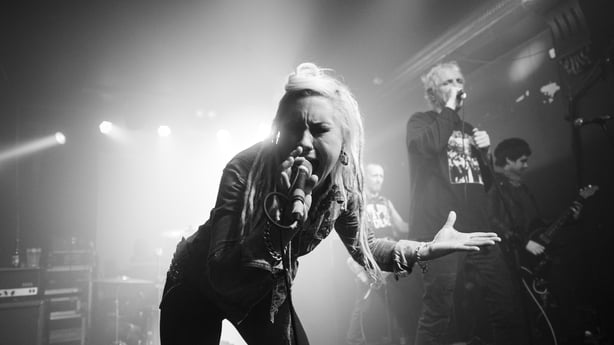 In 2019 Paranoid Visions commenced the five-part Countdown to Pharmageddon series of releases which consist of a coloured vinyl 10" LP, 32-page poetry book, CD, bonus material, inserts and T Shirt presented as a box set. Part 3 of these, Diverse Reality, is due this November and the final two in the series are planned for 2022 and 2023 respectively.
Tell us three things about yourself?
Deko: I am an animal-loving, people hating, outsider artist from Dublin's Unfair City.
I am anti-religion, capitalism, and racism.
I love music, football, and drinking!
P.A: I've spent 42 years trying not to learn how to play guitar.
I run a record pressing company called Rotator.
I used to think I was incredibly normal until Deko told me that normal people in their 50's who have a career, a wife, a house, and a family don't play in the same punk band for 40 years.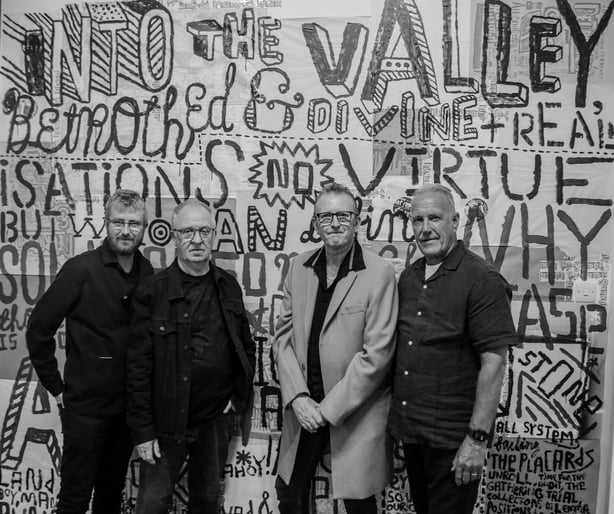 How would you describe your music?
Deko: Post-punk.
P.A: Diverse. Aggressive. Original. Eclectic! I would love to consider what we do as being a hybrid of Killing Joke, Crass, Dead Kennedys and Siouxsie And The Banshees.... but know that we can only aspire to that!
Who are your musical inspirations?
Deko: Killing Joke, Crass, Dead Kennedys, and Linton Kwesi Johnson
P.A: Dead Kennedys, Buzzcocks, and Killing Joke would be the pinnacle of my musical inspiration, but throw in a healthy dollop of Pistols, Ramones, and Crass as musical construction, style, and deconstruction respectively!
What are you most looking forward to post-lockdown?
Deko: Getting out of Ireland.
P.A: I'm looking forward to choosing to stay apart from the crowds as opposed to being a part of the crowds. I'm fine with isolation as long as there's an option. I think most of all I'm getting excited about international travel as it staggers me how expensive it is to have a break in Ireland... I can't imagine how anyone can afford a lengthy staycation in this rip off Republic.
What's your favourite song right now?
Deko: I Am The Virus by Killing Joke.
P.A.: I've been listening to Whipping Boy a lot recently and can't stop playing We Don't Need Nobody Else as it's a song myself and my wife Aideen always quote at each other when the world looks bleak.
But of new songs, I absolutely love Keep it Together by Pip Blom and A Heroes Death by Fontaines D.C.
Favourite lyric of all time?
Deko: Bloody Revolutions by Crass, Power In The Darkness by T.R.B. Or Looking After No 1 by The Boomtown Rats.
P.A.: "You talk of overthrowing power with violence as your tool, You speak of liberation and when the people rule, Well, ain't it people rule right now, what difference would there be? Just another set of bigots with their rifle-sights on me". Bloody Revolutions by Crass.
Or "The best way to scare a Tory is to read and get rich". Mother - Idles.
If you could only listen to one song for the rest of your life what would it be?
Deko: Sonic Reducer by The Dead Boys.
P.A.: Bloody Revolutions by Crass.
Or Pretty Vacant by Sex Pistols.
Where can people find your music/more information?
Facebook is still good and Advance Records but also Bandcamp, Spotify, YouTube.