Shelved several times due to lockdown, The Deirdre O'Kane Show finally lands on Sunday. John Byrne wags his double chin with Ireland's Queen of Comedy.
Deirdre O'Kane has become something of an Irish institution since she made her breakthrough in comedy back in the mid-to-late 1990s. She's no strangers to British shores either, in the quarter-century since she reached the finals of the BBC New Comedy Awards in 1996.
As well as theatre and film - not forgetting her charity work - she's also found time to develop a wide-ranging television career that has seen her star in the likes of comedy series such as Paths to Freedom and Moone Boy, while also narrating Gogglebox Ireland and swinging her limbs on Dancing With the Stars.
Meanwhile, I'm still wondering what I'm going to do when I grow up.
Now, with Covid restrictions easing, the human dynamo that is Deirdre O'Kane is back on the box with her own show. For utmost convenience it's called The Deirdre O'Kane Show, and it's on Sundays on Sky Max. You can also have a goo on streaming service NOW.
No excuses. It's clearly unmissable.
We need your consent to load this YouTube contentWe use YouTube to manage extra content that can set cookies on your device and collect data about your activity. Please review their details and accept them to load the content.Manage Preferences
Showcasing a mix of well-known Irish and international names and some musical surprises thrown in along the way, it promises to offer a fresh take on the classic stand-up TV show format.
Well, they would say that, wouldn't they?
In the premiere episode, Deirdre is joined by world-renowned comic, multi-instrumentalist and Strictly Come Dancing champion Bill Bailey, along with upcoming Clonsilla comic Catherine Bohart and the show's house band Abandoman (more of them later) for a night of laughs.
Naturally, the arrival of the show - another much-delayed victim of the lockdown - sees her as relieved as she's excited about finally getting the show on the box.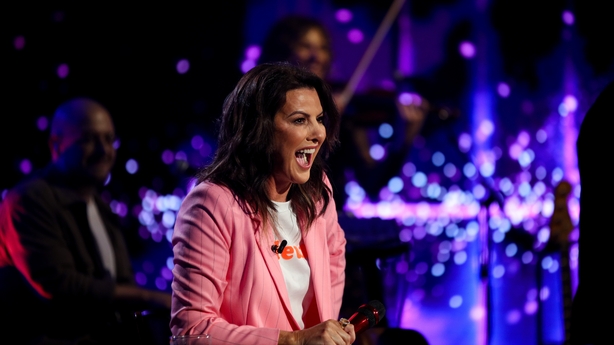 John Byrne: It's taken a while, thanks to a certain virus, but The Deirdre O'Kane Show is finally here. How does it feel to see your ship finally set sail with your name lit up on the prow?
Deirdre O'Kane: When we were pushed back for the fourth time, I had a real moment when I thought, 'Oh, this isn't going to happen'.
I parked it for a while, because there was no point. And also, you don't know when you're going ahead, you don't know what acts you're going to have, you don't know what you're dealing with.
So, I thought there was not much point in writing and re-writing. We just had to wait until we were good to go and then look at what I'd had from 18 months ago and see if it was still okay.
We update everything with Covid and made everything a bit more current, but good jokes are good jokes.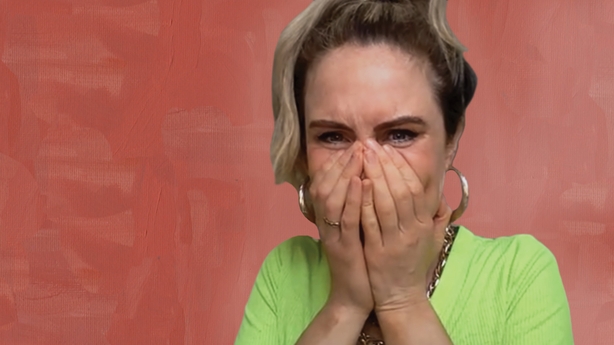 Naturally enough the timing's comic. We could all do with a laugh right now.
I think the comics certainly deserve it. It's been really hard for them - even more than it was for musicians who could Zoom. Comedians need to hear people laugh.
And what about playing live again? That must be some buzz?
It was glorious. I did my first live gig in Galway, in Pearse Stadium in Galway, with Ardal O'Hanlon and Tommy Tiernan. We'd 1500 people outdoors. I swear to god, it was probably the happiest day of my life.
I could glimpse a future where we could all give thanks and just be ourselves again. We're not there yet, obviously, but I got a taste of it and it was really wonderful.
I'm thrilled to be back on stage in front of audiences. Genuinely. I'm not back back, but I have enough to feel sane again. I don't think I realised how much I missed it until I got back.
When I got up I could feel an actual, physical relief in my body, just to be doing my job again. It was really satisfying. I'd underestimated how much I enjoyed it loved doing it.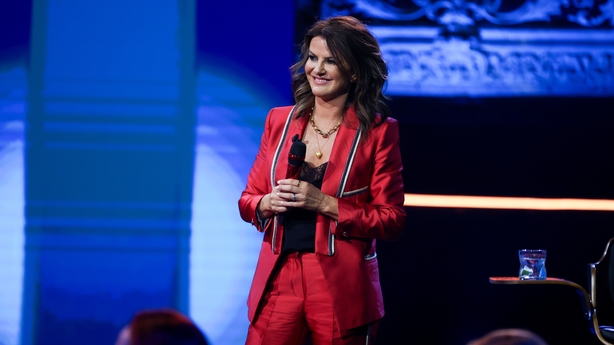 Your topics often cover your own family and kids. I'm sure - like all kids - they disapprove of a parent making family life - their family life - public?
I've never heard a comic not talk about what's going on in their lives. I mean, you have to mine what's going on in your life. You don't really have a choice. Every family is much the same, so that's what you're trying to speak to - the collective experience.
I try to explain to the kids that it's heightened. That it's not really about them, I try not to say their names . . . They certainly don't lie the idea of it at all, so I have to be careful. So please don't print their names! (Laughs)
I've got to the stage, the teenage years. They're very sensitive. Naturally. So I just have to be a little bit careful there.
It's one thing, keeping your kid onside. Quite another getting the acts together for the show. It must have proved difficult, but you've the likes of Bill Bailey, Joanne McNally, Jason Byrne and others lined-up . . .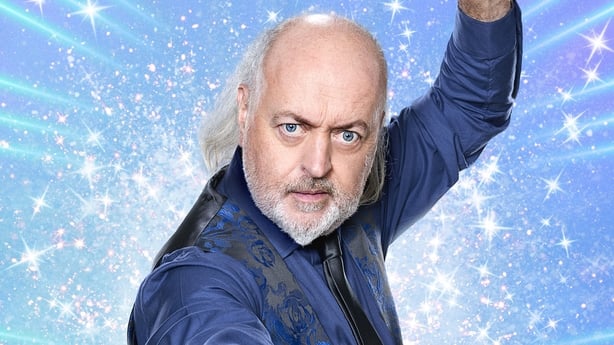 The list changed six times! I was very happy with the acts we were able to book - considering we had so many restrictions on who could travel, on who couldn't travel, and who could come in and Covid and all the rest of it.
I think, in the end, we were really happy and I think there's a nice selection of very established, big acts, and a few newbies in there. And I think that's kind of perfect, because then everybody's getting a go. It's not just for the biggest acts.
You're getting someone like Martin Angolo, who is getting a shot at some TV, and it's well deserved. It's great. I like that mix. I'm all for that.
I think Martin will do well out of it. Catherine Bohart is already doing well in the UK, but Irish audiences probably don't know her. I think Catherine will do really well.
There's also a musical element to the show. Can you tell us a bit about that?
The band are called Abandoman, and that's led by an Irish guy called Rob Broderick, and he's a phenomenal improv/rapper. I've known Rob's work for a long time and he's very well regarded in the UK, and in the comedy scene in general.
We need your consent to load this YouTube contentWe use YouTube to manage extra content that can set cookies on your device and collect data about your activity. Please review their details and accept them to load the content.Manage Preferences
But he's a live act, so the general public wouldn't know him yet. I hope this show elevates him to the status he deserves because what he does is very, very unique and I think everybody will be excited when they see him.
It's also an element that makes this show a little bit different from a regular stand-up show. He's interacting with me, he's interacting with the acts, and with the audience. Which makes the whole thing a bit more fluid.
So it's more like the Jools Holland show for comedy.
The Deirdre O'Kane Show, 10pm Sundays on Sky Max and streaming on NOW