The IndieCork film and music festival begins on Sunday with the world premiere of the Irish psychological horror Gateway.
Below, the film's writer-director, Niall Owens, talks about bringing his feature debut to the screen in his hometown.
Why did you want to tell this story?
Gateway was a story that I wanted to tell because it is ultimately a tale of loss and the grief and pain felt by those left behind, especially when one blames themselves for their actions. We have all sadly experienced that pain and it is, unfortunately, a very relatable situation. I wanted to explore my own grief and my own habit of repressing my emotions, which is ultimately what Gateway is about for me. [Lead character] Mike's emotional journey through the story is the spine of the narrative, everything else is a result of the decisions that are made while he deals with his pain.
You have many credits as an assistant director and have also made your own short films that screened at IndieCork. Was it a bigger jump than you expected directing your first feature?
Thankfully, the jump to making a feature wasn't as difficult as I thought it would be. That could have been due to the creative decisions I made or sheer luck. Every decision was made around what I could achieve and achieve well. I didn't want to be aiming to do things I knew I couldn't deliver. The scale of a feature is always a bit daunting, especially when you look at all you have to do from a distance. But once you start moving forward, it's just one step at a time.
In terms of atmosphere, what films were the biggest inspirations for Gateway?
Gateway was heavily inspired by The Shining, as well as the many works of Ben Wheatley and Shane Meadows. Both Mr Wheatley and Mr Meadows tell very grounded stories with characters you can relate to with ease; they are believable and very human. My desire was to tell a story that felt like it could happen on your street, in your town. The blending of the real world with the mystical in a very grounded way. The Shining is one of the finest psychological horror films ever made. It has little blood and very few jump scares. It utilises superb performances from Shelley Duvall and Jack Nicholson, as well as amazing sound design and score.
The cast is very convincing. Did it feel like fate that you found your way to the actors or them you?
Before I had even written the script for Gateway, I knew who I wanted for certain characters. Timmy Creed was always going to play the lead role of Mike - the same for Kevin Barry, who played Joe. Rosie O'Regan and George Hanover were cast in my head before I had even written their characters - I was just lucky enough that they both said yes. Cork has so many great actors, many of whom I have the pleasure to know. Rosie, George, Joe Lyons, Finbarr Stanton are just some of the talent that is here.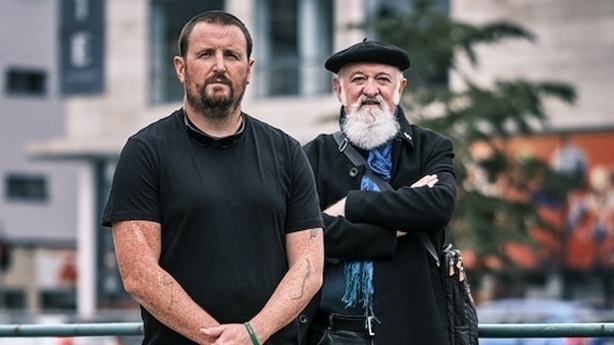 What caused you the most headaches - or was everything a headache to a greater or lesser degree?
To be honest, there weren't any real headaches. I had an exceptional cast and a dedicated and trusting crew. The smoothness of production was down to two things: firstly, the talent and ability of the crew and the cast; and secondly, making good decisions. I think a filmmaker can save themselves a lot of headaches if they cut their cloth to measure. Don't have ten fight scenes or complicated set-pieces, just have one and do it well.
What did making your feature debut teach you about yourself and filmmaking?
It helped me further cement my trust in my instincts and confidence in my decision-making abilities. All a director has is the confidence in their decisions; once that goes it can be very hard to get it back. Gateway is the film I set out to make. The completed script through to the completed film are one and the same. There were no fix jobs or heavy edits made in order for the narrative to work. The narrative flows as it did on the page right onto the screen. I also have a better measure of myself and what I am capable of. Being the writer, producer and director is a heavy workload, but I never felt out of my depth. I just made a list and ticked each thing off as I went.
Given Gateway's focus on the paranormal, did anything strange happen while you were making it?
The only strange thing I can report from the set of Gateway was that nothing went wrong! Usually, there are at least some hiccups or mishaps during a shoot, but thankfully not for us. It was a great production and a memory I will forever cherish. I owe it all to the cast and the crew. Their trust and belief in me is something I hope I can repay with a movie that both entertains and also makes people think.
What's next?
I hope to work as a director. I hope to be able to continue this journey, and continue to share it with my friends. My executive producer, Paraic English, has been working with me since the first project we did together, as have [executive producers and actors] Kevin Barry and Ian de Brí. I want to work with new people too, of course, but I want to share the journey with the friends I started with. That brings me the most joy - looking back on how we have grown and looking forward to how we can continue to grow and create.
IndieCork runs from 19 to 26 September at the Gate Cinema and online until 3 October. For more, see: www.indiecork.com.