Ciarán Hinds and Clare Dunne, stars of the hit RTÉ crime drama Kin, have said they're "thrilled" by the positive audience reaction to the show's first episode.
The eight-part crime saga starring Hinds, Dunne, Aidan Gillen, and Maria Doyle Kennedy, kicked off last Sunday to widespread acclaim. It follows Dublin crime family the Kinsellas who go to war after a member of their clan is killed.
Speaking on Friday's Late Late Show, Hinds said of the reaction to the season opener: "I'm really thrilled because when you set up a show at the beginning, there's a lot of characters to introduce, there's a lot of dynamics to get going and that builds up through the storyline. I think it bodes very well for the story."
Hinds promised plenty of drama as the season progresses, saying writer Peter McKenna's show will go off like "a firework".
"He's lit the fuse. The fuse is starting to burn and he suggests that you retire, because it's going to get very hot," the actor said.
The second episode airs on Sunday night, with Clare Dunne's character Amanda Kinsella featuring heavily.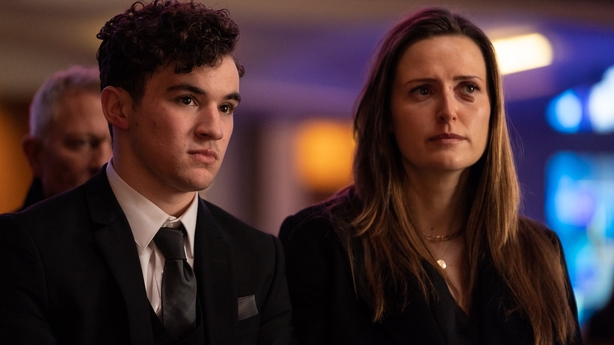 She said of the show's reception so far: "People are gripped, people are talking and I think that's the main thing. It's really grabbing people of all ages. That's what I love about it."
Speaking about her research into the role of Amanda, a woman who married into the crime family and launders their money in a car dealership, Dunne said: "I feel like we all did a bit of research on the world.
"I had to do a lot of research on how you launder money and I still couldn't get my head around it! I was like 'I'd be really bad at this'.
"I had to do a bit of research on how you launder money and I wasn't very good at that"

Clare Dunne on her new hit role as Amanda Kinsella in #RTEKin.

#latelate | @ClareEmmadunne pic.twitter.com/qUvSlz2VB1

— The Late Late Show (@RTELateLateShow) September 17, 2021
Dunne added: "I remember talking to Peter the writer, and he asked me to avoid getting too deep into stuff that wouldn't be her world. She keeps her hands clean, she stays out of it.
"Her journey is only getting more involved in that as it goes along, so he wanted me to feel like that was really authentic. So I didn't delve too deep, but I listened to podcasts and read some books."
The Late Late Show airs Friday nights at 9.35pm on RTÉ One.
Catch up on The Late Late Show on the RTÉ Player here