RTÉ News understands that country music star Garth Brooks will try to stage five concerts over two weekends at Croke Park in September 2022.
Croke Park already has planning permission for three in a year, and the Brooks team are expected to apply for a compliance certification for those.
They then are expected to apply for an event licence for two more shows. This application could happen soon.
It comes seven years after a licencing and planning dispute resulted in the singer cancelling five sold out shows at the stadium.
Hundreds of thousands of fans had bought tickets for the 2014 performances, but when it was announced that Dublin City Council would only grant a licence for three of them, the singer said none of the shows would go ahead.
Roughly 400,000 ticket refunds were then issued to disappointed fans.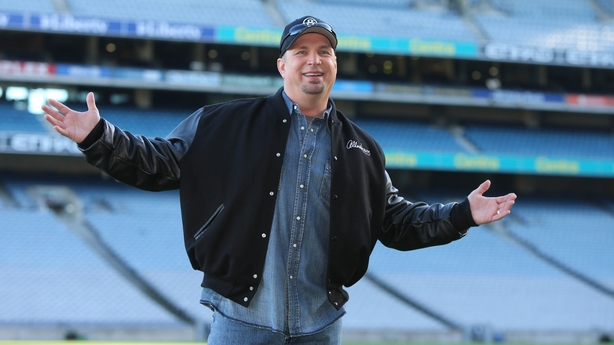 The chairperson of the Croke Park Residents Association, Patrick Gates, said reports that Mr Brooks is set to return to play a series of concerts has not been officially communicated to local residents.
Speaking on RTÉ's Today with Claire Byrne, Mr Gates said there needs to be proper consultation with local residents ahead of a decision on the running of any series of concerts at the stadium this year.
He said that this is "disappointing" as there are processes in place for consultation with local residents.
He said: "We are all looking forward to opening up and moving past Covid... but it has to be done in a respectful way that is cognisant of local needs".
Mr Gates said residents do not have a problem with a run of three concerts by Garth Brooks or anyone else, but any more than that would be a problem.
Events at Croke Park have resulted in serious problems locally, he said, including public order incidents, traffic congestion and people urinating on cars and in gardens.
Speaking on the same programme, industrial disputes mediator Kieran Mulvey said they cannot "return to the madness" they had before.
Mr Mulvey, who negotiated an agreement with residents in 2014, said residents need to be consulted with, and that issues around gardaí and security are central to this.
He said there are three key issues for any future negotiations - that the stadium is available for agreed dates, that permission from the city council is in place, and that residents are on board and engaged with.
It was "reasonable" to have three concerts, he said, but previous efforts to run five concerts over a bank holiday weekend were "extremely ambitious".
He said it is important for residents that streets would be cleaned, parking is accessible and that the entrance opens at a certain time and concerts finish at 11pm.
Also on the programme, Independent Dublin City Councillor Nial Ring said there is "great excitement" around the area, and there will be gains for the community if the concerts take place.
Mr Ring was critical of Mr Brooks' decision in 2014 not to perform three concerts, and said he believes the singer will be welcomed back to Ireland.
He added that he would take back "everything nasty" he said about him.
Additional reporting by Conor Hunt