Suranne Jones has said she realised that she isn't 23 anymore after agreeing to do her own stunts in the new BBC thriller series Vigil.
Beginning on BBC One this Sunday, Vigil tells the story of the "mysterious disappearance of a Scottish fishing trawler and a death on-board a Trident nuclear submarine".
Jones' character, DCI Amy Silva, "leads an investigation on land and at sea into a conspiracy that threatens the very heart of Britain's nuclear deterrent".
Speaking to the BBC, the Doctor Foster star said: "When I first read the script I was like, 'Oh my God, this sounds amazing - I get to do all these stunts!'. But I forgot how old I was. I thought I was 23 when I was reading it, and that's not true anymore!"
We need your consent to load this YouTube contentWe use YouTube to manage extra content that can set cookies on your device and collect data about your activity. Please review their details and accept them to load the content.Manage Preferences
"So, I had to do a lot of working out just to build up my strength in order to do those scenes," the 42-year-old continued.
"And then we had a gap partway through filming because of lockdown, and anyone who had a bit of lockdown belly will know it's quite hard to get your strengths up after that. Most of the stunts were when we were coming back after the break, so that was quite hard to build myself back up."
Of the injuries she sustained, Jones said: "I got whiplash, I put my back out a couple of times, I was covered in bruises.
"Every time I went home my husband was like, 'What the Hell have they done to you now?'. It was fun to do and I watch the finished series and go, 'Oh, Amy's great!'. But I was hobbling home and having Epsom salt baths during filming!"
Jones added that she was "attracted to Vigil because of what it was trying to do".
"It was trying to be something different," she explained. "It was trying to have a different voice in the landscape of TV.
"It's a boys-y show, a boys-y thriller with two females at the heart of it. And a complex storyline about sexuality. You put all of that together and I think what they were trying to do with it really spoke to me and I thought, 'This is the way we should be going now'.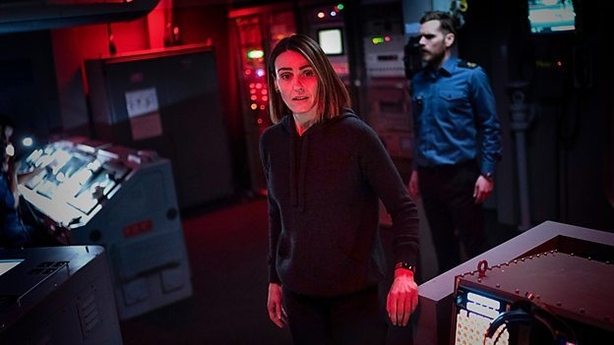 "It shouldn't be unusual for a show to have all those elements in it. It should just be a TV show, and a really really bloody good one. So, that's what attracted me at first. And the stunts! And then I realised they were hard." [Laughs]
Episode one of Vigil is on BBC One on Sunday, 29 August at 9:00pm. Episode two is on Monday, 30 August at the same time. Vigil will then continue on Sunday nights.