Ryan Tubridy has said the new season of The Late Late Show will "embrace the light" and aim to "entertain, entertain, entertain".
Speaking at the RTÉ new season launch, the veteran presenter opened up about the "gear change" in the approach, his hopes for a return of a live audience, getting the show back on the road, next year's 60th anniversary and the plans for the Toy Show.
Ryan is excited to be back
"I feel that it's a very different type of excitement because the last couple of years we've gone back to a very different class of Late Late Show, but I have the feeling we're coming out of that phase now and we're into a much bigger, brighter place," he said.
"I think the mood is better. Certainly, the shadow has been cast, but we're emerging from that and we're ready for a different gear change for the show. We're starting to embrace the light and run to the crowd and the music and the entertainment side of things.
"I think it's time to laugh again and to have more fun again. They talk about the Roaring Twenties - well, I'm all for that. Let's be having ya, that's what I say."
Hopes for studio audiences coming back
While Tubridy has now presented 49 episodes of the Late Late in an empty studio, he hopes the upcoming season can safely welcome back an audience.
"I never realised how much I missed them," he revealed. "I can't wait for them to come back. They are part and parcel of the fabric of the programme. For all those shows that I did, 49 shows in a row talking to no audience at all, it was a very peculiar place to be. Very challenging, but very odd.
"I've been thinking about it a lot, the emotion of seeing that crowd for the first time and hearing the sound, that wall of excitement and applause. It's fuel for the programme. We are very hopeful that there will be an audience in the autumn. I don't know what size - it's a rolling story - but we're hopeful.
"There's a big team of people doing a lot of things to make it happen, because safety is key and everyone has to be minded.
"We won't be doing anything rashly or in a foolhardy sense; we just make sure all of our ducks are in a row. Eventually, there will be the 200 people back where they belong, then I'll be happy."
Getting the Late Late Show back on the road
The Late Late Show was preparing to head to Limerick last year for a special St Patrick's Day episode when the pandemic hit and they were forced to shelve the plans.
Tubridy said getting the show back on the road would be "the dream".
"I would love nothing more than to do a big special somewhere," he said. "I can't wait to get moving because we have so many ideas in that regard. What we found last year and the year before was big Late Late Show specials seem to get a great response from the audience.
"We're still going to do that, so we have great plans. Obviously, I can't get into the details because it's too soon but they're working [on it]. I've been in meetings with them and the game is afoot.
"The plans are big, the ambitions are enormous and the aim is to entertain, entertain, entertain."
The Late Late Show nearing its 60th anniversary
The Late Late Show is gearing up for its 60th anniversary next year, which Tubridy describes as "bonkers". He feels he and the show have evolved over the years.
"The Late Late Show is a very particular place and has a particular place in the hearts of many people in this country and I'm the keeper of the flame. I always describe the Late Late Show to foreign guests as being the Tardis and I'm just the latest Doctor.
"I keep that Tardis going and with that in mind, there was Gay [Byrne], Pat [Kenny] and now me and we're bringing something very different. I think that the last two years have seen a big change for me personally, presenting the show. I had to do things I never thought I'd have to do on the TV show.
"It was very challenging, but it was very enriching. I feel like I've changed a little as a presenter, in a good way, actually. I enjoyed what happened in terms of the show and what people did and everyone keeping it together and keeping the show on the TV every week. It was remarkable.
"I'm ready for another phase of the show and I think people might see a slightly more relaxed version of me, if you want to call it that. I'm really keen to embrace it. I'm ready for it, I'm hungry for it and I cannot wait to hear that opening drumbeat on the third of September."
Plans for the Toy Show
It may only be August, but plans for this year's Toy Show are tipping along nicely. Tubridy said they are currently tossing around a few ideas for the theme.
"At a Toy Show meeting quite recently there was a pitch made about where we should go with the show, and they said, 'This is the character we think you should be'. My jaw hit the ground. I picked it up again and I said, 'I'm not so sure'.
"We got into a delightfully robust conversation about the wisdom or otherwise about who I should be in this particular show. And then, just when you think you've got an idea, someone else comes along with an even more interesting one.
"So, there have been curveballs on this one, but we have very definite plans."
When it comes to picking the right theme for the year, the presenter said you "feel it in your bones".
"This year, you have the sense of the cooped-up kids," he revealed. "It's time for release. It's time for them to have some fun, to run around the fields."
Tubridy said he finds it "a very emotional" show to present now, and said he feels a "paternal protection" towards the kids who take part. There's a certain pressure to top 2020's very special Toy Show.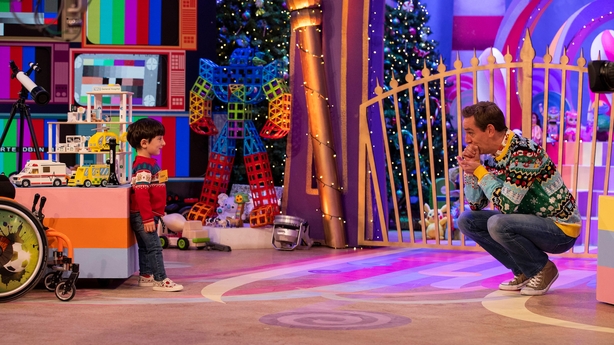 "Something very beautiful happened that night, and we have to try make something special this time around again. So, the pressure's on - but it's beautiful pressure. Toy Show pressure is not the same as Leaving Cert pressure or life pressure or mortgage pressure or work pressure: it's the Toy Show."
The Late Late Show's return was just one of the announcements made at the RTÉ new season launch on Wednesday, with over 40 hours of new Irish drama, new entertainment shows, and returning favourites also announced.
The Late Late Show returns to RTÉ One on Friday, September 3 at 9.30pm.
Read more about what's coming up this autumn and beyond here