Aidan Gillen, who plays Dublin crime family patriarch Frank Kinsella in RTÉ's new drama Kin, has said that the drama will feature some shocking scenes of violence but that nothing is sensationalised.
Speaking at the launch of RTÉ's new Autumn schedule, the Peaky Blinders and Game of Thrones star, said, "It's a crime drama set in Dublin so there will be scenes that are brutal and shocking but it's not in there for the sake of sensation."
"I have to repay loyalty with loyalty".

Brand new drama Kin coming soon to @RTEOne …#RTENewSeason #RTEKinpic.twitter.com/s5JfLQ0nCy

— RTÉ (@rte) August 18, 2021
The eight-part crime saga, which will air on Sunday nights on RTÉ One and the RTÉ Player from September, also stars Clare Dunne, Ciarán Hinds and Maria Doyle Kennedy and sees Dublin crime family the Kinsellas go to war after a member of their clan is killed.
Against all odds, they become embroiled in a bitter gangland showdown with an International cartel. Outnumbered, out-financed and out-gunned, the Kinsellas find themselves holed up in their Dublin stronghold while their businesses fail, and family members and associates are picked off.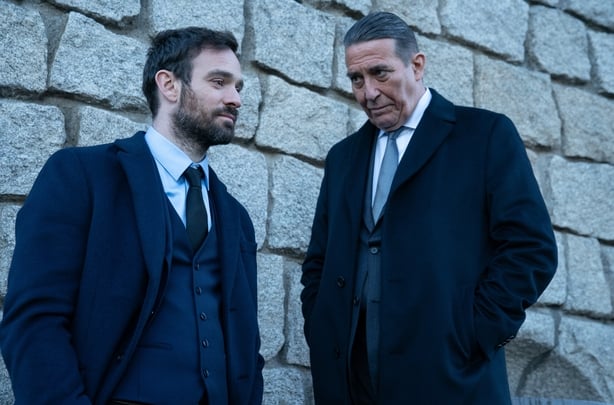 More than ten years after this role as crime boss John Boy in Love/Hate, Gillen is back on familiar territory, but he says he has always been very conscious that crime dramas may be glorifying their subject matter and insists that Kin strikes a balance between entertainment and glorifying real life crime and violence.
"I think there's always a responsibility not to glorify it, but you can't not show the attractive side of it, what it is that draws a fifteen-year-old or a twelve-year-old into that life," the 53-year-old actor says.
"We have a responsibility to show how it starts and also a responsibility to show how it ends and it generally doesn't end well. It ends in prison or in the grave, so I'd be quite conscious of that.
"We all know a Nikita, we probably all know a Frank and I feel like emotionally it could affect people and me people think about things in their life. Sometimes that's better than a lot of fireworks and drugs." - Yasmin Seky
"It's something I've thought about in the past, quite a lot actually. But crime drama since ancient Greek theatre to Shakespeare to Tarantino to bang up to now is blood-soaked," he adds.
"Crime and murder are something that people want to watch and see dramatised, whether it's about living vicariously or release of pressure by seeing other people so violent acts in drama . . .
"I don't know what it is. It's a complex question but I think it's wrong to just go out there and make it entertainment. I don't like that."
Strong female cast
Filmed in Dublin during the pandemic, plot lines for Kin are still tightly under wraps and the cast are anxious not to give too much away when they discuss the new show. However, they agree that there is a lot of family history going on and a lot for audiences unpick as the eight parts progress.
Kin, which was written by Peter McKenna (The Last Kingdom, Red Rock) and has already been acquired by streaming service AMC+ for broadcast in the US, Australia, the UK, also boasts a very strong female cast.
Speaking about her role as Nikita, who is the girlfriend of Frank's son Eric, newcomer Yasmin Seky said, "Nikita has a very glamourised exterior and there is a thin line between glamourising it and showing the reality.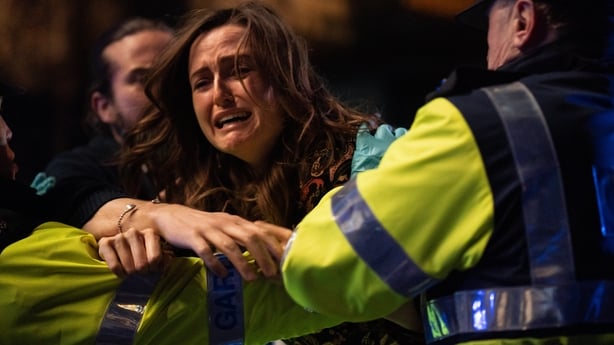 "I think Peter McKenna did a really good job of showing the actual consequences of what happens. One thing I really liked about Kin is that a lot of the women are not trophy wives, they're not sex workers, they're not driven by money or fame or anything like that.
"They have families that they need to provide for, and they come from tough places and I think that's the reality of it."
Seky's co-star Clare Dunne, who plays Amanda, added that when she was first handed the script for the show, she was rivetted.
"Frank has a whole mysterious or semi-mysterious social life going on. He's also prone to violent flare ups." - Aidan Gillen
"When I read the scripts the thing that kept me reading four episodes in a row and not noticing the time go by was that I couldn't believe I was reading characters that weren't the usual trope of a gangland scene," she said.
"I felt the weight of responsibly and pressure and history and guilt and regret and how they are going to survive. I felt everything in their inner world. It wasn't just morally bashing me over the head saying it's wrong or right.
"It's delving in in a much deeper way and questioning how and why people end up in these situations and entrapped in them and have to make certain decisions to survive or at least enable their own children to survive."
Asked what drew him to Frank's character, Gillen said, "I was intrigued by his conflict. He's a somewhat reluctant but efficient leader, he's the head of a family but he's ruling by succession or default. He's not straightforward but he is efficient, and he has a whole mysterious or semi-mysterious social life going on. He's also prone to violent flare ups."
It's all about . . . family
Like The Sopranos, acclaimed Australian crime drama Animal Kingdom, and of course The Godfather, this is a show that pivots on family -and not just the brutality of gangland - and that's the one thing the Kinsellas have that the cartel does not.
"Kin is a big family drama and it's as much about that as it is about crime and a struggle against a rival clan or organisation," Gillen says. "It's as much about the internal struggles within families, which is a universal theme."
"Emotionally there might be some scenes, the show may make people reflect on themselves," says Seky.
"Even though you may never see yourself in a crime family, there are a lot of real things happening to these people - we all know a Nikita, we probably all know a Frank and I feel like emotionally it could affect people and me people think about things in their life. Sometimes that's better than a lot of fireworks and drugs."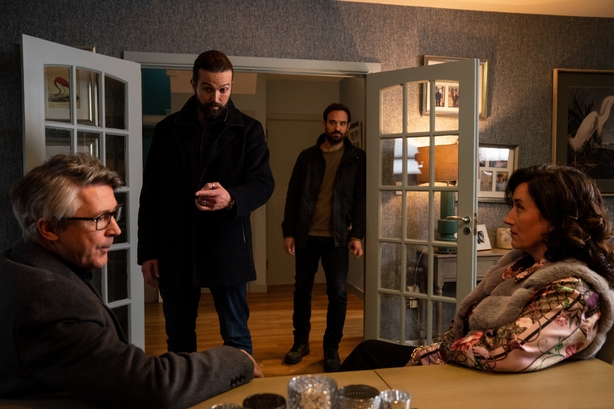 As Dunne is keen to point out, the female actors in Kin all have significant plot lines. "It's an ensemble cast," she says. "I'm working ten or eleven years and the difference between reading the script for Kin and some of the things I've read was like a relief.
"There's nothing here that I've seen before in terms of oh I know that old character. I was even shocked finding out details about Aidan's character.
"I think that's what Peter has done here. Every single twist and turn that you think you'll know, is going to surprise you. Playing Amanda was like embracing a whole human being who is there every single step along the way, the different choices she makes."
As Seky says, "The men might think they run the show but a of time there is a woman's influence."