Keith Duffy, Ian Dempsey and Dragons' Den entrepreneur Bobby Kerr get in on the fun in the new Irish road movie Poster Boys - in selected cinemas from 9 July.
The debut film from director Dave Minogue stars Trevor O'Connell, Ryan Minogue-Lee and Aoife Spratt and is billed as having "a lot of heart while showing off the beauty of the Irish landscape and the quirky towns across the country".
"Set in contemporary Ireland during a time of extortionate rents and expensive pints, Aoife (Spratt) dupes her hapless brother Al Clancy (O'Connell) into babysitting her ten-year-old son Karl (Minogue-Lee) while she attends a weeklong music festival in Barcelona.
"In a desperate attempt to save his job, the dysfunctional uncle lets his young nephew skip school so the reluctant duo can embark on a cross-country adventure in a stolen campervan."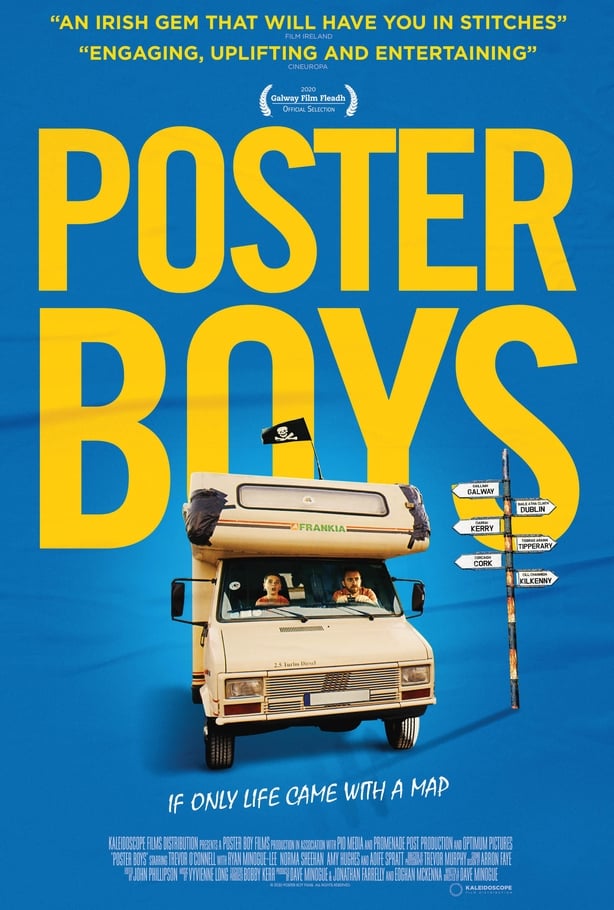 The cast also includes Joe Rooney and Amy Hughes with music from Bell X1, Horslips, Joe Dolan, and an original score by Vyvienne Long from the album A Lifetime of High Fives.
Poster Boys received its world premiere at the virtual Galway Film Fleadh last summer. Kerr's cameo role came after he decided to back the film's journey to the screen.
"Poster Boys was created on a micro-budget and following the film's success at Galway, it's wonderful for us to see the project hit Irish cinemas this July," said director Minogue.
"The idea was to show hope shining through darkness while being fun and entertaining, which I think is very true to the Irish spirit."