Actor Maclean Burke, who plays Damien in Fair City, has said the ghosts of his character's youth are echoed in the current domestic abuse storyline.
The RTÉ soap is gearing up for dramatic scenes in the coming week as Will stands trial for abusing his former partner Cristiano.
The trial is bringing up a lot of trauma for Damien, who grew up in an abusive home. His father murdered his mother when he was younger, and as an adult his wife Suzanne assaulted him.
In an interview with RTÉ Entertainment, Burke spoke about how Damien's childhood experiences inform his understanding of the situation, how he feels seeing his friend Cristiano suffer, and how Damien supports his wife Mairead through this difficult time.
When Dolores decides to take the stand for Will, he really rubs it in with Damien. Does that really rankle Damien?
Yeah, I think so. Dolores is a mother figure for Damien and has always been an integral part of the Halpin family. I think it really knocks him for six that Will has managed to worm his way in. Will, of course, knows it cuts very deep and takes great pleasure in informing him.?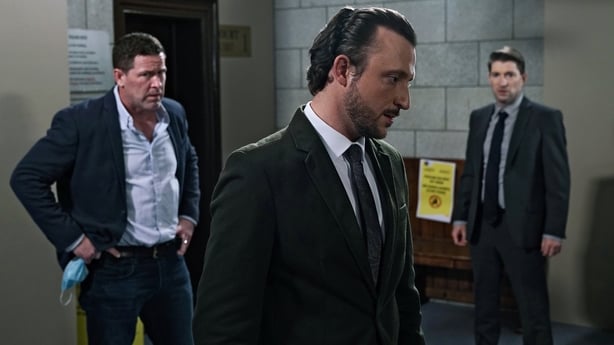 Damien has been a great support to Cristiano. How does he feel watching his friend suffer as a victim of domestic abuse, as Damien once was?
Like anyone, he feels desperately sad for Cris. The fact that he too suffered from domestic abuse only strengthens the bond between both friends and pushes his resolve to help and fight for justice.?I believe it is only human that he wishes for Will to have to answer for his actions.
Is it difficult for Damien to see Phoebe being manipulated by her father? Does he feel powerless to help?
Again, there are similarities between Damien's childhood experiences with an abusive, controlling father and what he sees happening between Will and Phoebe. And, of course, he has to tread lightly so as not to look like someone with an agenda. The bond between father and daughter is very strong.
How is Damien supporting Mairead through this massively stressful time?
He is just 100% behind her. He has never once questioned her and knows that Will needs to be banished from their lives if they are to have any peace as a couple.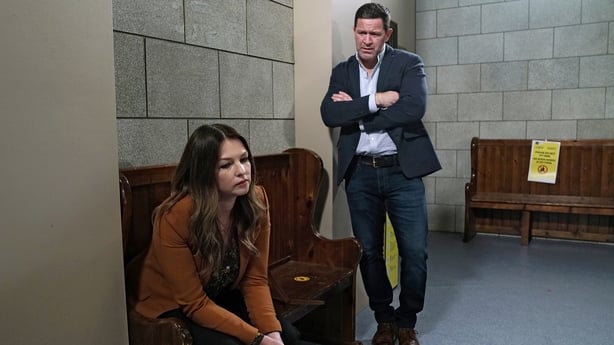 Does Damien worry Mairead might lose her daughter to Will?
Of course, sometimes things are said in the heat of an argument that can cause ripple effects and be taken out of context. If anything, Damien is acting as a mediator between all involved when things kick-off that there might be some chance of peace when or if the dust settles.
Damien's mother was murdered by his father. Is this trial bringing back a lot of trauma for him?
Yes, his trauma will always be carried and outwardly visible. The ghosts of his youth are echoed in this current situation and amplified by what unravels.
If you have been affected by issues raised in this story, please visit: www.rte.ie/support.
Fair City airs on RTÉ One on Sundays, Wednesdays and Thursdays.
Follow all the Fair City drama on the RTÉ Player