Alt folk band Moxie have released Is Ainm Dom, the first single to be taken from their upcoming album The Dawn of Motion. We asked them the BIG questions . . .
Is Ainm Dom was born in an unexpected way after band members Julia Spanu and Darren Roche wanted to pay homage to each other's cultures by combining intricate African rhythms with the Irish jig.
We need your consent to load this YouTube contentWe use YouTube to manage extra content that can set cookies on your device and collect data about your activity. Please review their details and accept them to load the content.Manage Preferences
Moxie was formed in 2011, when founding members Darren Roche, Jos Kelly, Cillian Doheny and Ted Kelly decided to join forces to create an innovative style of Irish music. Josh Sampson (drums) joined the band in 2017, with the last and most recent member being Spanu, a vocalist and songwriter with French, Vietnamese, and Italian roots.
Moxie play the Claremorris Folk Festival on September 4 https://www.moxiemuso.com
Tell us three things about yourself?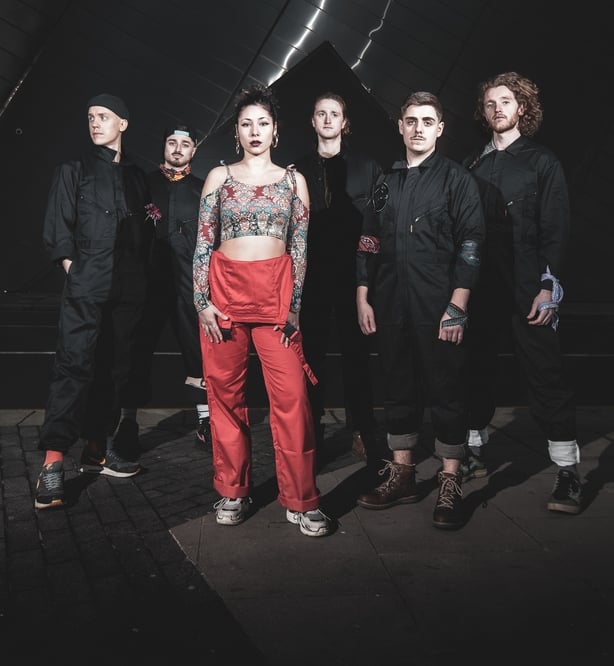 We are five lads and a woman, we are audacious, and we love sharing our lively energy with the people around us.
How would you describe your music?
Ahah! Firstly, we'd say that our music is deeply ingrained in Irish music but is a mix of so many genres like rock, jazz, folk, electro or even world music. In a nutshell, our music makes people jump and dance, smile and catch emotions.
Who are your musical inspirations?
Our musical inspirations can vary so much but we could all agree on a few like Kan, Michael McGoldrick, Snarky Puppy, Lau, Dervish, Queen, Little Dragon, Ben Howard, The Police, Hyatus Kayote, Tom Misch, Emily King, Edith Piaf, Jacob Collier, Weval, The Cranberries . . .
What are you most looking forward to post-lockdown?
We just can't wait for gigs to be back and to tour again in Ireland and abroad.
What's your favourite song right now?
Our favourite song of the moment is a song by our friends from The Olllam. it's called With Pure Crystalll Teeth. Their new album is dropping soon.
Favourite lyric of all time?
We've always been more drawn to melodies and grooves but still gave a lot of appreciation to good lyrics. Julia is on the lyrics now, and it definitely opened us to another fundamental way of expressing our music and feelings.
We wanted to share lyrics of a song that will be featured on the record and that she surprised us all with, in the studio while recording the album: "Stillness of the mind, reaching, teaching, touching endless time, where nothing else but life matters."
The song is called Myakka and is about nature showing us its power and teaching us how to drift away from our old hypnotic habits.
If you could only listen to one song for the rest of your life, what would it be?
Hmmmmm . . . That is a tough question! Everyone in the band would probably have their own but if we have to listen collectively to the same song for the rest of our life, it'd probably be Dean Town by Vulfpeck.
Where can people find your music/more information?
Plenty of ways to find our music, on every streaming platform or social media, or on our website. Our new single The Place Above is coming out in July so keep an eye out anywhere previously mentioned to get the latest news about Moxie.
Moxie play the Claremorris Folk Festival on September 4.