Star of The Late Late Toy Show Adam King has received a letter from US President Joe Biden - who also gifted him two very special flags.
We need your consent to load this YouTube contentWe use YouTube to manage extra content that can set cookies on your device and collect data about your activity. Please review their details and accept them to load the content.Manage Preferences
Adam returned to The Late Late Show for Friday night's final show of the season with his parents David and Fiona, brothers Danny and Robert, and sister Katie.
He told Ryan Tubridy how a special letter from US President Joe Biden was delivered to the King family home in Cork by none other than Taoiseach Micheál Martin.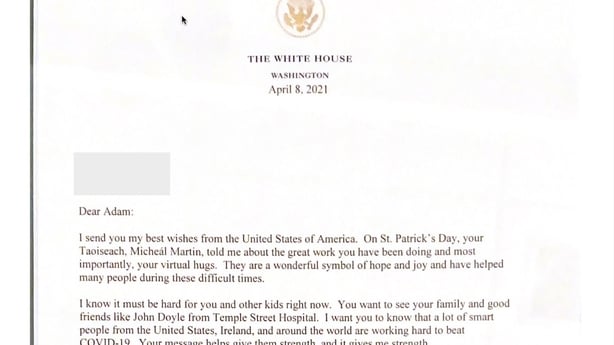 President Biden also gifted Adam a US and an Irish flag that have been aboard missions to space, and told him "they both flew the route you will fly someday".
In the letter, Biden told Adam: "I send you my best wishes from the United States of America. On Saint Patrick's Day, your Taoiseach, Micheál Martin, told me about the great work you have been doing, and most importantly, your virtual hugs. They are a wonderful symbol of hope and joy and have helped many people during these difficult times."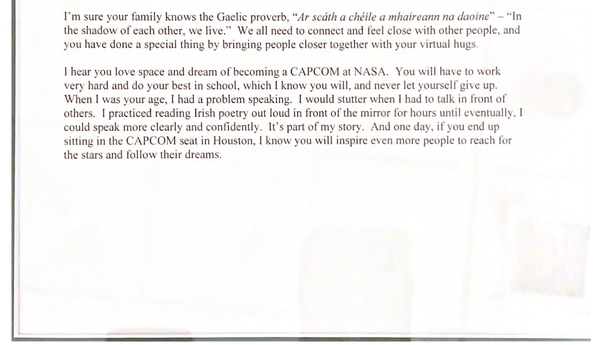 The leader of the United States also signed-off the letter to Adam with the words: "Jill and I send a virtual hug from the White House to you, your Mom and Dad, and your brothers and sisters. Sincerely. Thanks, Joe Biden".
"I got a letter from the President of the United States of America," a grinning Adam told Ryan Tubridy. "Joe Biden."
"And why did he write to you?" Ryan asked.
"Because I'm a really important person," Adam replied.
"Fair answer," said Ryan, before asking Adam's brother Danny to read out the letter from President Biden.
Danny also explained to Ryan about what The Late Late Show host described as "an added extra" that arrived with the letter.
"It came with the two flags: the Irish flag and the American flag that had gone to space," Danny explained. "It was really cool, and we framed them with the letter as well."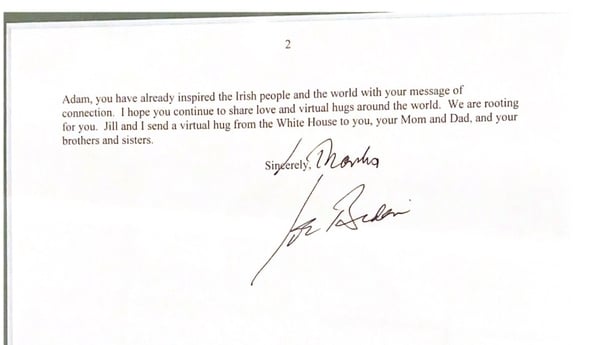 Ryan then spoke to Adam's dad David about the Toy Show, and how Adam's virtual hug "has just got everywhere".
"It's unbelievable," he told Ryan. "There's a really sort of full circle about this letter for me. I think the stand-out moment for me from the Toy Show was when Adam showed you the virtual hug."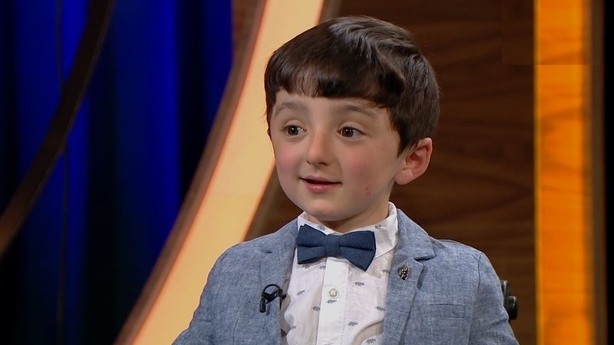 Looking at Adam, he said: "Adam, do you remember what Ryan said to you? He said, 'Is it for me or for everyone?' What did you say?"
"For everyone," Adam said.
"And the letter is for everyone," said David.
The King family also met boxer Katie Taylor - who described Adam as "an inspiration".
She was a guest on Friday's Late Late Show, along with former Olympian Sonia O'Sullivan, and a host of Irish hopefuls heading to Japan for this summer's Olympics.
Ryan and the gang will be back for a new run of The Late Late Show in September.