As HBO show The Nevers heads for Sky Atlantic and NOW TV, RTÉ Entertainment's John Byrne talks to the drama's Irish stars, Laura Donnelly and Ann Skelly.
Now there's something you don't often see, these or any other days.
New HBO science fiction/period drama The Nevers hasn't just got one Irish lead in its cast. It's got two of them. And as unusual as that is, it gets even more peculiar as the pair of them are women.
Deirfiúrs are doing it for themselves.
The people in question are Laura Donnelly, who's been in a variety of TV shows, ranging from Sugar Rush, Outlander, Britannia and The Fall. She's even played Broadway, alongside Dominic West, no less.
Here, the Belfast actress stars alongside Ann Skelly, who was a regular on Red Rock playing Rachel Reid, adding roles in Rebellion and Little Women before landing the lead role of Beth Winters in Death and Nightingales.
The Nevers is set in Victorian London in 1896, a fictitious time when the UK capital is rocked to its foundations by a supernatural event which gives certain people - mostly women - abnormal abilities, from the wondrous to the disturbing.
We need your consent to load this YouTube contentWe use YouTube to manage extra content that can set cookies on your device and collect data about your activity. Please review their details and accept them to load the content.Manage Preferences
But these abilities are not to everyone's liking. All who belong to this new underclass are in grave danger from the establishment and it falls to mysterious, quick-fisted widow Amalia True (Donnelly) and brilliant young inventor Penance Adair (Skelly) to gather, protect and shelter those gifted individuals.
It's kind of X-Men meets Heroes on the set of Ripper Street. It's got an extensive cast of characters, looks fantastic, and in Donnelly and Skelly they have a great double act topping the bill.
Catching up with them on Zoom - oh man, when can we start meeting people again? - they're both in great form and full of craic. But when it comes to the day job, Laura and Ann are as serious as the shark in Jaws.
At least they don't bite.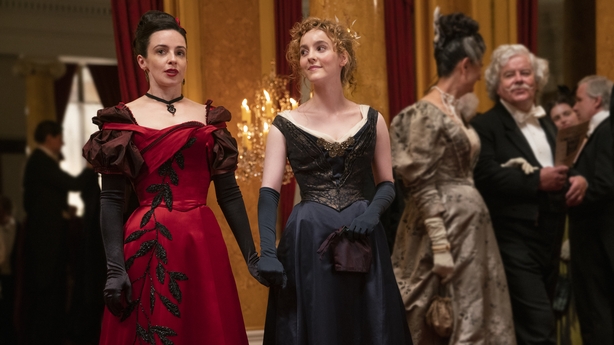 John Byrne: So, you guys are the two Irish leads in a big budget HBO series! How cool is that?
Laura Donnelly (LD): It's pretty crazy, and I think that it gives us a bit of a sense of what Amalia and Penance are going through - in the sense of the two of us taking on this big thing, and not necessarily knowing where it's going to go. We're just kind of winging it.
Ann Skelly (AS): I think it helped us to bond a lot quicker. In the chemistry read, my second audition audition, I was called in to read with Laura and I was pacing around outside the building. And then I went in, and there was this Irish woman on the other side and I was like, 'Aw grand'.
It was a relief actually.
LD: It was a relief for me too, because I'd read it and knew that Penance was Irish, and I was like, 'Oh God! Am I going to spend the next five years opposite some girl with a bloody awful Irish accent?' And then you came in...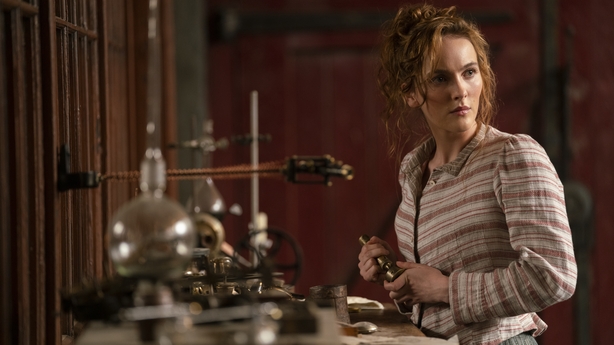 The Nevers is pretty much a mash-up: it's science fiction, it's a period drama, but perhaps most important of all, it's female led. That's a pretty big deal.
LD: In terms of female-led content, I think we've come to a watershed moment with the Me Too movement and all that stuff. And so there is just a recognition of the fact that there haven't been roles like these available for women at all, and now that's what people are interested in.
Women have had the courage to ask for more - therefore receiving a bit more. There's still a way to go but we're getting there.
And in terms of period drama/fantasy drama, I don't know why these things come the way they do. At a time when the world is a bit of an upheaval, people want that escapism, and they want to go back perhaps to a time that was simpler. . or there might be a nostalgia there... but if they're looking for nostalgia, they shouldn't be coming to our show because it's not - by any means - a straightforward period drama. Nor is it a fantasy or sci-fi type that people have come across before.
I think in the first few episodes they might think that they're familiar with the kind of world that we're building here, but I think that will very quickly get flipped on its head, and people will realise that there isn't really a box that this show fits neatly into.
AS: I feel it's a slight reclamation of these women that we see in these Victorian shows... straight-laced or prudish, whatever the word is... we're claiming them as actual people, who have a laugh, who face big world events or grief, or tricky situations with humour. Or just having a bit of craic, because that's what you do in life.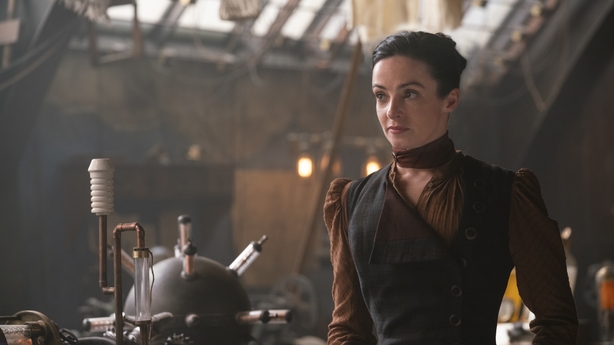 This whole pandemic year, you go - I've had to just laugh at the worst moments because it's the only way I think you get through it. It's really quite nice to able to, I suppose, work in an extreme time period. We're probably still recovering from the hangover of right now.
I think there's a lovely hope in looking back in period dramas as as well. Of actually seeing, Oh, we've come quite far. It's mad that only a couple of hundred years ago women couldn't vote. And throughout history couldn't have any citizen status.
I think it's quite nice to be able to see all the movements happening at the moment. And you can look and say, while there is a way to go, but it's doable. Looking back on those time periods, it's quite nice to get a little surge of motivation from that.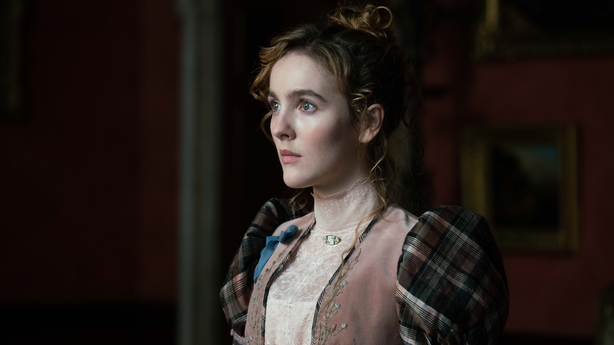 And although it's set in Victorian times, The Nevers also reflects the times we're in now...
LD: I think that a huge part of the conversation that the show is having is how women have been perceived, especially in times such as the Victorian period. And how their natural abilities, talents and personalities were used against them, and were weaponised against them.
And I think that applies across the board as well in this show, in terms of whatever it means in society to be 'the other'. It revolves around conversations that we're having, not just to do with the Me Too movement, with Black Live Matter and with trans rights - all of the others issues that we're grappling with as a society today.
And I think about the fact that even that the show is called The Nevers. It's not something this group are ever referred to themselves, it comes from the idea that these people should never have existed, that they seem out of the natural order, and how people respond to that.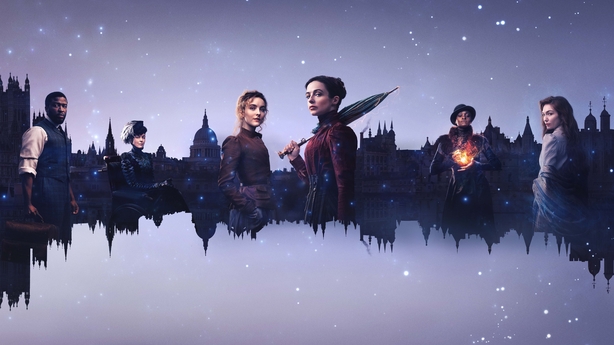 And how even that can be internalised, which, of course it has been with so many minorities - women included. Depending on how society sees you, you can feel in yourself like you are wrong to be the way that you are.
The show is generally just trying to investigate what that is, to be 'the other' in society, and really overall how people react when the balance of power in society shifts, and the idea that people with the power are never the ones who welcome a change in that power.
I think the show has a lot to say, a lot of that conversation to have over the course of these six episodes and then beyond that as well. We'll get into those issues more and more as we go on.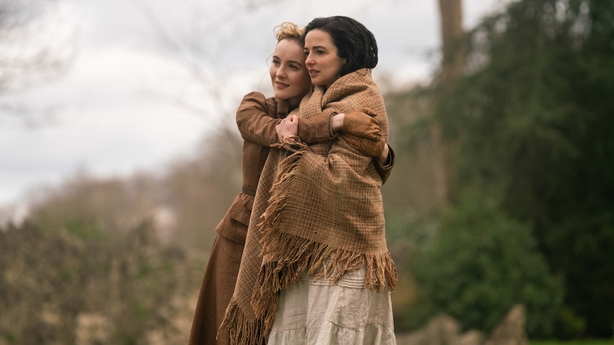 Do you specifically look for these kind of projects, with something to say? Is it something you search for in a script?
AS: When I came across this audition, I was just an actor looking for a job. I do feel lucky to be part of something that actually is interested in exploring these different stories.
Audiences have always wanted to hear these stories, always wanted to have that cathartic experience of being in someone else's shoes. Of a life we'll never get to, but we'll never have to experience.
I think that we've been really missing that - or not getting enough of it, shall we say. And it's really exciting to be part of a show that's one to watch. That's not just trying to keep up with maybe a trend, or like trying to win public opinion, or something like that.
We've met the writers and they genuinely give a crap about these stories. And they are genuinely interested in telling them and exploring them deeper, and giving full, rounded arcs to so many different kinds of characters.
And as an actor it's incredible to be surrounded by all these different people from all these backgrounds I've never come across before, or been in those circles before. It's really nice to be able to hear the conversations, and just be able to listen rather than seeing the discourse on social media, or whatever echo chamber you might be involved in.
It's nice to hear from actual people...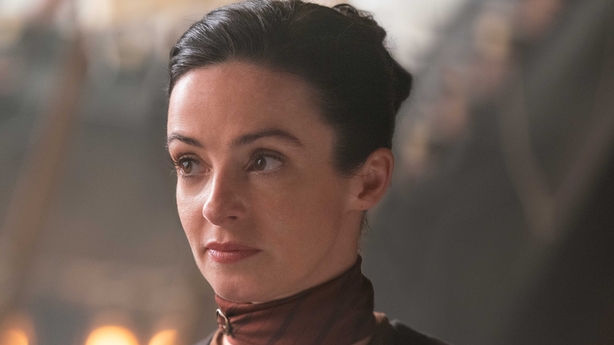 The two characters work so well together. Is that something you worked on, was it direction, or were there a lot of extra-curricular activities involved?
AS: There was a lot of tea and gin drank, let's say. Laura's an easy person - she's not hard work - to get on with. Lucky for me. But for me, personally, I like to make her life very difficult. I'm very clingy and I like to hang out with her all the time.
I found it very easy from the get-go. It's of course to do with the writing as well, because they are these very funny - and I feel like you get their dynamic quite quickly and in a simple, straight to the point way, which is really nice, to have this history between these two people. I find it quite easy.
And our dynamic is very similar, too. Laura does give me those looks that Amalia gives Penance at times, with the side eye. Hopefully our own way of being kind of translates pretty obviously, and I think we might inform the characters a bit. They do write in things we say to each other.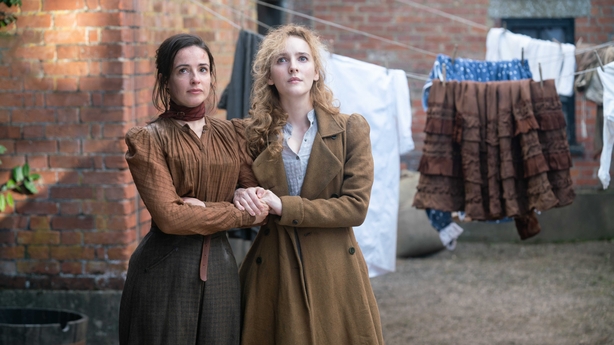 LD: Definitely. I think the writers are just constantly listening out for bits that they can start working in. The thing about a job like this is when it's very collaborative, you bring more from your own outside world into this world that we're building.
I do feel that we're very lucky that it just landed, that we do get along brilliantly, because this story just drops you right in the middle of something. It's not a 'from the beginning' story. You are landed right in the middle of these people already having these abilities for three years, and are already gathering everyone together.
They're really in the middle of their story at the point that we meet them, and so we were aware that Penance and Amalia had to be an established friendship, and one that would feel real. And I think that the fact that it reads like that is just sheer luck that we get on so well.
All episodes of The Nevers will be available from May 17 on Sky Atlantic and streaming service NOW