Ireland's of Eurovision Song Contest contender Lesley Roy may have missed out last year due to the pandemic - but that's only added to her sense of anticipation as this year's contest finally comes around.
"I'm so excited after waiting so long to come and see everybody and to have our feet on the stage - I'm so happy," she said after Saturday's first rehearsal in Rotterdam.
"It's such a build-up to get to it. It feels great after the first rehearsal, the first time seeing it together. We have a few more things that we want to look at and tweak over the next few days, but I'm very happy with how that went."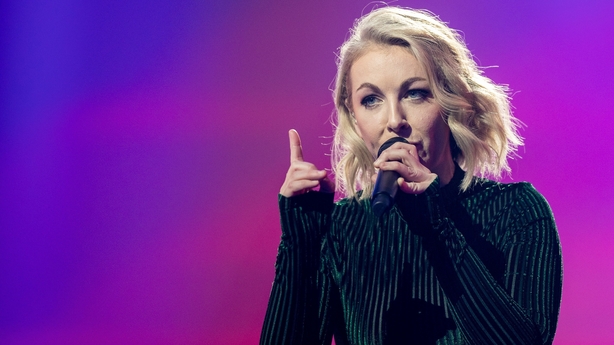 And after all the preparations, it's now time to make it a reality. "We were so excited about this staging, about this story, and about this idea," said the 34-year-old from Dublin.
"My creative director and I, Benke, and our head of delegation, Michael Kealy, when we sat down to properly talk about this a few months ago, we had so many ideas, and the main ones that coming through were that we wanted to look at perspective, keep the pace of the song, and look to a world that feels tangible.
"This is going to mainly be for people at home, we weren't going to have a packed stadium, so we really thought about that," she adds.
"We want people to feel like they are in the world with me and going on the world with me. We are really all working together to see what makes sense."
We need your consent to load this YouTube contentWe use YouTube to manage extra content that can set cookies on your device and collect data about your activity. Please review their details and accept them to load the content.Manage Preferences
Invoking the 1960s' star Sandie Shaw, who was famous for singing barefoot and sang the UK's 1967 Eurovision winner, Puppet on a String, Lesley is also taking to the stage in her toes.
"It's natural, it's within the story. We open up in this little forest ... I just thought the most natural way to do that would be barefoot," she explains.
"Heels and a dress for this performance was not going to work. I do think it's a lucky charm, for this song and staging it made sense. It's something I knew was quite lucky and had been done with winning songs. We will probably do a green [nail varnish] to match the green jumpsuit that I have."
It may be some time since Ireland's Eurovision glory days, but Lesley Roy is determined to add to that rich history.
"I really grew up in the golden era where we were winning back-to-back years and the Riverdance explosion," she recalls. "I think my first Eurovision memories were Niamh Kavanagh and then Paul and Charlie for Rock 'n' Roll Kids."
Lesley Roy will represent Ireland, performing Maps at the Eurovision Semi-Final on May 18th. The programme will air live on RTÉ2.