Oscar winner Kathy Bates told Ryan Tubridy on Friday's Late Late Show that she is trying to perfect her Dublin accent ahead of coming to Ireland later this year to make her new film, The Miracle Club - a story about a group of Dublin women who go on a pilgrimage to Lourdes.
The Misery and Titanic star, who has Irish roots, said perfecting the accent was "going to be quite difficult".
"There's a lovely film called The Miracle Club," she enthused. "It's being directed by Thaddeus O'Sullivan (Stella Days, Nothing Personal, December Bride). We're starting hopefully in October. It stars Maggie Smith, Laura Linney and myself.
"We're very excited - the only catch is we have to learn working-class Dublin circa 1970s accents. So, that's going to be quite difficult. I suspect there's going to be plenty of Irish actresses with their knives out, waiting for us to make a misstep!"
"Where are you going in your head and in your research to find a working-class Irish - Dublin - accent from the Seventies?" asked the host. "What are you doing for your homework?"
"Well, they've got a couple of dialect coaches there in Ireland once we get started up," Bates continued.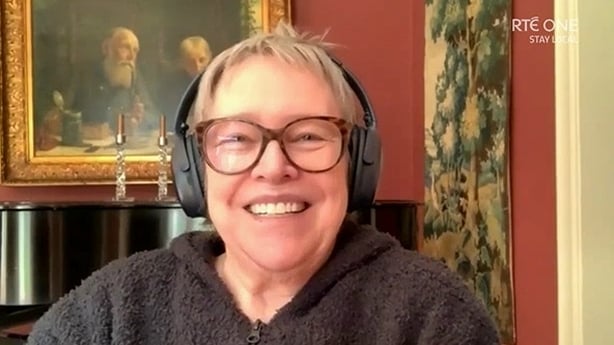 "But, I've been watching movies like The Commitments and a few of them that they've sent to me to get an idea. So, it's like, 'Oh Lord, I've really got a long way to go!' But, I'm very excited about it. I thought I would come early - a couple of weeks early - to really hang out in the pubs and get marinated in it."
"That's a great idea," said Tubridy. "Do you know what? The whole country is waiting to go to the pub to get marinated, but unfortunately we can't at the moment!"
He then asked Bates to try, in her "best Dublin accent so far", to say, "I went down for a bag of chips and a batter burger" - you can judge the results in the clip above.
Discussing her Irish roots, Bates said: "On my father's side, my grandmother was named Madge Doyle before she married my grandfather. My middle name is Doyle and my great-great-grandfather - see, here comes my Irish accent, I told you it would start creeping in! - came from Ireland. He was a doctor. He came in the 1830s through New Orleans. And so, my middle name is Doyle, and I really feel I'm talking to the land of my people now."
You can watch the full interview on the RTÉ Player.