Much talked about - and maligned - new movie Wild Mountain Thyme will be available to rent from April 30th in Ireland following a change of mind from distributors Lionsgate who were initially hoping to see the movie open in cinemas only.
On Tuesday, Lionsgate said the movie's release to on-demand services would be geolocked to the UK, but given recent uncertainty about vaccine roll-out and no confirmation of when cinemas will reopen in Ireland, the film will now be on PVOD in Ireland at the same time as the UK.
Written and Directed by John Patrick Shanley, who previously wrote Doubt and Moonstruck, the film is based on his play Outside Mullingar, which ran on Broadway in 2014.
We need your consent to load this YouTube contentWe use YouTube to manage extra content that can set cookies on your device and collect data about your activity. Please review their details and accept them to load the content.Manage Preferences
It stars Emily Blunt and Jamie Dornan as Rosemary and Anthony, two star-crossed lovers in the west (the H is silent) of Ireland who are destined to be together.
With a cast that also includes Mad Men star Jon Hamm, Dearbhla Molloy, and Christopher Walken, the 12-cert film was made with the support of Screen Ireland and The WRAP regional fund and was filmed in Crossmolina, Co. Mayo in September and October 2019.
#MaryPoppins star #EmilyBlunt is currently filming a movie in #NorthMayo with #JamieDornan. Here she is in The Thatch Inn #Crossmolina learning to pull a pint of @GuinnessIreland!
Video: Eamon Moore pic.twitter.com/FELTPfiRaI

— Mayo North Tourism (@MayoNorth) October 9, 2019
According to the press release from the movie's distributors, Lionsgate, "Wild Mountain Thyme captures the romance, lyricism and transcendent beauty of the Irish countryside in an extraordinary love story between two lonely souls.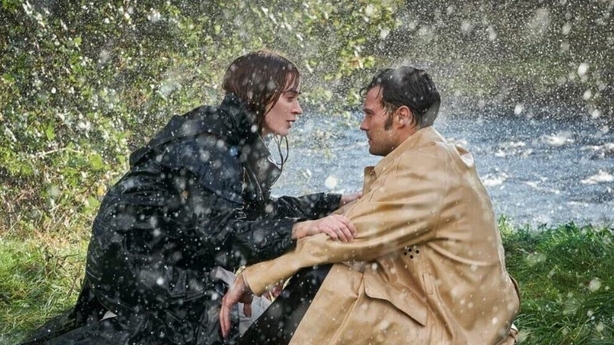 "Passionate, determined, and smart, Rosemary Muldoon (Emily Blunt) has been in love with her neighbour Anthony Reilly (Jamie Dornan) since they were 10 years old. It seems that everyone in their farming community knows they were meant for each other - except Anthony.
"An eccentric introvert, Anthony has spent his entire life working on the family farm alongside his father Tony (Walken). The aging Tony blindsides Anthony with his plan to sell the farm to Adam (Hamm), his wealthy American nephew, because he doubts his son has what it takes to run it. And when Adam comes to visit, his obvious interest in Rosemary complicates the situation further."
However, the movie has been mauled for its leading stars' mastery of the Irish accent, a very sensitive topic for the movie-going Irish public.
When the trailer was released last year, it met with almost universal derision online.
There's fashion police
Grammar police
We even have airport police
Is there such a thing as accent police?
If so, somebody better call 'em.
On the upside, Ireland looks nice. pic.twitter.com/lHrR5cWlwq

— Dublin Airport (@DublinAirport) November 10, 2020
so not a single member of the production team had Jessie Buckley's number between them , no? ?? https://t.co/NlSAf6tL8T

— cmat (@cmatbaby) November 10, 2020
Both Blunt and Dornan spoke to People magazine last October about mastering the Irish accent for the movie.
Blunt, who has a home with her husband John Krasinski outside the village of Goleen in West Cork, said that she had "a tougher time" with it than her co-star.
The best and worst of Oirish movie accents
However, she said that Jamie Dornan had assured her that she "sounded Irish".
"So, if he's wrong, I'm going to blame him for any backlash on my accent. He has assured me it was a great Irish accent. We'll see."
On mastering the accent Jamie Doran told People: "We were both terrified, I was like, no, we're going to be good.
"Admittedly, a lot easier for me... I'm actually from about 120 miles from where the movie is set... So, it was definitely easier for me."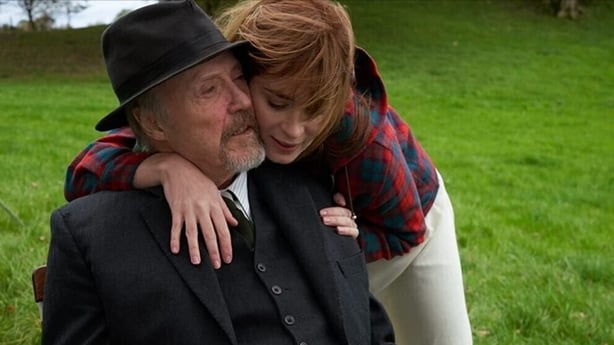 Blunt also described the screenplay as "the most beautiful, eccentric, strange poem of a film."
One thing that many observers of the trailer found strange was the period the film is set in.
The Aran cardigans, shawls, dirty faces, and traditional style fishing boats featured may have suggested it was depicting 1950's Ireland.
However, a scene in which Blunt's character speaks about freezing her eggs and another in which characters are in modern-day New York clarifies that this is in fact set in the more recent past.
Wild Mountain Thyme will be available to view in the UK and Ireland on Sky, Amazon, Apple, Google Play, Virgin, Talk Talk, BT, Rakuten, XBOX, Sony PS, Chili TV, and Showcase At Home.
More movie news, reviews, and interviews here.