Laois singer Emer Dunne releases the first single, Daisy, this Friday, with all proceeds from the song going to the Irish Cancer Society's Daffodil Day. We asked Emer the BIG questions . . .
She has recently finished recording her new album Hourglass, on which she worked with Bill Shanley, who has previously worked with Mary Black, Paul Brady, Sinead O Connor, and Gilbert O'Sullivan.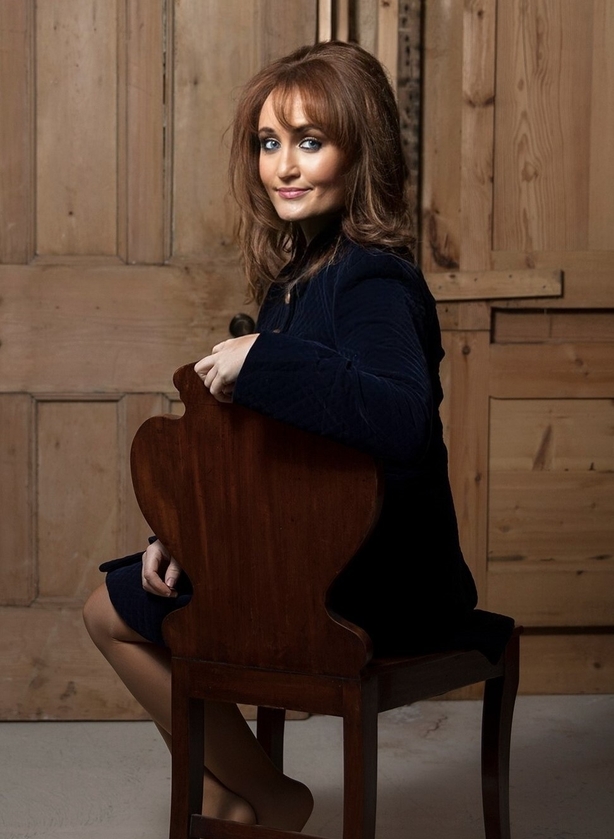 "Bill was my producer/guitarist and backing vocalist. I was fortunate to have a host of wonderful musicians and engineers to work on my album with me. I am excited to get it out there now." says Emer, who has played support shows for the likes of Phil Coulter, The Fureys, The Irish Tenors, Frankie Gavin, Mick Hanley, John Spillane, and The Celtic Tenors.
We need your consent to load this SoundCloud contentWe use SoundCloud to manage extra content that can set cookies on your device and collect data about your activity. Please review their details and accept them to load the content.Manage Preferences
Tell us three things about yourself? 
I'm from and currently based in County Laois and singing since I could talk. Alongside music, I love drama and acting, and I think this creative aspect can combine with my music and writing.
I was fortunate to be contacted by Leonard Cohen's management team commending my version of his famous song Hallelujah. They said it was one of their most favourite cover versions of the song, and, needless-to-say, I was thrilled with their comments.
I love meeting new people, travel and helping others.
How would you describe your music?
I am a singer of songs and I guess I don't like to confine myself to only one box. However, my roots are embedded in folk music. I sang and danced with an Irish dance troupe across Europe and Japan and love performing Irish music and ballads.
We need your consent to load this YouTube contentWe use YouTube to manage extra content that can set cookies on your device and collect data about your activity. Please review their details and accept them to load the content.Manage Preferences
I'm a folk artist with nods to both the contemporary and traditional. I also enjoy writing meaningful songs and hope to pursue more of that in the future. My writing is a combination of personal experience or transporting myself into another role and using music and lyrics as a medium to describe the characters story. 
My first single is a cover of Karine Polwart's song Daisy. It is a contemporary folk song and has a vibrant arrangement. Some other tracks on the album are more mellow and simplistic so hopefully the readers and listeners can join me online and let me know what they think
Who are your musical inspirations? 
My inspirations range from the old school favourites like Bob Dylan, Simon, and Garfunkel, to bands ranging from Queen to Mumford & Sons and songwriters like Jewel, Joni Mitchell, and Leonard Cohen. I grew up listening to musicals, inspired by my mother, and to many of the great folk artists inspired by my Dad and Grandfather, singers such as The Fureys, Mary Black and Eddi Reader. I love great quality voices like Imelda May, Sinead O Connor, Eva Cassidy, and Dolores O Riordan.
How are you occupying yourself during the coronavirus lockdown? 
It has been a rollercoaster for everyone this year, but I have tried to use my time well. I think it is good to be busy and have projects to work on. I finished recording my new album, Hourglass, in February 2020. Initially I spent the first couple of weeks cleaning the closets and painting fences, but then I settled into a good routine and have kept busy with my music career. Although the performance side of things is quiet, I like to be resourceful and try find ways to improve my own skills and reach people. I decided to teach myself some basic technology for recording demos at home, learning to edit videos and to network with other artists.
On a personal note, my mother was diagnosed with Cancer in March 2020 and this was a very difficult time for her and our family. My siblings were out working and not in a position to visit safely so I was really grateful to be able to be at home, cocoon with her and my father and help in some small way at a time that she couldn't see or lean on other people. My single Daisy was initially due for release last year, but we had to change the date. The new date was set for March 26th and when a friend mentioned to me that this was also Daffodil Day, I thought it would be a nice idea to turn this into something positive and donate all profits to the Irish Cancer Society. Charities can't fundraise in the same way for the last couple of years so I hope people can pop over to the iTunes Store or to my website where I will also have a link to my Bandcamp and purchase the song and donate to this great charity.
What's your favourite song right now? 
To pick just one then, I am loving Megan O Neill's version of Jim Croce's Time in a Bottle. I think the words are sitting with me about time and the importance of time.
Favourite lyric of all time? 
Ooohh there are some great ones …. but I have to go with the Beatles: "I get by with a little help from my friends". I loved Karine Polwart's words in my new song - "People don't think like you do and some don't think at all"
If you could only listen to one song for the rest of your life, what would it be? 
This is a tough one as we need variety to suit different times and moods! I think I would go mad with just one song! … but I think I would have to pick a classic like Bridge Over Troubled Water or Imagine. There is a well of thought in that one!
Where can people find your music/more information? 
People can visit my website or find me with @emerdunnesinger on Facebook, Instagram and most recently twitter - so please come and say hello : )