Gentleman boulevardier, retro coiffeur, and Irish music scene veteran Ger Eaton has released his new single, Hollow. We asked him the BIG questions . . .
We need your consent to load this YouTube contentWe use YouTube to manage extra content that can set cookies on your device and collect data about your activity. Please review their details and accept them to load the content.Manage Preferences
Eaton has previously worked with Duke Special, Jack L, Mundy, Fionn Regan, and The Pale (to name just a few), and toured extensively in the US with his own bands, Las Vegas Basement, The Carnival Brothers, and Les Marionettes, and has only recently made his first forays as a solo artist.
Tell us three things about yourself?
I've been on the Irish music scene now for over 30 years, starting as a drummer with my first band Premonition. We released a 7" single with EMI records in 1989. From there I've toured the world, with my own projects as well as playing with artists like Mundy, Duke Special, Jack L, and The Pale, and have graced stages from Glastonbury to Later . . . with Jools Holland.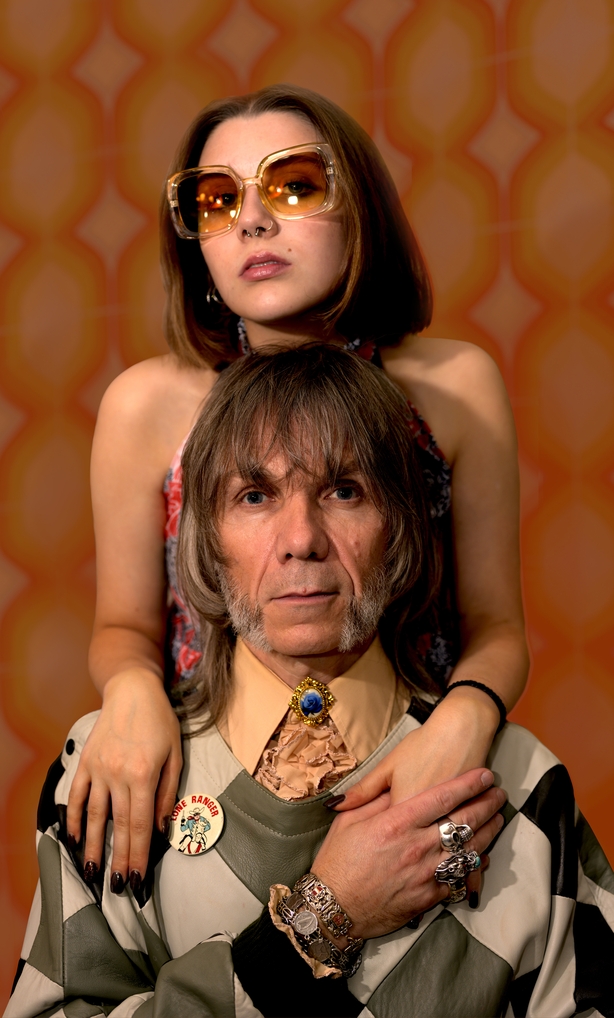 I've become known for my "retro leanings", and my house came second overall in the first series of RTÉ's Home of the Year TV programme. For me it's all black and white TV's and Betamax videos..... No smartphones or Netflix in my world!
I appeared in a few episodes of the BBC's Ripper Street series, set in Victorian London. When I turned up at the Wardrobe Department to get fitted, they actually said my own clothes were spot on, so I just wore them for the filming!
How would you describe your music?
I've dipped my musical toes in most genres at this stage, but Mike Scott of The Waterboys described my current solo release Hollow as, "A beautiful slice of Scott Walkeresque' pop". So, I won't argue with that!
Who are your musical inspirations?
I've been inspired by so many different artists through the years, the constants would of course be The Beatles, who changed the musical landscape. And David Bowie, whose constant self-reinvention right to the very end was always inspiring. But with my current recordings I've gone back to working on a 4-track tape machine, with my two great friends Duncan Maitland and Sean Coleman, and so I've recently been inspired by artists like Emitt Rhodes, who also recorded on the 4-track format. I've found limiting yourself to 4-tracks really forces you to concentrate on the performance and arrangement, as there's no room for "fixing it in the mix!!"
How are you occupying yourself during the coronavirus lockdown?
Well at the start of 2020, I had just come back from a short UK tour with The Pale and we had big plans for the rest of the year. So, when all that got derailed, I was at a bit of a loss. So, it was my 18-year-old old daughter, Jude, who snapped me into action. She said, "Dad, you're like that old guy Brian Eno, you always stand out from the rest anyway.... why don't you just release your own songs?" And so, I've used the time very creatively writing, recording, and making the videos for my first two solo releases, I Thought I'd a Friend and Hollow. The video for my third single will complete a three-video concept that came to me in a dream. That's where I do my best thinking!!
What's your favourite song right now?
I never tire of Thirteen by Big Star.
Favourite lyric of all time?
"And I need you more than want you, And I want you for all time" from Jimmy Webb's masterpiece, Wichita Lineman. You couldn't describe 'need' in greater terms than that one line . . .
If you could only listen to one song for the rest of your life, what would it be?
That's a hard one . . . It would be a toss-up between Queen's Bohemian Rhapsody and The Beatles' Strawberry Fields Forever. Hmm . . . I think I'll go for Strawberry Fields. An absolute masterpiece of recording, joining two different takes in different tempos and keys, by varying tape speeds (there's my tape love again!) to make an inspired song that is as psychedelic as they come. And not to mention Ringo's drumming - the inspiration for many drummers 'drum fills' for decades after.
Where can people find your music/more information?
You can keep up to date on my Facebook page, and both my solo releases are on Spotify, iTunes, Apple Music, Bandcamp and all major digital platforms.