Love/Hate star Brían F O'Byrne gave a powerful, hopeful interview on Tuesday's Ryan Tubridy Show on RTÉ Radio 1, during which he discussed his own experience of giving up alcohol and offered advice to others who realise they need to make a change in their lives.
The award-winning actor joined the show from Sligo University Hospital as he waited for his daughter to be discharged after having her appendix removed.
We need your consent to load this SoundCloud contentWe use SoundCloud to manage extra content that can set cookies on your device and collect data about your activity. Please review their details and accept them to load the content.Manage Preferences
"The nice thing about being on a ward like we're on at the moment is that you know all the kids are going to get better," he said.
O'Byrne offered further hope to listeners when talk turned to his decision to stop drinking 18 years ago.
"You gave up booze 18 years ago," said the host. "Was that a gradual decision or a snap decision?"
"No," replied O'Byrne. "Usually, if you meet people who just gave up, who know when they gave up drink specifically, it's usually a sharp ending to something.
"No, I had to stop. It ended up controlling my life in a way that was very, very, very negative. The problem with me with alcohol was I could stop but I couldn't stay stopped. The other problem was I didn't know that if I took a drink if I was going to have a couple of drinks or if I would enter a blackout. And that's a problem. If you just take a drink and you don't know the effect it's going to have on your life or what is going to happen - I should say what is going to happen in the coming hours - that's not good.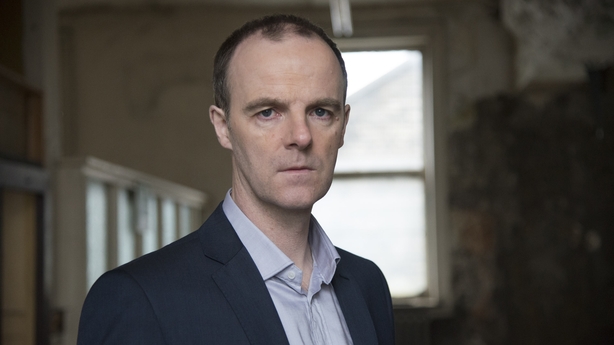 "You feel full of shame because you end up in places you shouldn't be and your life starts to spin out of control in a way that is bewildering. You turn it in on yourself - or I should say I did. [I] Turned it on myself by going, 'This is a problem of moral kind of substance. I am a lesser person'. I discovered through get[ting] help - I tried lots of times on my own, not stopping - I got help and I said, 'I have a problem. And I need help stopping drinking'.
"Thankfully, there's endless amount of ways and people to help stop drinking. So, if someone is listening and they're going, 'Do you know what? For some reason, I don't know how to... I end up drinking more than I want', well, you can just try and stop for a little while. But if it keeps keep happening, and it just seems to slip away from you... There's a saying that if you're on an elevator and it's going down, it's better to get off at any time - you don't have to wait until it's the very, very, very, very bottom to get off."
"I was doing shows on Broadway," O'Byrne recounted. "I'd been [received] several Tony nominations and everything, and from the outside my life looked pretty good, I guess. But, with me, I was a shell of a person, wracked with shame and guilt and bewilderment of how life worked. I seemed to look around at life and go, 'How do these people know how to live?' And I was not at school that day when they gave out the book. It was a bizarre thing.
"I stopped drinking; a day at a time you start to get information and other people help you through and you're allowed ask the embarrassing questions about, 'I don't know how to do this', or 'I've been in flight from myself in a lot of ways. I never learned how to do this'. Or you start making apologies to people, or you say, 'I'm really sorry how I behaved then. This is what was going on in my life'. Slowly, you start rebuilding your life and you start discovering yourself."
"You know, the worst place to be is in your own head, because you're talking to a committee up there that are not always on your side," he explained.
"If you get it out of your head and you just talk to other people who can go, 'You think that's bad what happened to you? Wait 'til I tell you what I did'. And you're looking at someone who is a person who is getting through life and, you know, maybe has a family, maybe has a job, maybe can stay off drink or drugs, whatever your addiction is - gambling - for a day. You go, 'Wow, can I do that?'
"Most people in my position go, 'Maybe I can do it today, but I don't think I can do it tomorrow. What happens if I get bad news, or what happens if it's a Friday, or what happens if it's my birthday, or what happens if someone shouts at me, or what happens if I break my shoelace and I'm fed up, or what happens if I lose my job?' Or, 'I can't see any way through life without a drug' - whatever type of drug that is.
I looked up and waved. A plane full of humans going from London to LA. " say hello to my friends " , I whispered . Then added " I'm grand here ". #Sligo #ireland #lockdown pic.twitter.com/Y6BUGtyksn

— Brían F. O'Byrne (@brianfobyrne) February 28, 2021
"Isolation is a big thing for addicts, and my heart goes out to anyone at home today, Ryan - who, if they're a sober addict, if they're an addict in any addiction - who are trying to live a life a day at a time that you don't have that community to talk to, even though you can now with Zoom and everything like that - you can meet people. But people who are at home...
"You know, isolation is a big thing for anyone with addiction. Our favourite place is to pull down the curtains and just stay inside and look for oblivion. So, this is an opportunity for a lot of addicts, and I feel so sorry for people who are living with addicts now at home.
"An addict is like a cornered rat - I speak for myself - a cornered rat when put up against a situation where they cannot get what they need for them to get through the day. Because they need it - they feel they need it. And then to witness that going, 'What is wrong with you? You're killing yourself'. But the person in the corner has no idea; they're trying to live for the day. They're trying to survive - today."
If you have been affected by issues raised in this article, please see: www.rte.ie/support.
O'Byrne's new film, My New York Year, screens online at the Virgin Media Dublin International Film Festival this Thursday at 7:00pm. The screening is sold out. For more on the festival, visit: www.diff.ie.