Charlize Theron and Kerry Washington have been cast as best friends in The School for Good and Evil, a new fantasy film set to shoot in Belfast.
The new movie is an adaptation of the first of six books in The School for Good and Evil series, which were written by Soman Chainani between 2013 and 2020, and is set in a fictional location known as the Endless Woods.
Theron, who won an Oscar for her role in Monster, and Washington, who starred in Little Fires Everywhere, Django Unchained, and Ray, will play Sophie and Agatha, who "are about to discover where fairy-tale legacies go to school."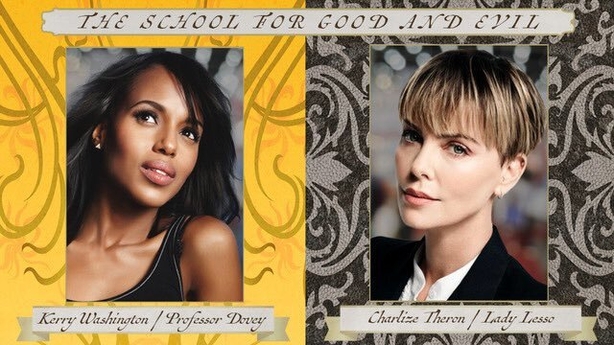 The film, which will be shot at Belfast Harbour Studios, is set in the titular School for Good and Evil "where ordinary boys and girls are trained to be fairy tale heroes and villains. With her princess ambitions, Sophie knows she'll be picked for the School for Good and join the ranks of past students like Cinderella and Snow White.
"Meanwhile, Agatha, with her grim aesthetic and wicked cat, seems a natural fit for the villains in the School for Evil. Yet soon the girls find their fortunes reversed: Sophie is dropped into the School for Evil, Agatha into the School for Good.
Chainani's 2013 book is a New York Times bestseller and has sold over 2.5 million copies and has been translated into 30 languages.
The School for Good and Evil is tipped for release in 2022.
The film will be directed by Paul Feig, who previously made A Simple Favour and Bridesmaids.
"I am so thrilled to have Charlize and Kerry in this film," he said. "I was honoured to work with Charlize back on Arrested Development and have been dying to work with her again ever since.
"And I've been such a massive fan of Kerry's forever and to finally find something for us to do together is just more proof that 2021 is gonna be way way better than 2020."
A film adaptation of the board game Dungeons and Dragons is also due to be made in Ireland this year and Apple TV+'s adaptation of sci-fi epic Foundation, which was filmed in Limerick, is scheduled to air later in 2021.