Vanessa Bryant has called Meek Mill's lyrics "extremely insensitive and disrespectful" after he referenced her late husband, basketball star Kobe Bryant, in one of his songs.
Kobe Bryant, who was an 18-time National Basketball Association all-star with the Los Angeles Lakers, and his daughter Gianna were killed, alongside seven others, in a helicopter crash last year.
Meek Mill's song Don't Worry (RIP Kobe) surfaced online last week. It includes the lyric: "If I ever lack, I'm goin' out with my chopper, it be another Kobe."
It is not known how the track leaked and it has since been removed from social media and YouTube
Addressing Mill on Instagram, Vanessa Bryant wrote: "I find this line to be extremely insensitive and disrespectful.
"I am not familiar with any of your music, but I believe you can do better than this.
"If you are a fan, fine, there's a better way to show your admiration for my husband. This lacks respect and tact."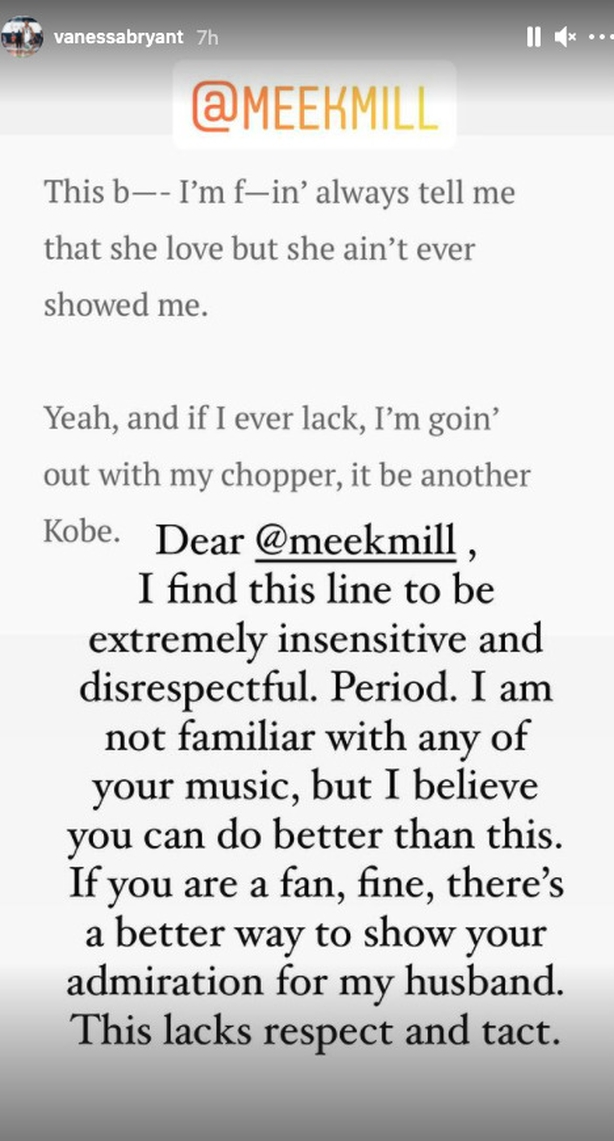 Meek Mill, whose real name is Robert Rihmeek Williams, appeared to respond on Twitter. In a Tweet soon after Vanessa's post he wrote: "'m going back savage in this s*** ... f*** your feelings". This tweet has since been taken down.
After a wave of criticism, Mill tweeted: "I don't think we on the same signal y'all... I don't see what y'all see."
He subsequently clarified that these tweets were not aimed at Vanessa or her family.
"I apologised to her in private earlier today not to the public," he wrote.
"Nothing I say on my page directed to an internet viral moment or the family of a grieving woman! If you care about someone grieving, change the subject!"
Kobe, a five-time NBA champion, played for the LA Lakers throughout his career and is considered one of the greatest players in the game's history.