This week on the show I talk to the stars of Disney+'s brand new coming of age drama Love, Victor and 24KGoldn talks about his brand new single 3, 2,1.
Disney+ has been going from strength to strength of late with Wandavision keeping fans on the edge of their seats and the announcement that they were bringing a new section to the platform called Star, featuring over 400 titles.
One of those releases, Love, Victor, is a follow on from the hit 2018 film Love, Simon. The new series follows Victor, a new student at Creekwood High School on his own journey of self-discovery, facing challenges at home in a traditional Latin family environment, adjusting to a new city, and struggling with his sexual orientation.
When it all seems too much, he reaches out to Simon from the original film to help him navigate the ups and downs of high school.
I caught up with two of the stars, Michael Cimino who plays Victor and George Sear who plays Benji. The story follows Benji an out high school teenager who Victor slowly starts to fall for.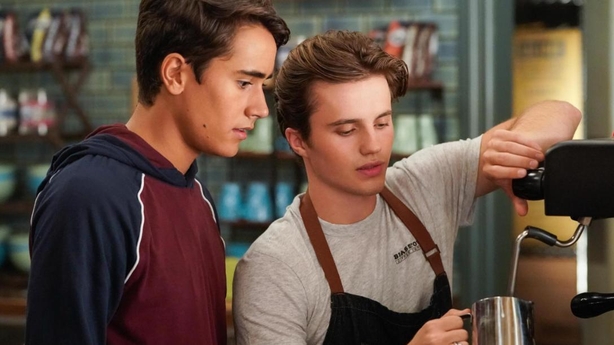 The series had its US release last year, receiving rave reviews. The importance of a show like this can't be underplayed, especially as it shines a light on young LGBT people in a very real and honest way.
Speaking ahead of the launch of Star on Disney+ on February 23, Cimino told me that he was blown by the amount of messages he received after the series first aired in the US last year.
He said: "I got so many messages and I screenshot them and saved all of them. Obviously, I cannot respond to everyone cause it was thousands of messages, but it totally gave me a perspective where I was like, this is such an important thing to do for the community.
And I just feel honoured to be part of this show. I was overwhelmed, just thinking wow, this is really like connecting to people."
The chemistry between the two actors is gorgeous, capturing perfectly the first moments of nervousness, fear and anxiety that comes with young love. Sear described their on-screen connection as instant.
He said: "I got flown out for the chemistry read and then as soon as we did it, we just vibed. It just was one of those things where it just works. There's something about it.
"One of the producers said he took a picture of us when we were sat down next to each other when we were acting one of the scenes out and he was like, that's it, that's the poster of the show."
Other titles available on Star when it launches on Disney+ include Buffy The Vampire Slayer, The X-Files and Three Billboards Outside Ebbing, Missouri.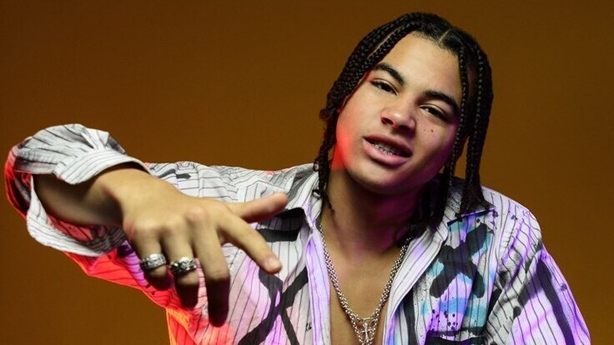 A year ago 24kGoldn was a college dropout trying to find a place for himself within the music industry as the world began to shut down - within a few months everything changed.
Recently he was named YouTube's 2021 Artist on the Rise after finishing 2020 with a string of record-breaking releases.
His breakout single Mood with Iann Dior became a TikTok sensation and topped the charts in 16 countries worldwide. The success of the song resulted in a remix featuring Justin Bieber and over one billion combined streams on Spotify.
Speaking about his newfound fame he told me it was a dream come true.
He said: "That's all I ever wanted, you know, for the past few years, like to have a group of people out there in the world that understands me and what I'm trying to say and can relate and can feel like I'm not alone in feeling this way.
"You know, the fact that we've all found each other and now we can enjoy this music and feed off each other's energy."
The last year has been tough for the entire music industry but for new artists it has been particularly difficult as the usual model of promoting singles, touring radio stations and getting on the road to meet fans has been lost.
When I spoke to Golden last year he was struggling with the lack of interaction but its something the last few months have forced him to come to terms with.
"You know, being frustrated and being upset that, that ain't gonna do nothing for me. To me, that's just gonna make me sad and then my music will be worse. So I'm keeping the vibes and I know that when that day comes it will come."
We need your consent to load this YouTube contentWe use YouTube to manage extra content that can set cookies on your device and collect data about your activity. Please review their details and accept them to load the content.Manage Preferences
The success of Mood catapulted 24kGoldn into a position that made it impossible for the industry not to notice him and what he was doing, and he has now acquired a number of famous fans. Just last week Donald Glover and Phoebe Waller-Bridge used the song to promote the brand new Amazon reimagining of Mr & Mrs Smith with a dance video on TikTok.
Jennifer Lopez has posted numerous videos dancing to it and even Britney Spears had a go on her Instagram.
24kGoldn's single 3, 2, 1 is out now.
Join me for chats with 24Kgoldn, the cast of Love,Victor and new Irish pop star Lenii, 3pm this Saturday and Sunday on 2FM.