As he premieres the video for We Come in the Wind on RTÉ Entertainment, John Spillane has said he chose it as the first single from his new album in the hope that it would help people to look towards better times ahead.
We Come in the Wind is taken from Spillane's upcoming album 100 White Horses, which he describes as "love songs to the Island of Ireland". The ballad sees the Corkman rhapsodise about "the island of the longing, the island of the strong".
"I am hoping that people will enjoy a release from the everyday world into a world of the imagination," he told RTÉ Entertainment.
"When I mention that the album is called 100 Snow White Horses people say, 'Oh, I'd like some of that'. I don't think people realise the depth of mythology we have in this country, and I would like to recommend to everyone in Ireland to read Lady Gregory's Complete Irish Mythology and to get into the works of Turlough O'Carolan.
"What We Come in the Wind does is it draws from three ancient voyages or imrams: The Voyage of Bran, The Voyage of Maeldun and The Voyage of St Brendan. A journey through a series of mystical islands represents the journey through life, or even through one day of your life.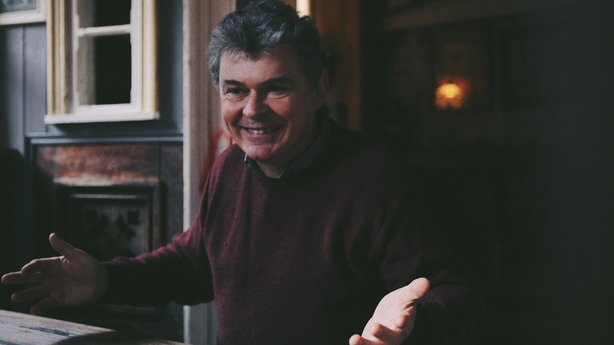 "It seems that this is a good time to release these horses into the Irish mindscape. It seems interesting that people are looking to music, art and literature more than ever during this pandemic, and that people are discovering nature in their local area during lockdown. My Dawn Chorus song seems to be having a deep effect on people. The songbirds can no longer be taken for granted. Nature can no longer be mindlessly plundered. Maybe this is the ideal time to release this album."
When asked what he had learned about himself over the past 12 months, Spillane concluded: "I have learned that the crazy gigging life I've led for the past 30 or 40 years is over and that I am entering the next phase of my life.
"I turned 60 last month and what a great way to celebrate it with the release of my 100 Snow White Horses. I know that I will go back gigging, but I think the gigs will be fewer and farther between and I will go about them in a gentler, more mature manner. I'm going to see myself more as a writer than a singer for the next phase."
100 Snow White Horses is released on Friday, 2 April. It can be pre-ordered for johnspillane.ie.