Katie Price has opened up about her son Harvey's transition to adulthood as someone living with complex needs, saying she just wants "to give him the best life I can."
The 42-year-old star's recent BBC documentary Harvey and Me follows the mother and son as they navigate the year he is turning 18 and entering adulthood.
Harvey was born blind and has Prader-Willi syndrome, septo-optic dysplasia, autism and learning disabilities. He father is footballer Dwight Yorke.
"It's an insight to a mother and son's journey, when you turn 18 and have complex needs, it's the transition from being 17 to 18 and everything changes," Price said on The Late Late Show.
"It is complex, but I love him to bits and wouldn't change him, I don't treat him differently to my other children."
Their documentary has received huge praise, but Price added that Harvey has also been the victim of trolling online.
She is thankful, she says, that he doesn't understand that side of things.
"I'm hopeful for Harvey... There's so much happening for Harvey and the most vulnerable, sweetest thing is he has no idea about any of it," she said.
"He gets trolled so much, but luckily he doesn't understand it, but I do, but the trolling has got to stop."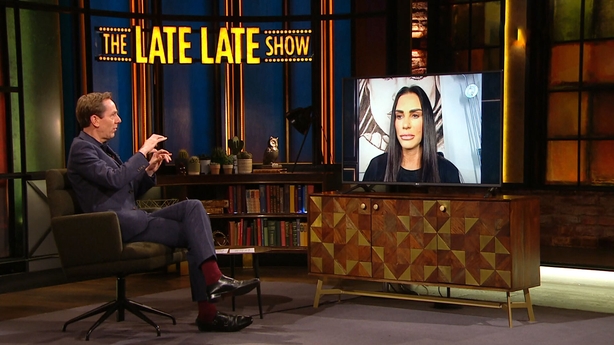 Price spoke about going in The Priory, a mental healthcare facility in the UK, for treatment for PTSD.
She urged anyone in need of help in relation to their mental health, to reach out and talk to someone.
"If anyone's got problems... By talking to people, you think everything is so massive in your head, it's not as bad as you think," she said.
"No one knows what's going to happen because it hasn't happened yet. If there's anyone with mental health problems or struggling with depression, it's good to talk."
Catch up on The Late Late Show on the RTÉ Player.
---
If you have been affected by any issues raised in this story, please visit: www.rte.ie/helplines.