It's safe to say we all learned quite a bit about ourselves over the last twelve months, writes Carl Mullan. Like everyone, I found 2020 really tough in some ways.
Missing spending time with my Mam, Dad and my two sisters. Having dinner with my Nana and Grandad. Hugs - God, I miss hugs.
But when I look back on 2020, I'm so lucky to say that I have some really wonderful memories that punctuated the strangest year of all our lives.
The year began with my 30th birthday and a party with all my closest friends and family in the Gingerman pub in Dublin city. Little did we know at the time, this would be our last night out for quite some time. This was followed up by a trip to northern Norway to see the Northern Lights - a 30th birthday present from my girlfriend Aisling.
It was just the perfect start to the year and like everyone, I was so excited for everything else that was to come. We had four different weddings we would be attending, a trip to Italy on the cards.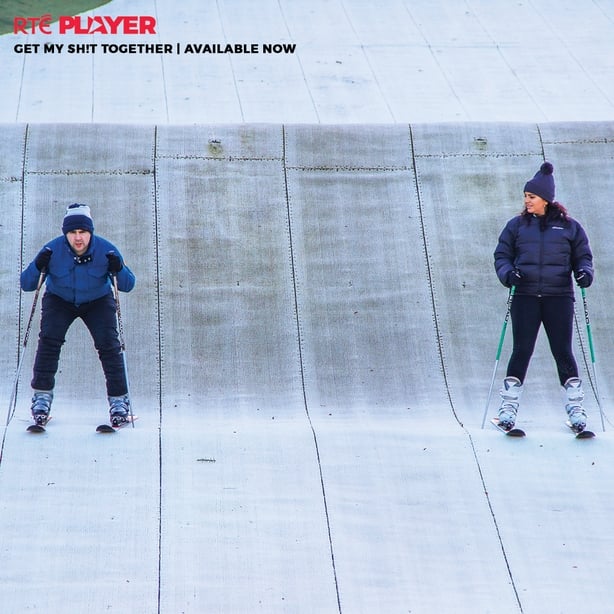 But then, well we all know what came next. I had a pretty strange introduction to working from home life. In the weeks leading up to the first lockdown, we were all getting inundated with WhatsApps and news reports about the rapidly deteriorating situation worldwide with Covid-19. It felt like we were watching a wave coming towards us and there was nothing we could do.
When I'm not working with 2fm, I work for RTÉ Online, creating video content for RTÉ.ie and RTÉ Player. In the office one Monday morning we were discussing the deteriorating situation around the world. "This thing is going to arrive here sooner rather than later isn't it?" we were all saying to each other.
It's very easy to forget eleven months down the line - bit there was so much unfamiliar terminology floating around the place. 'social distancing, 'R-Number', 'herd Immunity', 'self-Isolation.'
It was from there that we felt it might be useful to create a piece around what is actually involved with self- isolation. It was a Monday morning, and we agreed that I would head home with a camera, and would voluntarily put myself into self isolation, following all the HSE guidelines.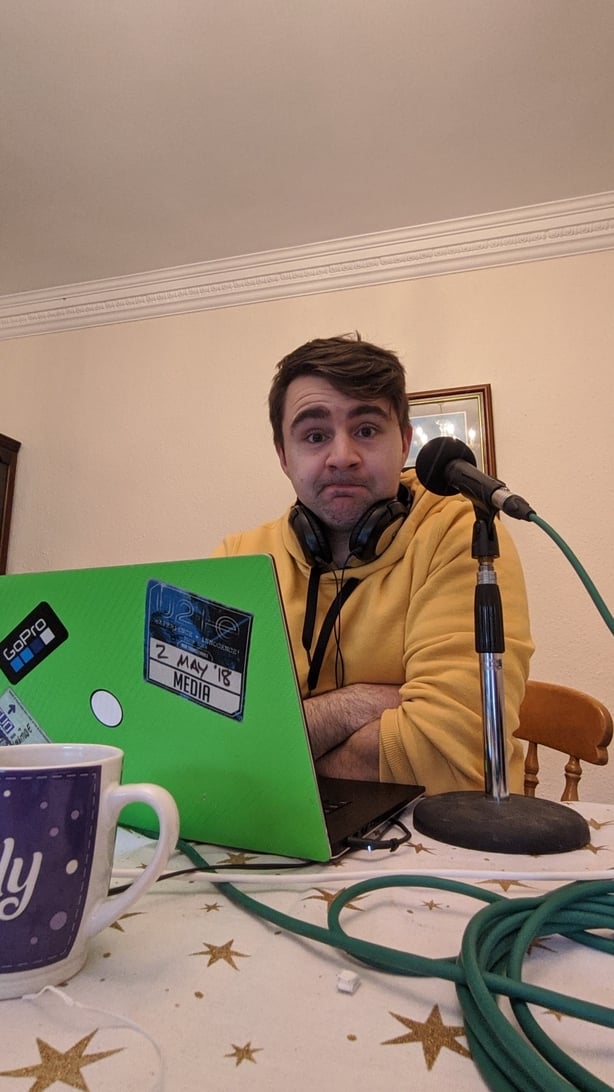 Over the four days I came to grips with everything that comes with self-isolation - having meals left at my door, using the bathroom at designated times, and cleaning everything thoroughly afterwards. All the while I had the liberty of not actually being unwell.
It was on the last day of my self-isolation experiment that word came through that I wouldn't be returning to the office. The direction had come through that all RTÉ staff who could work from home, should work from home.
Over the coming weeks, like everyone I faced the adjustments to working from home life. Getting up to speed with Microsoft Teams, Zoom, finding brand new ways to create content whilst never being able to actually meet with any of your colleagues.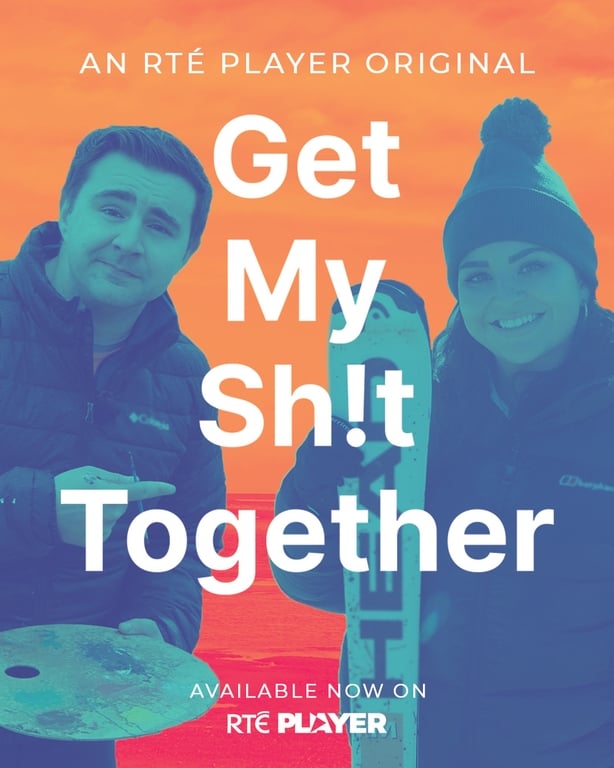 For my radio show on 2FM, my sitting room became my studio. We had to set up special boxes called Tielines on rotation between all the presenters. These boxes, along with a microphone, allowed us to plug in to the internet and do our radio shows from home.
I present Weekend Breakfast with Aifric O'Connell. I remember our first day of doing the show from home. The country had been put into full lockdown the night before, and there was such a strange feeling around the place the following morning. We could see it from the texts coming through to the show. Everyone was scared. Ourselves included.
From a personal point of view - I had pretty mixed feelings on working from home (and still do). To begin with, you can't deny there's some major positives to working from home. I calculated that over the course of the last eleven months, I've saved myself approximately two weeks of time that would have otherwise been spent sitting in traffic.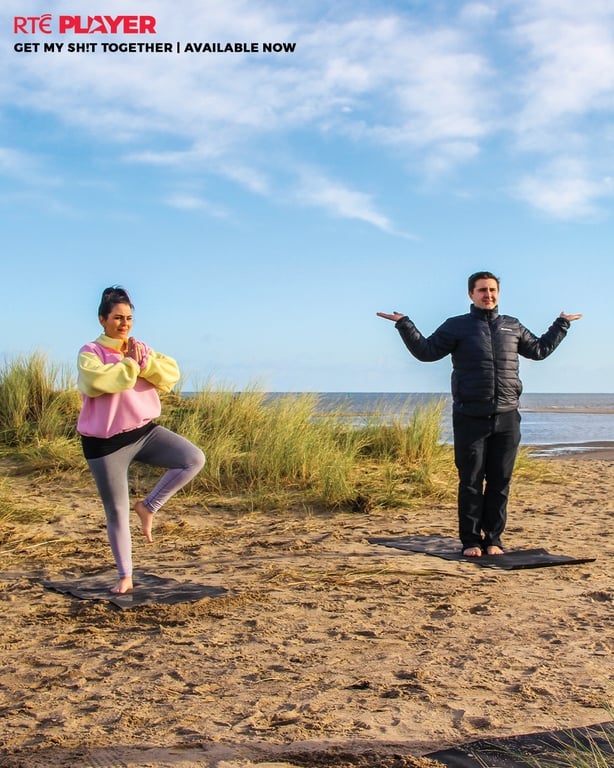 But I really do miss meeting colleagues face to face. I can't tell you how many great ideas have come from a passing conversation in the corridor, or whilst chatting over lunch.
The lack of routine really began to become challenging for me too - and probably is still my biggest challenge as this whole thing continues in to 2021. I never realised until lockdown that I really am a creature of habit. I found myself exercising less, not eating as well - and it was very much down to all the usual structures that surrounded my life being taken away.
Like everyone, after the first couple of weeks of lockdown, the boredom really began to set in, as well as missing seeing family and friends. I'm lucky that they all live close by, but waving to them from the wall, or doing a quiz on Zoom just isn't, and never will be the same.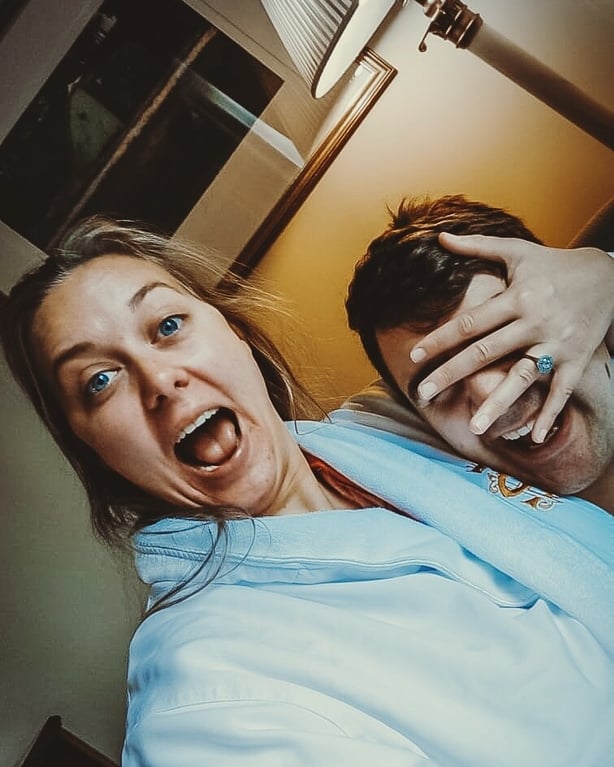 I decided that I would have to find something to keep my brain ticking - and that thing ended up being Instagram. Over the course of the first lockdown, kind of by accident, I found myself using it as a sort of creative outlet.
That mainly manifested itself as short sketches, or even re-writing the lyrics to famous songs and setting them in the context of lockdown. I know it may seem a ridiculous response to a serious situation, but it really ended up being such a great outlet - a focus - or even a coping mechanism in some ways.
While we were in the first lockdown, my partner Aisling and I spoke quite a bit about getting a dog. This had been something we had planned on early in our relationship, but we had always said we would wait until we had our own place before getting one.
We decided early into lockdown that we would start doing our research. At the end of June we welcomed our little lab Angie into our home.
I'd never had a dog before Angie, and to be honest I used to find it a bit odd how affectionate some people were towards their dogs. A couple of hours of having Angie and I completely understood. It's the best thing we have ever done.
Over the course of what was a tough year, Angie has brought us so much happiness. It's like having your best pal in the house all the time - even if that best pal does chew up the furniture and dig up the back garden.
Another great focus I had over lockdown was putting together a plan for something I had been thinking about for a while. I have known my girlfriend Aisling since we were eleven years old. We got together just over four years ago and bought our house at the end of 2019.
So you can probably see where this is going. From the very beginning of 2020, I knew it would be the year that I would propose to her. There had been elaborate plans to do it in Rome at one stage, but obviously, 2020 had other plans. I spent months during lockdown researching rings - who knew there was so much to it!
What metal to use, the cut of the diamond, the colour, the design. At the start of the process I hadn't a clue what I was doing, but over a few weeks, I finally settled on getting a ring designed for the occasion. The design process took around three months from start to finish.
All the while I was obviously trying to keep this as a secret. I went in to full-on stealth mode, even setting up a separate email address to do any of the back and forth with the ring designer for fear that anything would pop up on my phone by accident.
The ring arrived three days before I proposed on October 16 in the Shelbourne hotel. I was more worried that she wouldn't like the ring than I was about her actually saying 'Yes' I think! But luckily for me, she did 'say Yes', and she loved the ring too.
Hopefully all going well we'll be getting married in April of next year.
Like you all, I've found parts of the last twelve months tough going and I cannot wait until we can all enjoy the simplest of normalities in our lives again. And I think that's what I'll take away from all of this. A new appreciation for the things that are important to me.
Having a pint with a friend and talking nonsense. Crying laughing with your family over dinner, reminiscing about something that happened earlier in the week. Calling over to my Nana and Grandad for a cup of tea and a hug. Getting on a plane. Bumping into a colleague in the corridor and having a thirty-second catch-up. Fingers crossed we have all these things to look forward to very soon.
Carl presents Weekend Breakfast with Aifric O'Connell on Saturday and Sunday mornings, 7am, RTÉ 2FM.