The coronavirus pandemic is the biggest news story of modern times, says RTÉ Health Correspondent Fergal Bowers. Covering it as health correspondent has been an enormous challenge, not least because of the pace of developments, every hour, of every day.
There has been nothing like it in living memory, and let's hope it becomes a memory soon.
What started in Ireland with the first case on a leap year day of February 29, has taken more twists and turns than anyone could have predicted.
It has also seen over 3,000 lives lost to the disease and tens of thousands infected and others trying to cope with the long-term effects.
When the first cases occurred, it was decided that for health and safety reasons I would be one among many working remotely, away from the RTÉ headquarters in Donnybrook in Dublin.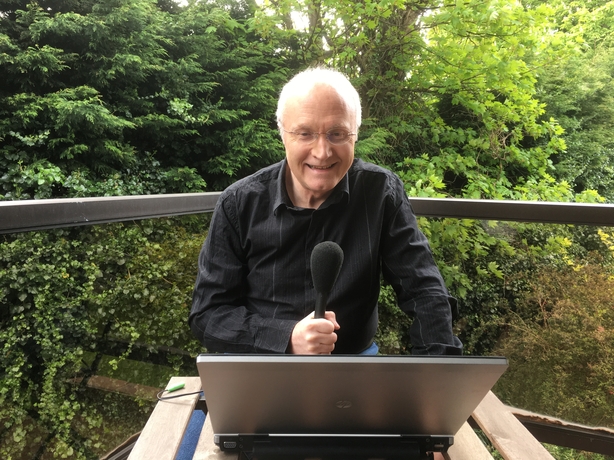 I drive by it many times most days, on my way to do live broadcasts for the TV and radio news programmes from a room in the Department of Health.
I do miss the bustle of the newsroom and colleagues and wonder when I will be in a position to return to my desk there. Actually, does my desk even still exist!?
For now, I work at home and out in the field and all of us have learned new ways to report on the news of the day. Modern apps allow near studio sound on a mobile phone and with Live U devices, live TV broadcasts that can be set up quickly from almost anywhere.
This job involves reporting for RTÉ News online, radio programmes, and TV news, as well as making key information available on social media.
On occasions, the latest figures on cases and deaths each day become available with seconds to go before a live broadcast, so that can be challenging.
Covering the Covid-19 story would not be possible without my great colleagues, who make up a team of people and a roster system, which has been devised and changed many times during the pandemic, to meet the needs of the story.
So I must thank George Lee, Orla O' Donnell and Sinead Crowley and other correspondents who have helped with the story. There are also journalists based in Donnybrook who package the news events of the day on Covid-19 who are essential - Laura Hogan, Fergal O' Brien, Samantha Libreri and others too.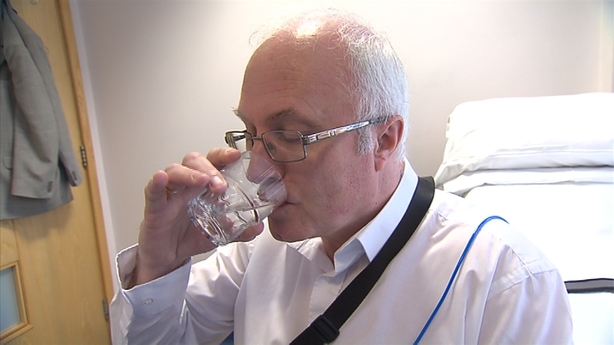 This is not an easy story and so the solid support from news editors and managers is also greatly valued. Ultimately, the RTÉ News output on Covid-19 is a team production.
When this pandemic started, many of us did not envisage putting a Christmas tree up and taking it down and the crisis to be still raging on even worse than ever. But so it has come to pass.
This lockdown 3 will likely be the longest one and probably the hardest for many people. I am conscious that so many people cannot work and the days and nights are very long for people, with so many stresses, financial challenges, looking after kids, mental health and the uncertainty.
I am one of lucky people to be still able to work through this.
The vaccination programme is a vital element in dealing with the pandemic but it is going to take a long time. It's something we will be monitoring very closely.
For now all that is certain is uncertainty.
It is impossible to say when the pandemic will end and life will return to normal. There are so many other non-Covid health stories that will require investigation.
So much depends on whether vaccination secures herd immunity and if people who are vaccinated can transmit the virus or in what percentage of cases that may happen.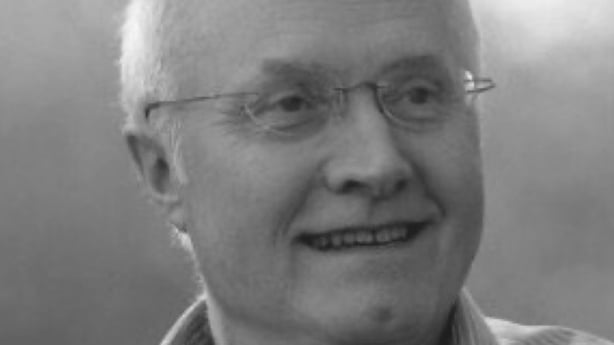 We might see Covid-19 vaccination as an annual event, much like with influenza, with people immunised each year against the known strains.
To be covering this news subject at this time in history is an honour and a responsibility. Along with many other journalists, I am on the front line of reporting history in the making. It's really great when there is some good news to impart.
Like all employees at RTÉ, I have my days off too. But given the nature of the Covid-19 story, I would usually be monitoring what's happening. Covid-19 has invaded every aspect of our lives and it's hard to escape it. But I do enjoy long walks, and better weather and brighter days will come soon, with January now behind us.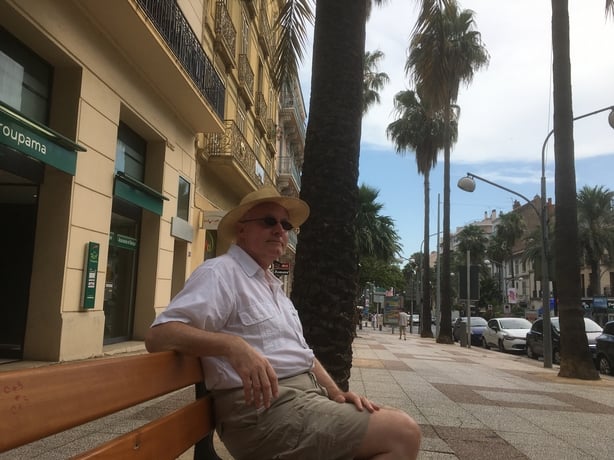 As I write this, I am on my 25th Covid-19 notebook. Everything that has occurred is in those books, including notes for live broadcasts and they have proven an invaluable reference point. But I also dream of a time when I will no longer need them.
During the pandemic, the public have been so kind and generous to me in amazing, very thoughtful ways. I have been sent many cards and letters, a lovely tie, some new pens, extra note books, a 'Wee Dote' badge from the wonderful artist Annie West and even some food.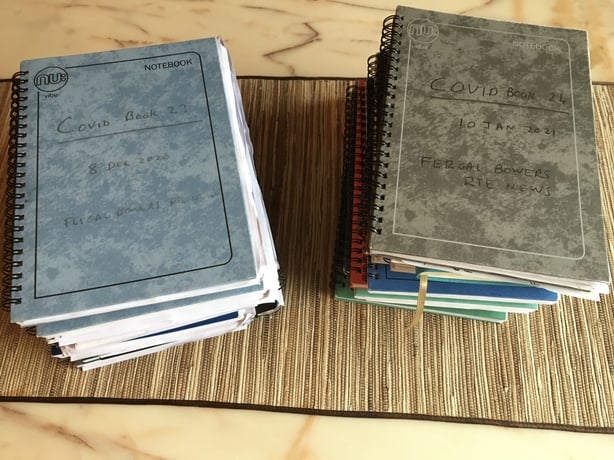 I try to be very active on social media and engage with people on the story as much as possible.
I receive a huge volume of queries each week on social media, or by email and I try to respond to everyone in some way to assist. If I have not been able to get back to you yet I am sorry.
There are many questions sent in for us to put at the twice-weekly NPHET briefings, and only around three can be asked due to time constrains in the proceedings, but we read all of the points raised with us.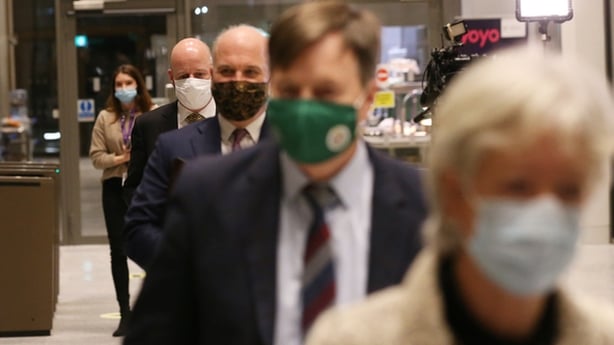 I really enjoy writing my long read pieces which appear on the RTÉ News website each Saturday morning. They allow more room to explore the events of the week with the virus and give a sense of the mood of the country. Many of the ideas for these articles come during the week and they take many hours to write. I hope they offer a contemporaneous record of what has been happening in a given week. My first long read appeared on March 14th last year and was called A Journey Together
So far, what a trip is has been. Coronavirus will be with us in some shape or form for a long time to come. It will certainly be the dominant issue for 2021.But I look forward to a day, in the not too distant future, when I can report that there have been no cases and no deaths here from Covid-19. And we can move on to different stories, and on with our lives.