Jamie Dornan has said that he does not have "a lot of confidence", and that was part of the reason why he wanted to play such an insecure character opposite Emily Blunt in the much-discussed, Ireland-set romantic comedy Wild Mountain Thyme. 
The Belfast actor made his comments when he joined his friend and former housemate Eddie Redmayne to discuss their work and friendship in the new episode of US entertainment publication Variety's Actors on Actors series.
Redmayne said that Dornan's decision to take on the character of Anthony in Wild Mountain Thyme was "risky" and "involved a great confidence in this film".
We need your consent to load this YouTube contentWe use YouTube to manage extra content that can set cookies on your device and collect data about your activity. Please review their details and accept them to load the content.Manage Preferences
"One of the things I loved about the movie was getting to see you play something that I haven't seen you play before that is so playful, capricious, slightly weird [laughs] - all of these wonderful colours," the Oscar winner continued. "Whereas I feel, certainly early on in your career, you were sort of being - in a wonderful way - playing full, sort of traditional leading men." 
"I don't have a lot of confidence, you know?" Dornan replied. "And we all have huge insecurities as actors, for the most part. Any actor I like is insecure in person and is harsh on themselves and is terrified on day one and actually still kind of a bit terrified on the final day! I like that, and I think it's a great energy to approach it with. 
"I feel like with Anthony, I'm able to express all of my insecurities and all of my awkwardness and all of my weirdness that I have as Jamie. I was able to express through him, which as you say, I've played a lot of men who are very much in control and who are very confident and assured of what they're doing. And I get to play someone who's at the total other end of the spectrum."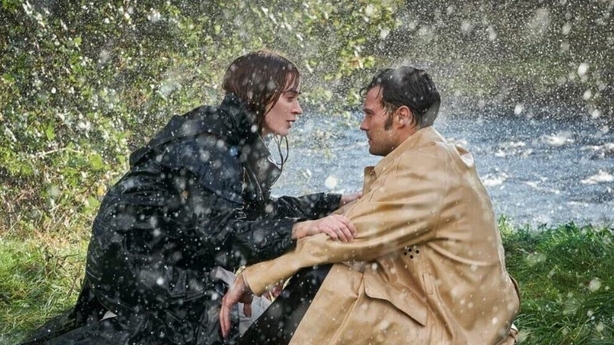 Dornan described making Wild Mountain Thyme as "an incredible experience". 
"I've never done a job where I was so physically, like, bereft when I finished it - I really was," he recounted. 
"It's also one of those jobs, mate... We're in the west of Ireland, where it's an all-Irish crew, everyone's having a good time. It's just one of those crews where it's buoyant, you can feel it. Everyone's having [a good time], it's raining all the time, no-one cares, we're getting to say these lovely words. Everyone's just really easy, there's no-one bringing any sort of drama. We're getting to work with Christopher Walken and Emily and John [Patrick Shanley, Wild Mountain Thyme writer-director]. 
"When I finished, we wrapped and I went into my trailer and I sort of collapsed! [Laughs] I had this strange physical reaction to not getting to have another day with these people and the set. I sort of kind of collapsed and kind of cried. And it was like, 'Yeah, when does that happen with work?' It's very rare! [Laughs]"
Wild Mountain Thyme was released in the US in December. An Irish release date has yet to be announced.