Mike Murphy has told RTÉ One's Today that he's still smarting over his reaction to the classic TV prank he pulled on Gay Byrne in Trinity College.
The nugget of comedy gold is 39-years-old this month, having first been broadcast on Mike Murphy's The Live Mike in 1982.
As Gay Byrne filmed a piece in the grounds of Trinity College, Mike Murphy - dressed as a French football fan - kept interrupting him - with unforgettable results.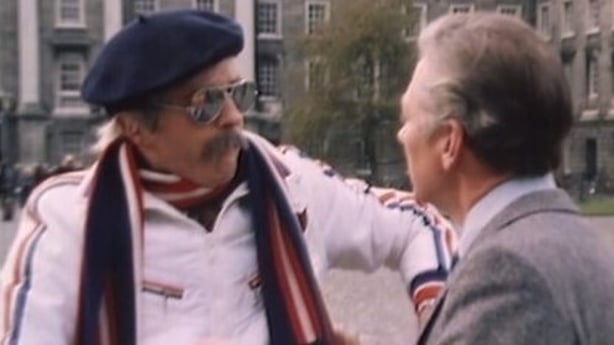 "My reaction at the end of it was pretty awful, really," Mike Murphy told Sinéad Kennedy and Dáithí Ó Sé on Today. "Because I was actually so stunned that Gay had said 'F off'!"
"He never cursed," Mike Murphy laughed. "He never cursed in real life, and to actually curse on television... And I just stood there like an idiot because I couldn't believe, 'Gay's after cursing at me - on television!'
"It certainly got a [response]. Ah, look it - it is quite famous. Gay, poor Gay. God, we were great friends, as you know.
"We were out somewhere about three or four years ago, and some person came up and they were talking to the two of us and saying, 'Ah, the two of you, Trinity College' etc etc.
"As we walked away, he said to me, 'I sincerely hope that's not all I'm going to be remembered for when I go!' But it wasn't."
You can watch the prank in full on the RTÉ Archives website.
Click here for more television news.