The Crown star Emma Corrin, who played Princess Diana in the latest season of the series, has said she thinks calls to label the show as 'fiction' are 'mad.' 
The fourth season of the Netflix drama following the British royal family over the course of Queen Elizabeth II's reign, charted the period from 1977 to 1990 and featured the marriage of Prince Charles and Princess Diana. 
UK Culture Secretary Oliver Dowden proposed that the series would air with a warning message alerting viewers that the content is fictitious.
Netflix released a statement saying they felt no need to add the disclaimer as, "We have always presented The Crown as a drama, and we have every confidence our members understand it's a work of fiction that's broadly based on historical events." 
Corrin has echoed the streaming giants sentiment saying she feels such a label would do "a disservice to creativity, and imagination, and screenwriting, and scriptwriting."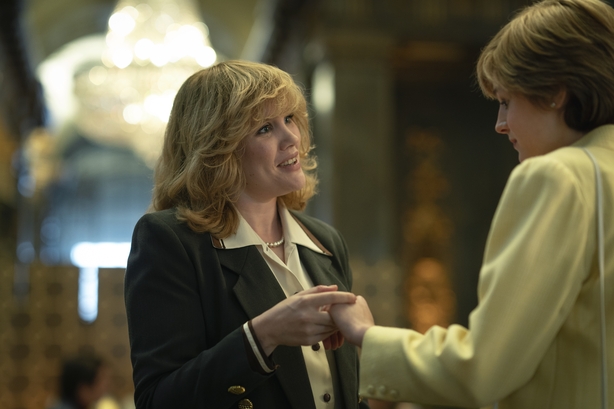 "The Crown is accurate insofar as it's about a family over a period of time, and we have factual information about what happened to the country—and to the family," Corrin told the Daily Beast. 
"So, you can write down all the facts as if it were a timeline, but all the substance is fictitious. We can know that Diana and Camilla [Duchess of Cornwall] went to a restaurant called Menage A Trois, which is hysterically ironic, but it happened, but we obviously don't know what was said, so that is fiction. But that's how a lot of series operates." 
Helena Bonham Carter, who plays Princess Margaret, said on The Crown's official podcast that she thinks producers have a duty to differentiate between "our version" and the "real version" of history. 
"I do feel very strongly because I think we have a moral responsibility to say, 'Hang on guys, this is not… it's not drama doc, we're making a drama.' So they are two different entities," she said.