Comedian and presenter Kevin McGahern and his wife Siobhán Cassidy are celebrating the arrival of their first child, a baby girl called Wallis, with the bleary-eyed-but-blissful dad telling RTÉ's Today show: "I wasn't prepared for the amount of work that goes in."
Today hosts Maura Derrane and Dáithí Ó Sé congratulated McGahern when he appeared on the show on Wednesday.
"I've learned so much from you," he joked. "You are kind of like my second parents at this stage. I feel like we've got a good relationship over the years."
"How disappointed are you in us as parents, Kevin?" asked Ó Sé.
"You are like my cool, sexy, West of Ireland parents," McGahern replied.
"Did we tell you all about the sleeplessness, though?" asked Derrane. "Did we give you enough information on that?"
"No, you didn't," answered McGahern. "I don't... I'm surprised the human race has survived this long. I wasn't prepared for the amount of work that goes in. Babies should come with a government health warning, I think. A little sticker on their head!"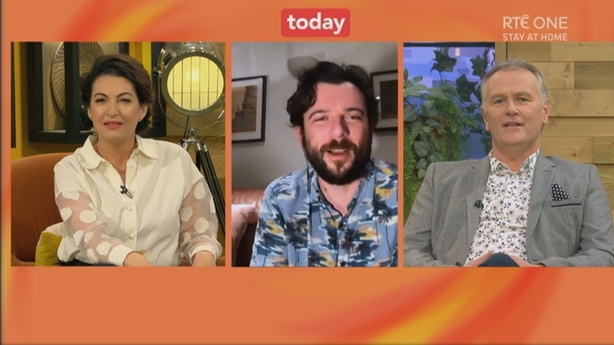 "All joking aside, Kevin, is there anything better than looking into the cot and seeing your own there before you?" said Ó Sé.
"No, it is a beautiful feeling," agreed McGahern. "It's a weird... Because you're seeing half of yourself and half of your partner, so it's a weird mix of love and what's the word where you love yourself? I'm not sure what it is. Vanity, maybe. But it's a magical feeling. It is the best feeling in the world, I have to say."
The couple's daughter was born on 22 December.
"Luckily, we got all home on Christmas Eve and there were no complications," said McGahern, "It was the best Christmas ever. It's kind of the perfect time to have a baby when you can't go out anyway! It's not like I'm looking at Dáithí's Instagram page and he's at cocktail parties and there's women hanging off him! His James Bond lifestyle! So everyone's stuck indoors anyway, so I don't have the fear of missing out at all."
McGahern is back on RTÉ2 tonight with Joanne McNally and Colin Murphy for the new show Clear History.
"It's a new panel show," he explained.
"We haven't had a panel show in a long time. So it's basically where people come on and they tell embarrassing stories that they really wish they could just wipe clear from history, in the hope that by sharing these stories and having a laugh it'll sort of excommunicate them - it'll exorcise them. It's a bit like a very public confessional box."
"I call it lady petrol" 👩🍷

Brand new comedy show #ClearHistory starts tomorrow night at 9.30pm.@kevinmcgahern @jomcnally @thatcolinmurphy @MrsLauraOMahony pic.twitter.com/MqKN8qww91

— RTÉ2 (@RTE2) January 6, 2021
Clear History, Thursdays, RTÉ One, 9:30pm