A new documentary about the life of Irish screen icon Maureen O'Hara will air on TG4 on Christmas Day at 9:00pm. Here, its director, Brian Reddin, tells RTÉ Entertainment about what he discovered while making Maureen O'Hara - Banríon Hollywood.
"I have always been a huge fan of Maureen O'Hara and as a teenager on a visit to Glengarriff in Cork, she walked into a pub I happened to be in and I approached her and told her how much I admired her work. I sat down and began to discuss her movies and career. We ended up talking for over three hours and it was an amazing experience. She was the first movie star I ever met and she was so kind and generous with her time. It left a lasting impression on me.
"When I started making documentaries, she was always high on my list of subjects and this year I finally got to make it. I thought I knew everything about Maureen O'Hara, but as soon as I started digging into her life, the scope of her achievements was staggering. I had no idea she had achieved so much.
We need your consent to load this YouTube contentWe use YouTube to manage extra content that can set cookies on your device and collect data about your activity. Please review their details and accept them to load the content.Manage Preferences
"Aside from her amazing career on screen, Maureen was also an accomplished singer, a respected businesswoman and a champion of women's rights. The list of firsts associated with Maureen is staggering. She was the first Irish person to retain Irish citizenship after becoming an American citizen. She was one of the first actresses to bring a libel action against a tabloid and she was the first actress to win. She was the first woman to be a President and CEO of a scheduled airline in the United States and she was the first Irish Hollywood superstar.
"The thing that struck me most about her was her ability to speak out when she was not happy. In the Golden Age of Hollywood, many actors would kowtow to the studio whims, appearing in sub-standard movies because they had little choice. Maureen fought against being typecast as a 'fiery temptress'. She fought for better roles.
"She also fought against the prevailing casting couch culture and famously said in a 1945 newspaper article: 'I'm a helpless victim of a Hollywood whispering campaign. Because I don't let the producer and director kiss me every morning or let them paw me, they have spread word around town that I am not a woman - that I am a cold piece of marble statuary. I guess Hollywood won't consider me as anything except a cold hunk of marble until I divorce my husband, give my baby away and get my name and photograph in all the newspapers. If that's Hollywood's idea of being a woman, I'm ready to quit now'.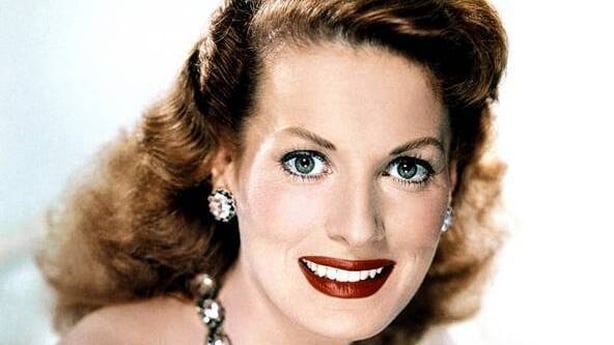 "She was a survivor in a difficult world where powerful men made all the decisions. Maureen O'Hara would not submit to their demands. She was the spiritual leader of the #MeToo movement. She was calling out sex pests over 70 years before Weinstein and his like got their comeuppance.
"One other thing that struck me about Maureen while making the documentary was her genuine and heartfelt fondness for Ireland. She really lived and breathed the Emerald Isle.
"I saw it over and over again in countless pieces of footage. Bord Fáilte should have had her on a retainer. She sang the praises of Ireland every opportunity she got. She was a one-woman tourist machine. She spoke Irish on TV shows and in movies; she sang Irish songs in variety shows, and she raved about her homeland every time she was a guest on a chat show. She was unashamedly Irish. It was what made her different, what made her stand out, and she was never going to let Hollywood forget it.
"I was lucky to have met her, luckier still to have spent time with the people in her life - her friends, her co-stars and her family. She was an amazing woman and we must never forget her or her achievements."
Maureen O'Hara - Banríon Hollywood, Christmas Day, TG4, 9:00pm