Veteran Limerick electropop artist and DJ Barry Warner has released Singles, a new compilation of six songs remastered in 2020 - plus a remastered track from 1983. We asked him the BIG questions . . .
Singles marks the 35th anniversary of Warner's landmark track Real Man, and speaking about the new release, he says, "As my more leftfield tracks have been appearing on compilations over the past nine years and the original singles were just available on crackly vinyl rips on YouTube, it's great to make these re-masters available."
We need your consent to load this YouTube contentWe use YouTube to manage extra content that can set cookies on your device and collect data about your activity. Please review their details and accept them to load the content.Manage Preferences
No physical copies are planned yet, and the songs are available on all digital streaming platforms.
Singles features - Real Man (1985), Dancing without You (1986), What's Happening (1987), Just A Floor (1988), Hanging Around (Forever) (1988) (released as a radio promo only from the remix album), Sound And Vision 1990, with Pat Donne on vocals eventually released 1991 ("the one Bowie wrote to me about, he liked it!"), When Lives Collide (1983) (released on the Do It! cassette album as Ultimate Treason in 1984), Throwdown (1986 B-side), and Small Town (1987) (B-side).

Tell us three things about yourself?
I've been an electronic artist since even before I bought my first synth in 1980, but that was when I began writing songs properly; before that I'd been using found sounds, radio static, all sorts of things that would generate interesting noise.
We need your consent to load this Spotify contentWe use Spotify to manage extra content that can set cookies on your device and collect data about your activity. Please review their details and accept them to load the content.Manage Preferences
As a product of the whole punk and post-punk DIY aesthetic I'd released a lot of home recorded cassette albums under various pseudonyms before I finally went into the studio in 1983 and did three cassette albums as Ultimate Treason, before moving to Dublin from Limerick in 1985 and releasing my debut single and video Real Man.
I've also DJ'd quite a lot around Dublin over the years, which gave me the opportunity to road test my more dance-orientated songs in various nightclubs. When I stopped making music for over a decade, I'd continued to DJ, so music has always been my main occupation. I had a hip-hop show on a station in the early 90s which was a blast too.
How would you describe your music?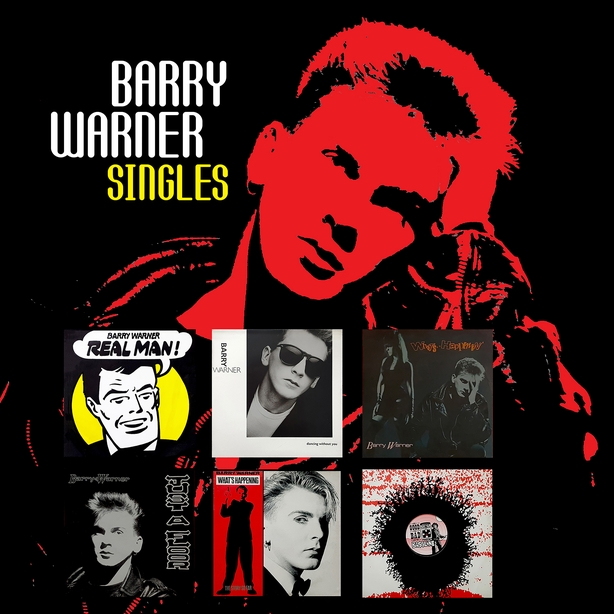 I'd describe the 80s music as electropop really, it generally has a lighter feel compared to my songs from 2007 onwards, which are more cinematic and doomy. It's just how the music evolved as I got older; it's actually become more alternative! Although while we were remastering those early singles, I noticed I'd still managed to sneak some dark lyrics in there.
Who are your musical inspirations?
My musical inspirations may not be obvious to a casual listener, but they definitely include early Cabaret Voltaire and Human League, Suicide, Chrome, Newcleus, Mantronix, Imagination, Magazine and The Buzzcocks, Gary Numan, Sex Pistols (life-changing for me), Soft Cell, Michael Jackson, Geto Boys, James Brown, and the Stranglers. Bowie, of course, probably influenced us all.
How did you occupy yourself during lockdown?
Well, I was midway through recording a new album, so that suddenly stopped and everything else just stopped too! Fortunately, my daughters visited a lot, which kept me sane. I went through a lot of my vinyl, finding records I'd forgotten I even owned, watched a lot of movies and read. I also finally got around to remastering all my old singles with my producer Pat, which had mainly been only available as crackly vinyl rips on YouTube. I didn't make any new music during that time, lockdown definitely knocked me off kilter in that respect. Thankfully it gave me time to re assess the music I had been doing and decide some of it should be scrapped!
What's your favourite song right now?
My favourite song right now (and it changes often!) is No One from the new Psychedelic Furs album.
Favourite lyric of all time?
I've no idea what my favourite lyric of all time is, but Howard Devoto or Pete Shelley probably wrote it!!!
If you could only listen to one song for the rest of your life what would it be?
Having DJ'd so much I can think of a million songs I never need to hear again, but only one song? Forever? That's impossible to answer but Me I Disconnect From You by Gary Numan came into my head.
Where can people find your music/more information?
My music has appeared on several compilations in the past few years, but you can find the two most recent releases on Spotify, Apple Music, YouTube, and most streaming platforms.