U2 frontman Bono revealed on Friday's Late Late Show that there was "a lot of fighting" in the band about whether to go public with their €10 million contribution earlier this year for the sourcing and purchase of personal protective equipment (PPE) and other supports for frontline healthcare workers.
The singer and guitarist The Edge were appearing on the Late Late to support the show's Busk for Simon fundraiser when talk turned to the Covid-19 pandemic.
"What this has taught us is who are the essential workers," Bono told Ryan Tubridy. 
"Music's essential for me. But, you know... I sing for my life. I sing, you know, it's a lifeline to me. But people who are driving taxis and stacking shelves and nurses and doctors are a whole other category than musicians.
"If there's one thing that the pandemic has brought us to, it's to understanding the correct order of importance."
"Is that why you decided to get stuck into the PPE?" asked the host.
"Quite early on, you decided, 'We're going to get involved here. We're going to donate, try and make a difference'.
"It's not the house style to talk about it, but I felt at the time... We spoke briefly during the summer about it and you [Bono] said, 'Yeah, it was time to put the hand up and to help'."
We need your consent to load this YouTube contentWe use YouTube to manage extra content that can set cookies on your device and collect data about your activity. Please review their details and accept them to load the content.Manage Preferences
"Any public advertisement of giving away money is PR," Bono replied. "So, I just want to be clear about that.
"If we're giving anything publicly, I think you've got to accept that it's a kind of exercise in self-promotion. And we've tried always to avoid that in our [work] - in this country especially over the years.
"Sometimes with (RED) [organisation fighting HIV/AIDS] you have to declare yourself. Or Music Generation [education programme] - we had to declare yourself [sic] because we're trying to get match money.
"But on this [going public with the PPE donation], it was very hard. There was a lot of fighting in the band about this. But we felt we had to come out and say, 'Look, show solidarity on this... If we can't be really useful, let's find the people who are and try and get them protective wear."
"Of course, you know, we're so fortunate and so many people were far more impacted than we were," continued The Edge.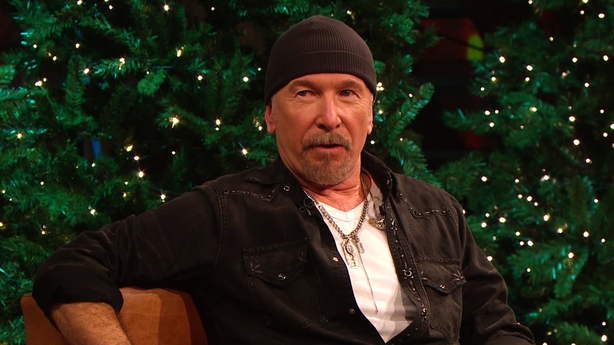 "But actually, it's the people risking their lives to help others - they really needed support and deserved support. So that was really why we went public."
You can watch the interview in full on the RTÉ Player.