Brendan Gleeson has provided a fascinating insight into his role as US President Donald Trump in the miniseries The Comey Rule, saying that he never watched himself in a monitor on set, having decided that his goal was to portray someone "who is used to getting what he wants by hook or by crook". 
Gleeson, who chose not to do any interviews ahead of transmission of the miniseries in the US in September, took part in a virtual event with US entertainment publication Deadline on Wednesday night. He was joined by co-star Jeff Daniels, who plays former FBI boss James Comey; and creator-director Billy Ray, who adapted Comey's memoir A Higher Loyalty for the screen.
We need your consent to load this YouTube contentWe use YouTube to manage extra content that can set cookies on your device and collect data about your activity. Please review their details and accept them to load the content.Manage Preferences
The Dublin actor admitted that he did not want to take the part at first, only to change his mind after much consideration. 
"I woke up one morning and I kind of felt I really wanted the acting challenge, and I should do it in some fundamental way," he explained.
"When it came first, there were a number of different issues that were involved. I was unsure I was going to learn anything about him from what was there. Because it's really Comey's story; this isn't an exploration of Donald Trump. I knew this stuff about his public persona; I didn't really understand any more about his private motivations beyond the political or beyond whatever. 
"Also, I had a reluctance to invite him into my life in that kind of way - the degree of belligerence and all of that. But also, with the circus that's with it, I was kind of saying... If I have an artistic goal where I feel I'm really exploring something, the rest of the stuff doesn't count. If I'm not really going anywhere with it... It was a lot to bring in, even in an emotional sense. I wanted it to be worth something."
Gleeson said he consulted with his family before taking the role.
"I asked a number of different people close to me and all that. One of my sons said, 'If you buy into the circus, it doesn't matter whether you do good or bad, whatever you play in the circus doesn't matter - it's what feeds the circus'. No matter what you do, you're only adding [to it]."
With "something gnawing at me" about the role, Gleeson was contacted again by director Ray.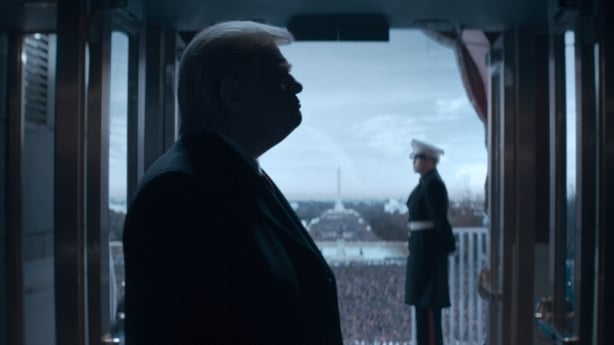 "I read the script again. What kind of became particularly influential was that I can't see that there's a private part to discover necessarily. Because everything is so much out front, that the public and the private appear to be similar. So it then became about, 'Well, can you actually technically get into a place where it becomes a person and not the show?
"One of the things that's very important to me about this whole thing is the idea of PT Barnum, the idea of the WWF [WWE], which Trump was part of - he understood so much from all that. The watchability of the grotesque and the wonderful and the freakish and the odd and the car crash - all of that stuff he completely gets." 
"There was an interesting thing - I can't remember who did it - at the beginning of the series about the idea of people voting for him as 'chemo': even though it's a poison, it gets rid of it [cancer] as well," Gleeson explained. "So all of that began to become extraordinarily interesting." 
Gleeson described his physical transformation for the role as "a big thing".
"When I wanted to go at it, I had to go at it fairly. I'm quite similar in [hair] colouring to him. Myself and Orla Carroll who did the hair - fair play to Billy, he brought her over, and I was able to work with her in Ireland - we spent hours and hours and we got into a very good place with my own hair at one point, but it would've been almost impossible to reproduce every day. 
We need your consent to load this YouTube contentWe use YouTube to manage extra content that can set cookies on your device and collect data about your activity. Please review their details and accept them to load the content.Manage Preferences
"The issue was very interesting about whether to be less arresting in terms of his presentation. I've been thinking about it ever since. One part of me felt it would have been really interesting to go with less of 'the thing'. But the point that I made earlier about the PT Barnum thing... When I started watching him first, I couldn't believe what I was looking at. I couldn't not separate the visual weirdness. 'How is he appearing like that?' And it was part of the whole thing. 
"Then, on top of that, you get his speed of thought, his train of thought, his ability to switch tack - all that stuff had to come afterwards. I knew it was going to happen, because he toned it down over the years as a president - somebody got to him and started kind of making the hair a little less [wild]. But when I saw him, it was wild. 
"Here's the thing: I wanted to watch him. When I was watching that whole campaign and Hillary was on and he was on, if I had to channel hop, the draw was over there. And so part about his presence in a room is that he travels with the show and the show travels with him. I kind of felt, 'Let's go with the whole thing'."
Gleeson said the teeth represented a huge challenge.
"[Laughs] My poor little Irish teeth - they just don't get that white! There was a bunch of people who really, really worked brilliantly with me. We put on these things [moulds] but only on one side. So all of that had a kind of an impact. It did make me feel like as if I had my suit of armour on to go out and that he travels with the show, the show travels with him. That's it.
"He has prominent upper teeth, but every time I did that I kind of spat them out in somebody's face! [Laughs] In fact, it happened one day in the shoot - I went into the meeting of all the generals and I spat my teeth out! 
"It was a bit of a monster to try and control, but part of it, I think, is that you make a mistake if you control the monster with this particular character. You can't, because he's extraordinarily interesting. And so therefore if it's acting, it's supposed to be, which went against my instincts as an actor a little bit. You don't want what you imagine to be the peripherals to be getting in the way, but actually the peripherals are kind of what it's about, in the sense of the whole show."
Gleeson paid tribute to his "extraordinary" co-star Daniels for giving him so much to work with, and to director Ray for getting to the "deadly serious" core of the story. 
"One of the things that Billy used to say quite regularly would be, 'What does he want? What does he want from this?' The bells and whistles are fine. One of the things in terms of talking to my earlier self when I was sitting in bed that morning thinking about the thing was, 'What's important to do with the part if you're not going to really learn an awful lot about an emotional sort of a journey or a kind of whatever it is?'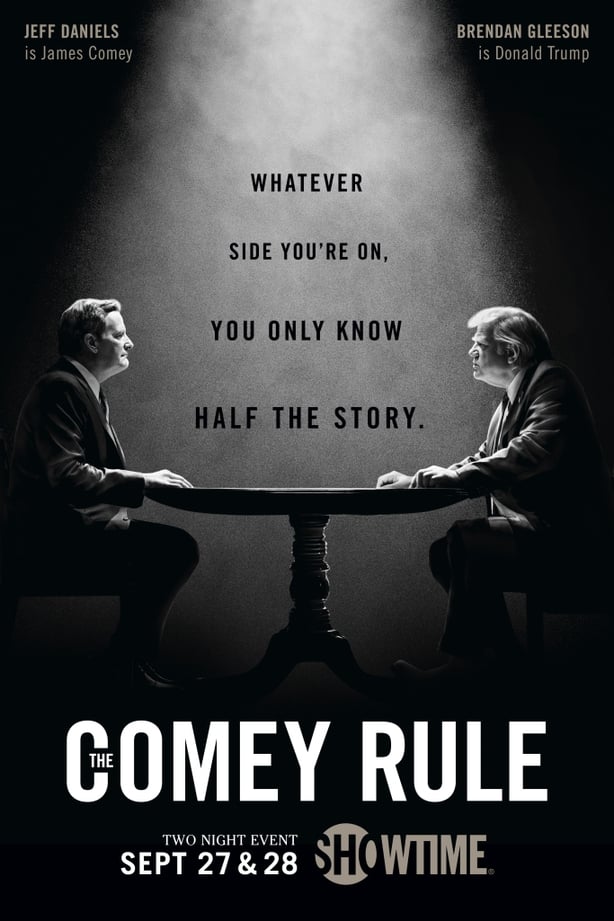 "It became about that, the fact that, with all the stuff, not getting sidetracked by all the stuff, and seeing the intent and the seriousness of the drive to get what he wants. So that's how you get beyond it, because it's very difficult to get beyond the amusement, the outrage, the whatever it is. It's when you actually look behind and say, 'What's behind it?' 
"Now, here's a dude who is actually used to getting what he wants by hook or by crook. It was brilliant having Comey's diaries, because we get the response of what Jeff is looking at, and we know that this is what happened, and that this is a person and this is how he gets what he wants. This is how he gets what he wants and it's not particularly... It's serious. This is not a circus. This is very serious."
"There was a deadly serious core at it," Gleeson concluded. "That was my big fear at the beginning, is that you just get the flim-flam, because of itself it's massively interesting, massively interesting what people want to see. But what's actually happening - that's what Billy was trying to do, that's what was on the script and I hadn't really seen it the first time. Sorry about that, Billy!"