The directors behind the Oscar-tipped Irish animation Wolfwalkers have lavished praise on funnyman Tommy Tiernan for his role in the beautifully crafted adventure, telling RTÉ Entertainment that he was top of the pack to play "the wild Irish man".
Directed by Tomm Moore (Song of the Sea, The Secret of Kells) and Ross Stewart, and co-produced by Kilkenny's Cartoon Saloon and Luxembourg's Melusine Productions, Wolfwalkers is set in and around the studio's home city of Kilkenny during the Cromwellian atrocities of the 17th century, and follows two young girls who make an unlikely friendship.
Both Moore and Stewart agree that the enchanting tale, which has been seven years in the making, needed a stellar voice cast to bring their visually arresting and poetic folktale to life.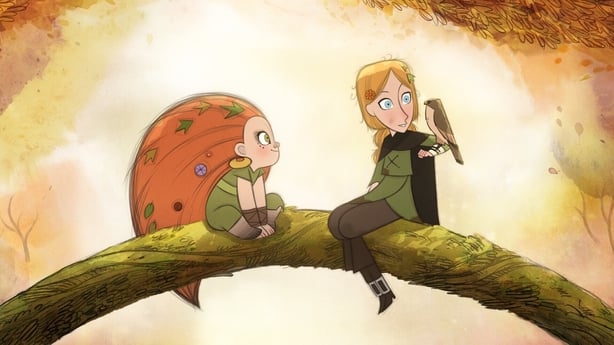 "Some of the characters lent themselves to voices. Luckily working with casting director Louise Kiely we were able to nab a superb cast," Stewart told RTÉ Entertainment.
"Tommy Tiernan was perfect as Sean Óg - we had him in mind as the 'wild Irish man' from early on."
"We also had Sean Bean in mind from very early on when we were designing the character of Bill Goodfellowe.
"The two kids were casting decisions that we were a little bit more wary of in that they had to be so perfect to get the characteristics of the main characters across.
"Honor Kneafsey who plays Robyn really leapt out. She's a seasoned professional actor even though she was only ten or eleven at the time.  
"Little Eva Whittaker who plays Mebh Óg was only involved in amateur dramatics but in the casting tape she showcased this immense energy and real vitality. She was just bursting off the screen," he said.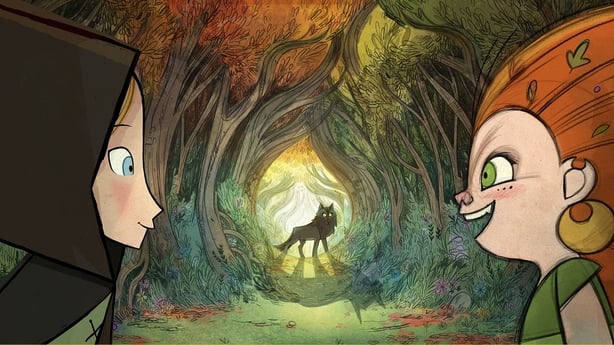 Moore admits that the animation's deeply political and humanist themes which encourage kids to challenge authority and fight back against community alienation is more important now than ever before.
"Especially in today's world, with the politics that's going on all across the world, where you have the polarisation of societies and strong autocratic leaders fueling that, and telling their people that the other people are the enemy when we should be reuniting as a species to save the planet. 
"Humans like smaller political arguments and the polarisation arguments are just meaningless when it comes down to the survival of not just our species but all of the species."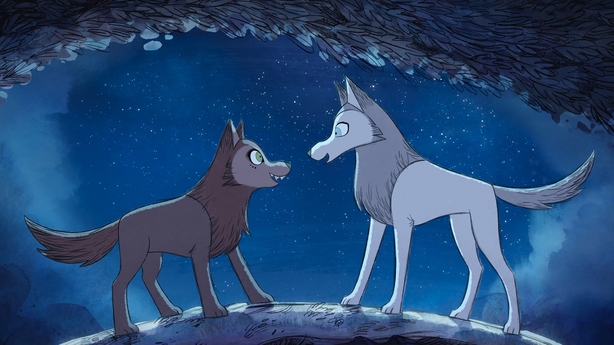 While the talented duo preferred to stay mum on the Oscar buzz surrounding their well-received animated feature, which charted as the No. 1 film at the Irish box office on its opening weekend, Moore said Cartoon Saloon have numerous exciting features in the pipeline, including a project with "a big Hollywood cast".
"We've a fantastic feature film in production based on the Puffin Rock TV series which is on RTÉ and Netflix. It's a feature length story about puffins arriving on Puffin Rock because of climate change and the tensions that happen when new arrivals have to live on the island.
"The other project that is deep in production is for Netflix called My Father's Dragon and it is directed by Nora Twomey.
"It's based on an American book and it's probably the biggest feature we've ever attempted. It has a big Hollywood cast and its on another scale. I'm looking forward to seeing how that turns out in a couple of years."
Wolfwalkers is in cinemas now and will be released on on Apple TV+ on Friday, December 11.
We need your consent to load this YouTube contentWe use YouTube to manage extra content that can set cookies on your device and collect data about your activity. Please review their details and accept them to load the content.Manage Preferences