IFTA winner Niamh Algar stars in Ridley Scott's sci-fi drama Raised By Wolves. Here she tells John Byrne about the show, Scott - and getting back home for Christmas.
2020 has been pretty awful for an awful lot of people - but that's not been the case for high-flying Irish actor Niamh Algar.
The Mullingar native has seen her profile rise and the job offers continue at a time when most actors would be contemplating over a lot of free time as to whether to try another career.
She recently became the first actor to be nominated for four IFTAs, winning two of them. The latest gig for the 29-year-old - on the back of superb performances in the likes of Shane Meadows' The Virtues and Irish film Calm with Horses - is the epic HBO sci-fi drama Raised By Wolves.
We need your consent to load this YouTube contentWe use YouTube to manage extra content that can set cookies on your device and collect data about your activity. Please review their details and accept them to load the content.Manage Preferences
Legendary movie director Ridley Scott has his finger prints all over this pulsating ten-parter. It's a big deal for Algar to be working with the likes of Scott, but the primary objective for any actor is just that: work.
"Yeah, I've been kept busy," she says. "I've been really lucky. Some of my friends are not working and waiting for productions to start again. We're all at home and we're watching telly, watching films. That's been a massive outlet for people . . . it's something that we've all leant on to preoccupy ourselves.
"It's important that productions can go back into work, complying with the new regulations. With the show that I'm on at the moment, we've maintained Covid safety over the last couple of months and it's worked."
And entertainment is so important in these times, when it's essential that people get the chance to switch off from what's happening in the outside world. As Niamh notes, "It's a reality respite for people."
More about Raised By Wolves in a moment. But as a fan of Ridley Scott, whose cinematic CV includes such iconic movies as Alien, Blade Runner, Thelma & Louise, Gladiator, Black Hawk Down and The Martian, Niamh Algar took little convincing when she saw who was making his first television project in 50 years.
"The call came in and Ridley Scott's name is on the script," she recalls, still in awe of - let's face it - a pretty awesome moment in her career. "And I said 'Absolutely, I'll do it!' Once I'd auditioned, there was no kind of questioning anything else.
"He's one of my all-time heroes," she says. "He's incredible. He was just finished another film, The Last Duel, shooting in Ireland."
Raised By Wolves lands on Sky Atlantic and NOW TV on Saturday, December 5. Scott directed the first two episodes and is executive producer for the show, which will have a second season.
"This is unlike anything I've ever seen on television before," Niamh enthuses. "It's kind of breaking a new barrier on expectations of what sci-fi is. And that's what I really love about Ridley."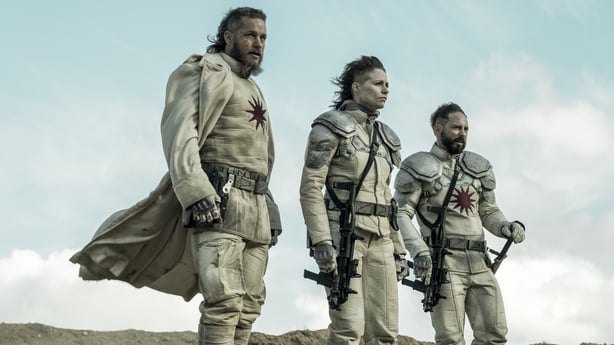 "He's incredibly ambitious in what he tries to capture on screen. The vision that he has on this show is cinematically so spectacular. He excels in multi-story-telling, and here he has ten episodes to flesh out these really incredible characters, and these storylines.
"And there's also the concept of this new planet [on Raised By Wolves]. TV allows for that. And allows for new worlds to be created for audiences to buy into it all.
"But ultimately it's about what defines a family, what it means to be human." And female roles are at the show's core. "It's a common thread in his work - the women in Raised By Wolves are incredibly strong, both mentally and physically," she adds.
The series is set in the 22nd Century. As ever, Earth's population has been acting the maggot, causing mayhem through the classic division based on conflicting belief systems. 
"Raised By Wolves tells the story of two androids, a mother and father tasked with raising children on this new planet, called Kepler-22b," she says. "And what has happened simultaneously is that a war has broken out on Earth between the atheists and Mithraics, an incredibly religious group.
"Earth is in a bad state so the Mithraics leave Earth on this ark and head off for this new planet. So I'm part of that ark that lands on this planet."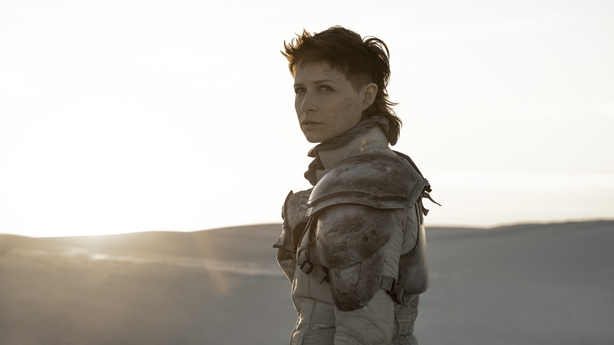 Niamh's character is initially called Mary, who back on Earth kills the real Sue and assumes her identity. "She's a former combat medic and the wife of Caleb," Niamh explains. "She infiltrates the Mithraic army. She's an atheist, but she joins the army under false pretences, in order to survive and leave Earth."
Sci-fi usually means buckets of blue screen, but that's not the case in Raised By Wolves. I only discovered that when asking Niamh if there was a lot of it. It turns out Planet Earth provided much of the compelling background scenery.
"There's a small bit of bluescreen, but a lot of the sets were quite practical," she recalls. "We saw that in Cape Town in South Africa, and the landscape up near Stellenbosch is what we used for the planet."
When you watch Raised By Wolves, you'll see how 'other-wordly' it seems. As Niamh explains: "We had acres and acres of the newly-cultivated landscape that Ridley had designed with the designer, and it's incredible.
"They made it like a small farm that's been re-thought for androids, if they were to settle on a new planet, and how they'd go about designing new habitats and farmland. So, yeah, other than the space and that, everything was quite practical."
Working on a new Channel 4 show called My Name is Lizzie, Niamh is currently domiciled in Lonodn, in order to progress her acting career.
In this true-life tale she plays the eponymous Lizzie James, a female undercover officer, who is asked to become sexual bait for a suspected killer.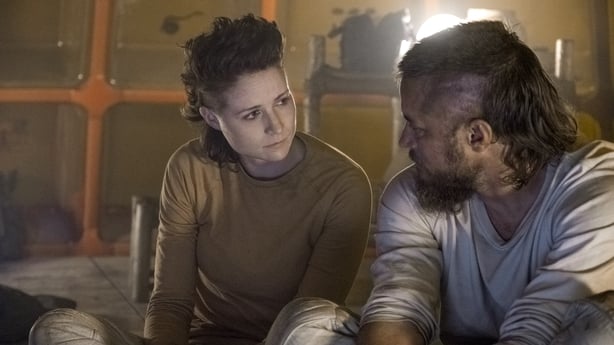 "It's a four-part crime drama, centred around the murder case of Rachel Nickell in 1982. The Metropolitan Police underwent a secret operation, basically a honey trap, in order to find Rachel's killer. And it's basically the year that surrounded that whole case. We're filming that at the moment, and then I'll be heading home for Christmas."
What about her lockdown experience and being away from family? "Well, I was in Cape Town for eight months when I was shooting Raised By Wolves. That's probably the longest I've been away from home. I've been living in London of the last couple of years and I would've gone home quite frequently, so this has been the longest."
"And you feel like you're so close, but you just can't see anyone. It's frustrating. I'm lucky that I can work."
She is clearly looking forward to heading back home to see everyone, and make up for lost time. Mullingar's loss will soon be a gain. "I'll get to see them soon, so I'll get to make up for all that," she says.
And she'll have some stories to tell.
Raised by Wolves is coming to Sky Atlantic and NOW TV on December 5